The Pitch Doctor: The secret to the Pirates' success is Ray Searage
No staff has done more with less than the Pirates'. What's their secret to developing and reviving arms—and keeping them healthy? It starts with Ray Searage.
Get all of Albert Chen's columns as soon as they're published. Download the new Sports Illustrated app (iOS or Android) and personalize your experience by following your favorite teams and SI writers.
*****
This story appeared in the March 28, 2016 issue of SPORTS ILLUSTRATED. To subscribe to the magazine, click here.
If you ever find yourself in conversation with a member of the Pittsburgh pitching staff, and if the discussion touches on the Pirate Way, you can be sure that sooner or later the moment will come.
One day in March, Jared Hughes, Pittsburgh's 30-year-old setup man, was at his spring training locker in Bradenton, Fla., recounting his morning. He had awakened at 5:30, after nine hours of sleep; the Pirates, he said, value quality Z's so much that a sleep consultant meets with players once a month, and the team takes players' preferred mattresses and pillows on road trips. At the ballpark Hughes's day began with mindfulness exercises designed by the resident mental coach. Then came breakfast: three scrambled eggs, sweet potatoes, turkey bacon, a small cup of fruit. "We have a couple of nutritionists," Hughes said, "who are on top of what's going to get you to perform at the highest level. A big thing now is beets...." Hughes suddenly stopped, and there it was: the moment in a conversation when a Pirates pitcher clams up, as if he's about to betray the organization's nuclear codes.
"Sorry," he said. "I don't want to give away any secrets."
When it comes to proprietary knowledge, the Pirates are as guarded as Apple. The secrecy is all in the service of protecting their competitive edge. Over the last three seasons Pittsburgh has won 98, 88 and 94 games and made three playoff appearances; only the Dodgers and the Cardinals have had as much success. During that span the Pirates, who will once again rank among the bottom third of the league in payroll this season, spent $227 million on their roster; the Dodgers shelled out $741 million. Pittsburgh has one of the game's biggest stars in centerfielder Andrew McCutchen, but the run is largely due to a bargain-basement staff that since the start of 2013 has a 3.32 ERA, second only to the Cardinals' 3.29. Beyond 25-year-old ace Gerrit Cole, so many pitchers have found unexpected success in the Steel City that it has achieved a reputation as baseball's Lourdes.
In an era in which pitching dominates yet arm injuries threaten to become epidemic, the Pirates have proved more adept than any organization at unearthing and cultivating effective pitchers—and keeping them healthy. Over the last two seasons Pittsburgh's hurlers have spent the least time on the disabled list of any staff in the National League.
How have the Bucs cracked baseball's most confounding mystery? The answer has a bit to do with sleep cycles, mediation and beets, but it begins with the pitching coach known as Uncle Ray: the sage who keeps the machine humming along, the franchise's real secret weapon.
****
"See how that foot kicks out?" asks Ray Searage. "He's getting into trouble there."
Inside a brightly lit room that recalls Mission Control, with big-screen TVs on the wall and an army of in-house quants hunched over laptops, Searage is breaking down video on an iPad. A silver-haired, goateed, perpetually sunny 60-year-old, Searage evokes Santa Claus—but with a sailor's tongue. The former journeyman reliever dissects side-by-side videos of reliever Arquimedes Caminero's delivery: one from 2014, when Caminero was a spare part with the Marlins, and the other from '15, when he became a valuable reliever for the Pirates. "Here, he's a lot more directional toward home plate," Searage says as he taps on Caminero in the Pittsburgh uniform. "His shorter leg kick, and the foot staying under his knee and going toward home plate—that helps him stay under control. Something we worked on a little."
• MORE MLB: Check out all 30 team previews for the 2016 season
A pitcher's direction is what you hear Searage talk about more than anything else. Sit in on a bullpen session, and he sounds like a big-city driver: "Stay in your lane!" Righting a pitcher's direction is the starting point in correcting his mechanics. Just ask A.J. Burnett, Vance Worley, Edinson Volquez, Charlie Morton, Francisco Liriano or the many others who have found or rediscovered success under Searage.
Last year, for example, when J.A. Happ arrived from Seattle at the trade deadline, Searage spotted an inefficiency in the lefty's delivery in his first start. Instead of striding directly toward home, Happ rotated too much in his motion. That resulted in a lowered arm slot and inconsistent release point—things Searage dissected on TrackMan, a 3-D Doppler radar system that tracks players' movement. Searage had Happ slow down his motion to raise his release point. It was a subtle change that produced a not-so-subtle result: In Happ's next outing he hit 94 mph, his highest velocity of the season, and had his most effective start in two months.
"Ray is the guy in your neighborhood who, when your car has problems, you go ask if he can take a look," says Pittsburgh manager Clint Hurdle. "He tells you to leave it there for a few days, and he'll see if there's anything to be done. You come back, and the car's fixed. You ask him what he did and he shrugs and says he just tried a few things under the hood."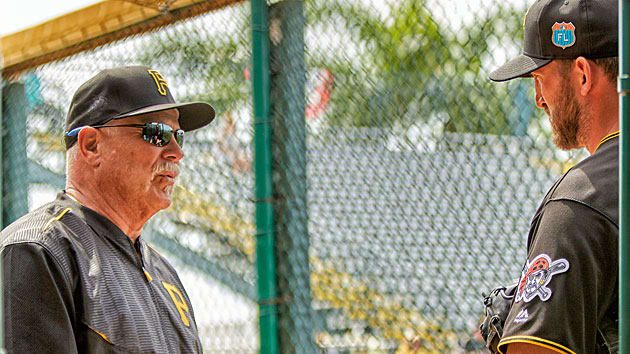 Hurdle and Searage have sat side by side in the dugout since the start of 2011, when they joined a team that had lost 105 games and finished last in its division for the fourth straight year. The Pirates lost 90 games that season; two years later they ended the National League's longest playoff drought. Pittsburgh's 98 wins in '15 were the second most in baseball, and its ERA of 3.21 was second, again, only to the Cardinals'.
Searage has been well regarded for his work with pitchers for years, but his results last season were particularly eye-opening. Besides fine-tuning Caminero, who logged 74 innings with a 3.62 ERA and an 8.8 strikeout rate per nine innings, Searage transformed Happ from a back-end Mariners starter into the best trade-deadline addition other than Yoenis Cespedes; Happ went 7–2 with a 1.85 ERA in 11 starts and flipped that into a three-year, $36 million free-agent contract with Toronto. Searage also worked his magic with righty Joe Blanton, 35, who had last pitched in the majors in 2013, when he allowed 28 homers in 29 appearances; last season he had a 1.57 ERA in 34 innings before signing a one-year, $4 million deal with the Dodgers.
2016 MLB season preview: Pittsburgh Pirates
The used and broken-down cars that rolled and sputtered into Pittsburgh's camp this spring included a lefthander who was not good enough to make the Mets' playoff rotation in October (Jon Niese); a 38-year-old who has a 4.63 ERA since 2013 (Ryan Vogelsong); a former All-Star closer who posted a league second-worst 6.38 ERA last year (Neftali Feliz); a 29-year-old with a fading fastball (Juan Nicasio); and a former ace setup man who hadn't thrown a pitch in the majors in 21⁄2 years (Daniel Bard). They may seem as speculative as Powerball tickets, but after a season without a headline-grabbing acquisition and after losing Burnett to retirement and Happ, Morton and Blanton to free agency, the Bucs will need to hit big on one or two of them—perhaps most of all Niese, who arrived in a December trade for second baseman Neil Walker and will be counted on to bolster the rotation behind Cole, Liriano and Jeff Locke.
In early February, Niese flew into Bradenton from Lima, Ohio, for an initial 15-pitch bullpen session with Uncle Ray and returned home afterward. Searage quickly identified one part of Niese's delivery that needed work: "Making sure that he stayed with his backside on the leg kick," Searage says, in order to—you guessed it—"keep his direction toward home plate." Searage also introduced Niese to Pittsburgh's pitching philosophy.
For starters, while most of the baseball world believes religiously that the first pitch is the most important in getting ahead of hitters, Searage uses the first three pitches to define getting ahead. The Pirates believe that no pitch changes the course of an at bat more than the 1-and-1 delivery. (Last season Pittsburgh pitchers ranked second in getting to 1-and-2 counts, then allowed just a .147 OBP.)
The Pirates also believe in the power of the cutter, a pitch some other organizations, such as the Rays, discourage because of the perceived strain and risks it poses to the elbow. The cutter—which was one of Niese's most effective pitches last season (one reason why he interested GM Neal Huntington)—induces ground balls, and that plays to Pittsburgh's strength on defense. In 2013 the Pirates became one of the first organizations to regularly position their fielders based on opposing hitters' data—but the plan works only if Pittsburgh's pitchers execute their part.
Which, for the most part, they have. Under Searage the Pirates, according to research by analyst John Dewan, have led the majors in soft-hit percentage, ground ball rate and batting average against on grounders and balls designated as short liners. They are second in two-seam fastball and sinker usage. Dewan also looked back at the 10 starting pitchers the Pirates have acquired in the off-season since the end of 2010, when Searage arrived: As a unit they registered an uptick in two-seam fastball and sinker percentage, opponent soft-hit percentage and ground ball rate. The new Bucs saw their batting average against on grounders and short liners improve by nine points.
This season Niese will take the mound every fifth day knowing that he'll be armed with as thorough a scouting report as there is. Within the industry, Pittsburgh's analytics department is widely regarded as one of the most innovative. What truly sets the operation apart, though, is how seamlessly that department, headed by former Baseball Prospectus writer Dan Fox, works with the coaching staff. "I was resistant initially," Searage says of the analytic research, including TrackMan, "because it was something different. It was a process to realize how valuable it can be. Now it's just part of what we do."
****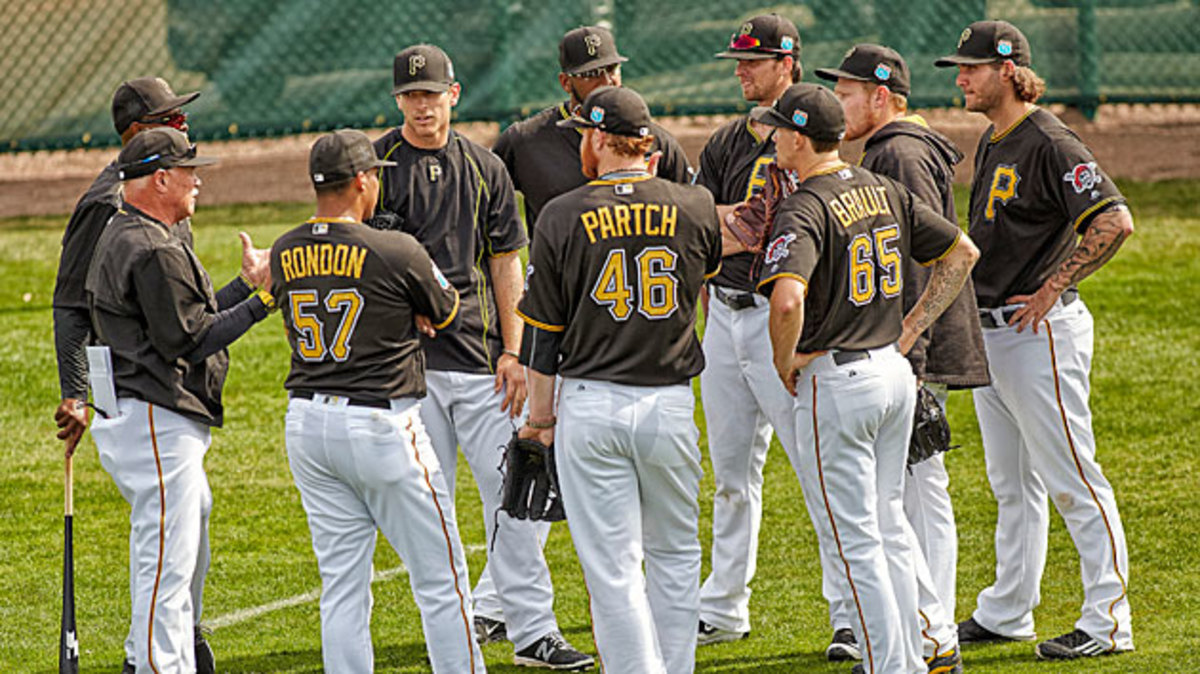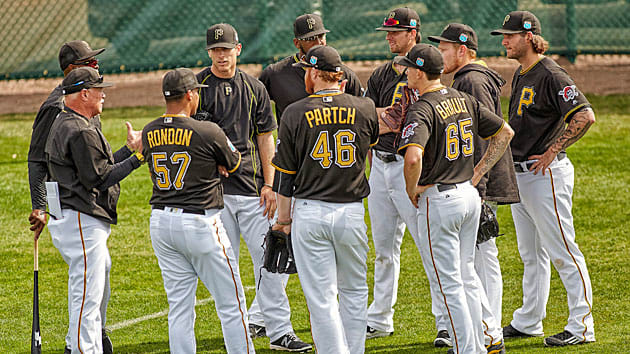 Stroll through the grounds of the Pirates' complex in Florida, in fact, and you quickly see a convergence of state-of-the-art technology, quirky innovation and analytics-based decision making. At the outdoor batting cages, players wear large white headsets, taking the latest toy—a virtual reality simulator—out for a spin. Nearby, catcher Francisco Cervelli crouches on the grass, facing a coach who tosses him balls of varying sizes and weights (tennis balls, golf balls, Wiffle balls), which he catches with his bare left hand: a drill to refine his receiving skills. And in the bullpen a pitcher throws in front of staff members who include a video analyst adjusting a smartphone-sized camera fixed to the fence.
This university-like setting creates a culture of creativity and collaboration in which "everyone's in it together," closer Mark Melancon says. "People don't care where you're from. You're allowed to be who you are." The coaches, instructors, therapists and consultants are there to offer all the information and support a player needs. A new pitcher might experience a bit of culture shock. Asked what he's learned about the Pirates after a few days in camp, Niese says, "That this team leads the league in meetings." He adds, "I knew about their reputation: They get the most out of their pitchers. Then you see that there's a lot of work that goes [into] that."
Mets' young arms recall 2004 Marlins' in talent and caution
​Searage's pitchers know that the organization always looks for new ways to help its pitchers stay healthy. That commitment is reflected in the attention to sleep, nutrition and mindfulness, all aimed at helping the players' recovery process. Niese was also intrigued by the blinking device that Cole, who lockered next to him this spring, wore on the black compression shirt under his jersey. The device measures a player's activity, and at the end of the day the player is texted two numbers: calories burned and "total load"—a number devised by the training staff that represents a player's total energy expenditure.
The device, which is not mandatory, "helps you to quantify what you're feeling," says Cole. "Take the weather: You can have two identical games in different climates, and you have to alter your training and preparation for the following start. One start, it's 96º and humid, and you're burning an extra 1,000 calories compared with a night game when it's 72º and partly cloudy. You can have the same [pitching] line in those two starts, but in reality, they are totally different."
The "total load" gives the coaching staff a way to quantify fatigue and adjust a pitcher's program accordingly, hopefully helping to prevent injuries. It's another new age tool that Searage, the old baseball man, has learned to embrace. "What jumps out at you here," says Niese, "is the detail in how they talk about and do everything. It's all on a different level."
• Subscribe to get the best of Sports Illustrated delivered right to your inbox
****
Before heading out into the sunshine for a midday bullpen session, Uncle Ray has a story to tell. In 1993, several years after his itinerant and inconsequential playing career had come to an abrupt end—"I suddenly realized that no one was interested in a 34-year-old lefthander with an 83-mph fastball and bone chips in his arm," he says—Searage returned to Freeport, Long Island, where he had grown up. He spent his first months out of baseball as a construction worker making $10 an hour, lugging 12-foot pillars to be installed in cemetery mausoleums. He had a wife, three young sons, a rapidly depleting bank account and a rapidly expanding gut. "A rude awakening to life in the real world," he calls it.
A year into retirement he received a call from George Kissell, the longtime Cardinals executive who had a hand in drafting Searage out of West Liberty (W.Va.) University in 1976. Kissell wanted to know if he might be interested in a minor league coaching gig in Madison, Wis. "I was just beginning to wonder whether I'd be hammering nails, making $10 an hour for the rest of my life," says Searage. After nearly a decade with the Cardinals, he joined the Pirates in 2003 as a rookie league pitching coach.
Searage tells the story to make this point: He understands that sometimes when things look hopeless, a hand unexpectedly reaches out. The three-pitch mentality, pitching to contact, staying in your lane—these concepts are all part of what he does, but they are meaningless without understanding the larger idea of the Pirates.
"He understands what his guys are going through," Hurdle says of Searage. "He knows what it feels like to give up a solo shot to lose a game, to not be able to find home plate. He knows what it's like to be lower than low. The biggest thing is the pure compassion he has for these guys. And he's the first one to say, It's not his way. It's never one person's way. It's the Pirate Way. That's the mentality here, and it works."