The Prospect Who Walked Away: Why a Mets first-round pick quit the game 20 years ago
Burned out on baseball and angry at his father, Ryan Jaroncyk quit after just two years in professional baseball, but that was hardly the end of his story.
This week, major league baseball held its annual draft, with the 30 teams taking chances on hundreds of young men, many of them just 18, high-school graduates only as of this spring. To a select few of them clubs will promise millions; most of those players will get no more than a few thousand dollars.
These pimple-faced boys plucked from Anytown, U.S.A, will also be taking chances on the game. Instead of heading off to college or to steady work, they'll be whisked away upon signing to Arizona or Florida for the summer, with little coming back in the way of fame or useful professional education. If they're lucky, they'll get to do the same for a year or two more before calling it quits. Only a sliver will make the majors, and only a sliver of those will be good enough to last there. Most players get spat out.
"The baseball life is not at all a charmed life," says longtime scout Jim Woodward, who has for more than a decade covered southern California for the Red Sox. I was talking to Woodward on the eve of the 2017 draft about a player, Ryan Jaroncyk, whom he had scouted for the draft 22 years earlier but hadn't forgotten.
"He had phenomenal athleticism—not good, but phenomenal. He could really run, he could really throw, and he could drive the ball from the right side. I loved the way he played," Woodward said. In the spring of 1995 he told his then-employer, the New York Mets, that the 18-year-old from Orange Glen High School in Escondido, Calif., was a good bet to be a fixture at shortstop and at the top of the order in Flushing. He had all the physical tools, and he was a religious Christian and a bright kid, Stanford-bound if he didn't sign—which suggested a strong bearing. As his Topps rookie card had it, "With perhaps the best combination of defensive actions, intelligence, and makeup of any infielder in the draft, Ryan is a major league shortstop waiting to happen."
So in June 1995, the Mets took Jaroncyk with their first pick, No. 18 overall. (High school righthander Roy Halladay had gone a pick earlier to the Blue Jays; other future MLB stars selected ahead of Jaroncyk included Nebraska outfielder Darin Erstad, who went No. 1 overall to the Angels; Texas high school righty Kerry Wood, No. 4 to the Cubs; and Tennessee first baseman Todd Helton, No. 8 to the Rockies). New York signed Jaroncyk that day, with an $850,000 bonus and a $100,000 scholarship fund. And that's where the trouble began.
Ryan Jaroncyk would never play in the major leagues. On its own, that hardly distinguishes him from other picks; 11 of his fellow first-rounders that year never got to the bigs, including all three chosen immediately after him. Nor was he the only Mets pick not to pan out; of the club's 11 first-rounders from 1991 to '97 only four made it to the Show. But Jaroncyk never even played in Triple A. Or Double A. Two years after being chosen he was out of professional baseball. And the reason why is even more unusual: He quit.
And he quit not because he couldn't hit a curveball or because some university had offered him a football scholarship. He quit because he hated baseball. He hated baseball because he found the game boring and the lifestyle decadent, and the whole experience reminded him constantly of his overbearing father.
His decision has long confounded the people involved in drafting him. How could they have missed something like this? What had happened to Ryan Jaroncyk?
Shooting brings horror to one of Congress's most beloved traditions: the baseball game
He'd had a strong debut in pro ball in 1995, hitting .276 in the Gulf Coast League, earning a late-season promotion to the low-Class A New York Penn League. But after the season, he told the Mets that he was feeling a little burnt out and was going to give up baseball. The team told him, though, to persevere, and he did. He'd had a bad shoulder and a bulging disc in his back, and he'd just gotten married at 18; maybe that was all of what was troubling him. After all, Woodward had evaluated Jaroncyk thoroughly before the draft, and he had seen nothing to concern him.
And Joe McIlvaine, who was the Mets' general manager from 1993 until July 1997 and the scouting director and assistant GM for years before that, says he tended to root for adversity in the minors. Top picks often arrive in pro ball never having struggled—better they get their first taste of failure playing before hundreds of fans and hardly any media than before tens of thousands of fans and round-the-clock coverage. (On this front, McIlvaine knows whereof he speaks: He was the scouting director who took Dwight Gooden, who was the best player in baseball at age 20 and made his first trip to rehab at 22.)
So Jaroncyk's uneasiness didn't trouble McIlvaine a great deal. Nor did his struggles at the plate in 1996. John Stephenson, Jaroncyk's manager in '95 and '96, remembers him as a hard worker with no outward distaste for the game. And Jaroncyk made it through the following off-season without retiring or threatening to do so, which constituted progress.
In May 1997, McIlvaine headed out on what was supposed to be a routine farm visit, to Columbia, S.C. Jaroncyk was playing shortstop for the Class A Capital City Bombers, hitting .174 in his first 29 games. When McIlvaine arrived at the park, he got word that Jaroncyk wanted to meet with him.
Stock Watch: Pending MLB free agents who are rising (Pineda) and falling (Arrieta)
Says McIlvaine, "We sat down, and he said, 'I want to quit. I don't enjoy baseball. I just want to throw away my glove. I've had enough.' I asked him all the usual questions, whether he wanted to go through with it, whether he was sure. And he said, 'The minute I walk out of here, I'm going to throw my glove in the dumpster.' And that was that."
According to a New York Times account published three weeks later (by up-and-coming Mets beat man Buster Olney), Jaroncyk did indeed throw away his glove, plus all of his bats and hats, in a dumpster back home. He told Olney that he "needed to move on and be happy . . . I've always pleased others instead of being happy for myself."
He lamented how hard his father, Bill, a former USC football player and Navy pilot, had pushed him; the paper noted that his parents had divorced after he was drafted. Says Woodward, the scout, "His mom was always in the background, but that wasn't horribly unusual 20-some years ago. . . . To my discredit, I got to know only the father. He was kind of a tough-love type. I made the mistake of thinking that he, not Ryan's mother, was the one who had their son's ear."
And the devout Jaroncyk also told the paper that he did not care for the lifestyle—"the food, the traveling, the garbage that goes around the clubhouse. . . . There's a lot of immorality in baseball."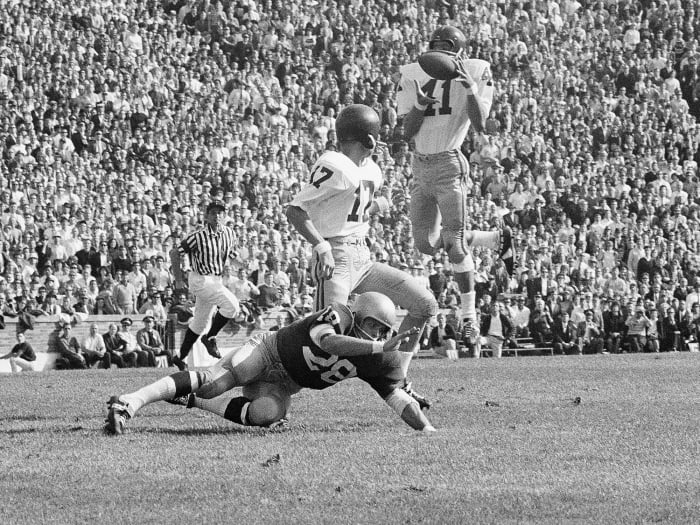 Tim Tessmar, who roomed with Jaroncyk in spring training in 1996, said he knew Jaroncyk to be a quiet, religious type. "It's no secret that a bit of partying goes on in baseball. Ryan never partied with us, not once." (The partying on the 1997 Bombers happened to claim a life. Weeks before Jaroncyk quit, a 20-year-old teammate, Tim Bishop, died in a car accident after he had been drinking. After an investigation, the Mets fired the team's manager and two coaches.)
But despite Jaroncyk's dramatic exit, McIlvaine expected him to come back. He figured the young shortstop merely had problems with authority. "I said, let's give the kid some space, let him try to figure it out. Sure, he was adamant, but kids had quit on us before and come back." The Mets didn't ask for their money to be returned. (Which was just as well, since Jaroncyk had lost $100,000 of it to a San Diego con man who bilked several notable pro athletes, including Chargers football player Junior Seau and Padres pitcher Greg Harris.) But after losing an internal power struggle, McIlvaine was fired later that summer. Bringing Jaroncyk back was no longer his concern.
As for the comeback, McIlvaine was proven right. In 1998, Jaroncyk, then enrolled in junior college, wrote the Mets twice, once to seek his release, and once to suggest conditions for an eventual return. By then, though, the organization had given up on him. The Dodgers took him in the minor league Rule 5 draft that winter. Beset by arm trouble, he played a total of 20 games in two more seasons before retiring again, this time on something closer to his own terms.
The last time Jaroncyk spoke publicly about his baseball career was in 2001, to the Los Angeles Times. He was by then a wide receiver on the football team at Claremont McKenna College, a selective liberal arts school east of L.A., and he and his wife had gotten divorced. He told the Times that he "was a young man with a lot of problems." He said, "I had a lot of pressure growing up all the time, to be the best, to be the best all the time. My home life was just focused on me being the best baseball player. A person can only take so much of that and they break and that's what happened to me." He said that he loved his father, and they had gotten closer since his career ended.
Stock Watch: Pending MLB free agents who are rising (Pineda) and falling (Arrieta)
Jaroncyk turned 40 this year, a couple months before the 20th anniversary of his retirement. He's remarried now, with young children, living in Ohio. He is still devout—he has published extensively online on creationism, for the young-earth creationist organization Creation Ministries International, and in 2008 even wrote for them a children's book, The Adventures of Arkie the Archaeopteryx. (The ending: "That day, Arkie learned that the Lord made some very unique creatures that defy man-made classifcation. He also learned that unrelated animals can share similar features, because they are all made by the same designer. . . . The Lord God made them all!") He's also written a good deal about politics; he classified himself as "a registered Independent who leans libertarian on most issues." When reached by SI, Jaroncyk declined, graciously, to participate in this story.
Would Jaroncyk sign that contract again, if he could? It's hard to say. Woodward thinks Jaroncyk could have solved many of his problems by attending college before turning pro, that three years away from home would have instilled independence and resilience.
And would the Mets still take their chance on Jaroncyk? Woodward says yes. So does McIlvaine, one of the most accomplished scouting directors of all time. "You just don't know. So many of the players look so good. It's the biggest crapshoot in the world. And I was a gambler."