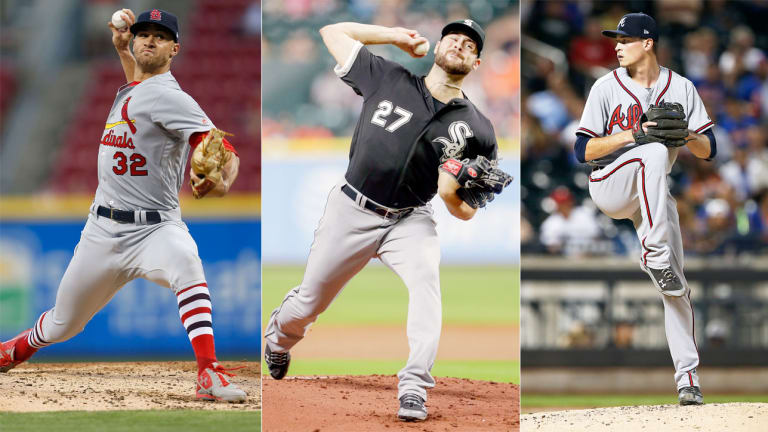 Baseball's 'Harvard' of the West: How Three Elite High School Teammates Became Big Leaguers
Lucas Giolito, Jack Flaherty and Max Fried all played for the same elite high school in Southern California. Now, each of them may start their seasons on a big league roster.
As far as high schools go, it's difficult to beat Harvard-Westlake. The campus, which covers 22 manicured acres in Studio City, California, puts most college campuses to shame. The lengthy list of notable alumni portrays a student body that excels in a wide range of sectors: there's the A-list celebrity (Jake Gyllenhaal), the rising politician (Los Angeles mayor Eric Garcetti), the first American woman in space (Sally Ride) and the alt-right thought leader (Alexander Marlow). The ultra-selective institution is widely considered the finest high school in the Los Angeles area, with the student body's average SAT score hovering around 2100—a score that falls between the 96th and 97th percentile nationally. The athletic program (the Wolverines) is somehow also one of California's finest.
The sign adorning the school's entrance might as well read, "Where you want your kids to go." An admission letter there is like a cheat-code to getting into an elite college.
Still, that didn't calm the nerves of six fidgety teenagers in the summer of 2011, all of whom were gathered inside a sushi joint with a simple objective: convince one of the area's best baseball players to come to Harvard-Westlake for his senior season.
The target that day was wiry 6' 4'' lefty Max Fried, a projected first-round pick with a devastating 12-6 curveball. Fried had attended nearby Montclair Prep, which shuttered its athletic program due to budgetary restrictions. As a result, Fried became the most prized high school free-agent in the baseball talent-rich San Fernando Valley—the area that produced the likes of Giancarlo Stanton, Christian Yelich and Mike Moustakas.
Anchoring the Harvard-Westlake boys' pitch was rising senior Lucas Giolito, a right-handed starting pitcher who was a consensus top-five MLB prospect at the time. Giolito and Fried knew each other from the All-American talent showcase circuit, and both players were already committed to play college baseball at UCLA (neither would end up attending). It was only natural for Giolito to be the main salesman, and he opted for a concise recruiting pitch.
"Come to Harvard-Westlake, let's see if we can win everything," Giolito said he told Fried. "You can finish out your education at one of the best high schools in the area, and we'll be hanging out every day.
"I think that was enough to convince him."
Fried was in, and the roster was set. It's a roster that looks particularly ridiculous in hindsight because it features three major league pitchers, all of whom were first-round draft picks: Lucas Giolito, Max Fried and Jack Flaherty.
***
The first of the three-headed monster joined Harvard-Westlake's varsity program in 2008. Giolito was a 6' 2'' freshman who possessed all the physical tools with none of the refinement.
"Stuff wise it was pretty good," says Matt LaCour, who coached all three players at Harvard-Westlake and is now the school's athletic director. "But in terms of throwing strikes he just, his body wasn't ready to repeat his delivery. He just couldn't do it yet. He was growing at such a rapid rate that it felt like every time he came out to the field, his release point would change overnight. It just didn't produce a whole lot of balls in the strike zone."
Giolito rode the varsity bench for most of his freshman season as his body and delivery matured. By his sophomore year, he was touching 90 mph. Today, Giolito is 6' 6'', 255 pounds and has touched 97 mph with his fastball. His reputation started swelling locally, a growth expedited by a big-game performance against rival Crespi, another of the area's finest teams that featured A's first baseman Ryon Healey. In a must-win game, Giolito didn't give up a run en route to a 10–0 Harvard-Westlake victory, and LaCour knew he had something special.
The following summer, a hyper-athletic and hyper-competitive rising freshman named Jack Flaherty arrived at practice. As cerebral as he was physically precocious, Flaherty was ready to contribute on the varsity level from Day One.
Even at 14, Flaherty was a terrific athlete who could flourish virtually anywhere on the diamond. And while Giolito had reluctantly accepted his pitcher-only status, Flaherty always felt his future was at shortstop.
"In my head I was a position player until the spring of my senior year," Flaherty said, but his coaches thought the inverse.
"For me, it was always 100% pitcher," says Ethan Katz, who was then Harvard-Westlake's pitching coach and now holds the same position with the Mariners' Double A affiliate. "I always said to Jack, it would be our little joke, to make sure he got all his work in every single day. I would always tell him 'Jack, pitching comes first. That's your future.' And he always laughed, but I think deep down he knew I was dead serious."
While the 14-year-old freshman Flaherty was wrestling for varsity playing time, Giolito—then a junior—had blossomed into a dominating force on the high school level. He was sitting in the mid to high 90's, his delivery was already professional quality and he'd developed an out pitch with his heavy overhand curveball. He was beginning to emerge as a legitimate potential No. 1 overall pick in the 2012 draft.
After a disappointing playoff loss ended that season prematurely, the already-rich Wolverines became unstoppable when Fried, the only other pitcher near Giolito's quality in Southern California, transferred to Harvard-Westlake, forming the best high school baseball team in the country. In the high school sports world, the move was literally front-page news—Fried and Giolito graced the cover of the now-defunct ESPN HS magazine.
Practices began to resemble a Division 1 college program, but the season was not without its light moments. Andrew Wallach, one of the non-baseball prodigies who played on that team, recalls a preseason practice in which Giolito, who had touched 100 miles per hour by then, pitched in a inter-squad scrimmage to Fried.
"Gio threw like a 96 mile per hour fastball at Fried's face," says Wallach. "Breaks his nose. He had a raccoon eyes for like a month.
"We never did intra-squadding like that again."
The three major-leaguer dream team never really took shape on the field because Giolito's elbow didn't allow it. In an early-season start, with his draft-stock at an all-time high, Giolito allowed a number nine-hitter to pull a fastball between the first and second baseman for a hit—something he never did. It was clear something was wrong. He had strained his ulnar collateral ligament, an ominous diagnosis for a pitcher because torn UCL's are what cause Tommy John surgery. He would eventually get that surgery, and his elbow struggles saw him drop from surefire top-five pick status.
Without their emotional leader in Giolito, Harvard-Westlake would go on to lose in the second round of the playoffs that year. That's right—the team with three future Major Leaguers couldn't get to the third round of its high school playoff bracket.
Thirteen days after the playoff loss, Fried and Giolito were both picked in the first round of the 2012 MLB draft—Fried went seventh to the Padres, Giolito 16th to the Nationals. Two years later, Flaherty would be selected by the Cardinals with the 34th overall pick, a compensatory selection that qualifies as a first rounder. Flaherty might have been drafted latest of the bunch, but he has one thing the other two don't: a high school championship ring. The year after Giolito and Fried graduated, Flaherty led Harvard-Westlake to the title, pitching a complete-game shutout and driving in the lone run in a 1-0 victory in the championship game at Dodger Stadium. The performance was the crowned jewel of Flaherty's remarkable high school career—he turned out to be the best high school player of the bunch—and one Giolito remembers vividly.
"I remember I was sitting in Florida rehabbing from Tommy John," Giolito says. "It was late at night because the game was on the West Coast, and I'm sitting there live-streaming it just going crazy at like 2 in the morning.
"That's when I knew Jack was going to be a dude."
Though they only spent ten months together as teammates, the three young pitchers remain close friends, frequently exchanging messages in a group chat that remains active to this day. That chat provided support for Giolito when he had Tommy John surgery and did the same for Fried, when he too had the same operation in the minors. After he was drafted, Flaherty said he immediately took to the chat and began picking his former teammates' brains to find out what pro ball was all about. And when Gioltio (to the White Sox, for Adam Eaton) and Fried (to the Braves for Justin Upton) were traded, messages of encouragement in that same chat eased the unsettling shock of having your career path altered in a moment's time.
***
Giolito was the first of the trio to poke his head into a major league clubhouse. He had a brief stint with the Nationals in 2016 before he was shipped to Chicago. Fried's progress was slowed significantly by his Tommy John, and he didn't make his big-league debut with the Braves until Aug. 8, 2017. Flaherty—always the precocious one of the bunch—moved the quickest. He came up with the Cardinals on Sept. 1 as a 21-year-old in a start against the Giants. All three players have a good chance of beginning the 2018 season on their respective major league rosters.
"It's hard to describe the feelings seeing them in the majors, sitting and watching because all the sudden you're back to having those visions of them on your field and you're calling the pitch," LaCour says. "It's as close to being a parent as you can possible feel when you see your guys make it."
The late summer months of 2017, during which all three guys were pitching regularly in the majors, served as the second time these three distinct baseball journeys converged. This time around, the unification came at the very peak of the sport. Before this professional chapter, they formed a dream-team-that-never-was for ten short months at Harvard-Westlake, a stint made possible by that nervy meeting in an overly air conditioned sushi restaurant.
"It's incredible to have shared this journey with two of my best friends," Fried said.
"Just incredible."