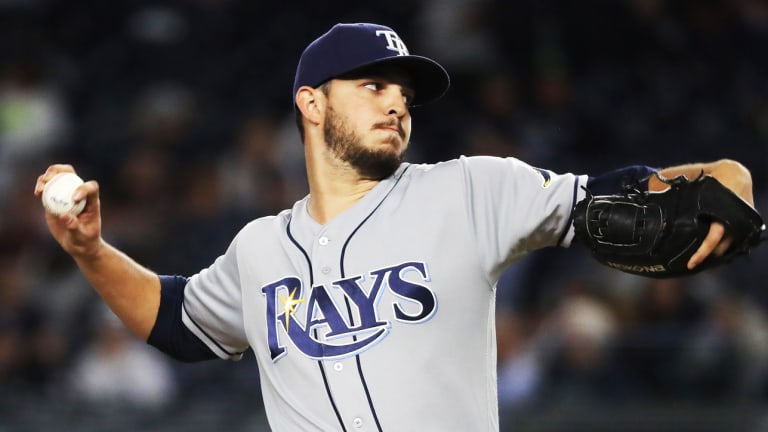 Tim Beckham, Jake Faria Among the 2018 American League Fantasy Sleepers
Everybody wants to know where the sleepers are. They may be harder to find these days, but we've still got plenty for you.
The idea of a true sleeper is a relic of the past. In an effort to return one of the mainstays of the fantasy sports lexicon to its original meaning, we dug deep for our sleeper columns this year. Everyone in this column has an average draft position of 185 or lower. Pick No. 185 comes in the 16th round of a 12-team draft, 14th round of a 14-teamer, and 13th round of a 15-teamer. Most of the players herein are coming off the board much later than that. It may be harder than ever to find a true sleeper in fantasy leagues, but we won't let that stop us from trying.
We've divided all of our sleepers, busts and breakouts columns, what we call our Staples Series, by league. In this installment of the Staples Series, we take a look at AL Sleepers.
Ian Kinsler, 2B, Angels (ADP: 185.77)
Kinsler isn't the type of player who typically makes sleeper lists. These are usually the bailiwick of young players who've flown under the radar, not 13-year veterans. Kinsler's poor 2017 season, however, has him as an afterthought in the fantasy world. The rates may have been ugly last year, but Kinsler still hit 22 homers and 25 doubles, and swiped 14 bases. There's reason to believe Kinsler's .244 BABIP was the result of terrible luck, primarily a 37% hard-hit rate and 20.6% line-drive rate.
Need to watch some baseball content before the season begins? Subscribe to Sports Illustrated TV on Amazon platforms.
Even if the rates don't bounce back, he'll likely be a 20-homer, 12-steal player and hit atop of an Angels lineup in front of Mike Trout and Justin Upton. It would be a major letdown if he didn't score 90-plus runs for the fifth straight season, and he could surpass 100 if the average gets back into even just the .250s. Kinsler feels like a lock to be a top second baseman, but you won't have to pay that price to get him.
Bradley Zimmer, OF, Indians (ADP: 187.78)
If nothing else, Zimmer is going to steal bags. He swiped 18 in 108 games with the Indians last year, and 38 across two levels of the minors in 2016. Couple the league's dearth of steals with Zimmer's price point, and he's instantly attractive in all fantasy formats, even if he doesn't make any strides at the plate. He wasn't great with the bat in his rookie season, slashing .241/.307/.385 with eight homers in 332 plate appearances and he's not exactly young for a player going into his first full year in the majors at age 25. Still, he hit .294/.371/.532 at Triple-A Columbus before getting the call last season. Even if the rates remain an issue, there's good reason to believe he can be a 15-homer, 25-steal player, and there's value in that in any league. Playing time could be a concern if the bat doesn't keep up with the glove, but Zimmer should begin the year as Cleveland's regular center fielder.
Delino DeShields Jr., OF, Rangers (ADP: 205.61)
DeShields has a line on the everyday center field gig for the Rangers, and that alone could carry him to 40 steals. On its face, his .358 BABIP looks a little fluky, but a player with his speed who keeps the ball on the ground is one of the archetypes that can regularly outpace league-average BABIP. Those of you in OBP leagues will like his 10% walk rate from last season, right in line with career norms. Even if the batting average comes down this year, his plate discipline should keep him on base frequently enough to push or surpass that 40-steal mark. The big question is whether it's enough to keep him at the top of the lineup, thus protecting his run-scoring upside. DeShields's floor for steals, plus his price tag, make him a worthy draft-day risk to take.
Blake Parker, RP, Angels (ADP: 219.77)
Parker is expected to open the season as the Angels closer, though he could get pushed by Cam Bedrosian and Jim Johnson. Parker has the best closer profile of the group, however, and no matter what Mike Scioscia says during spring training, we know he's a manager who prefers a dedicated closer.
Parker was electric for the Angels last season, pitching to a 2.54 ERA, 2.73 xFIP and 0.83 WHIP with 86 strikeouts in 67 1/3 innings. His 33.9% strikeout rate ranked 11th among relievers, better than Ken Giles, Roberto Osuna, Wade Davis and Edwin Diaz. Parker also featured manageable walk and HR/FB rates, and he got 1.35 grounders for every fly ball. That's essentially everything you want out of a closer, and Parker should get a chance to bring that skill set to the ninth inning this year.
Jake Faria, SP, Rays (ADP: 225.42)
Forget about being a sleeper. Faria could be a legitimate breakout player if a few things break right for him this season. Faria forced his way to the majors last season after compiling a 3.07 ERA, 2.53 xFIP, 1.13 WHIP and 84 strikeouts in 58 2/3 innings at Triple-A Durham. He held his own in his debut season, totaling a 3.43 ERA, 4.39 xFIP and 1.18 WHIP, with 84 strikeouts in 86 2/3 frames. His rookie year could have been even better if not for an abdomen injury that cost him a month across August and September. The slider and changeup are the stars of his arsenal, giving him an out-pitch against hitters from both sides of the plate. It's going to be an ugly year in Tampa, but Faria will be one of the silver linings. Make sure his name is starred on your cheat sheet. If you want to bet on a pitcher outside the top 50 by ADP to make a huge leap, place your money on Faria.
Sean Manaea, SP, A's (ADP: 247.73)
Manaea made 29 starts last season, though his year was complicated by a shoulder strain that cost him a couple weeks in late April and early May. His 4.37 ERA and 1.40 WHIP belie the fact that he had some impressive stretches last season, including an 11-start run from late May through the middle of July when he posted a 2.92 ERA, 1.20 WHIP and 67 strikeouts in 71 innings. Manaea's changeup and slider remain strong out-pitches. The former had an 18.3% whiff rate last year, while the latter checked in at 19.1%. He's not going to blow anyone away with his four-seamer, but there's reason to believe the slight tick down in velocity last year owed to the shoulder strain. The off-speed pitches are always going to be the centerpiece of his repertoire, however, and the changeup is the key with the way it can confound righties. If Manaea can cut back on last year's 8% walk rate, he'll find immediate gains. There's easily top-40 starting pitcher upside here.
Tim Beckham, IF, Orioles (ADP: 252.25)
I listed Beckham's position as infield because he brings eligibility at second base, third base and shortstop in most fantasy leagues, making him one of the most versatile fantasy players in the league. Beckham gives his owners a ton of flexibility, especially in leagues that use corner and middle infield as starting spots. That the three (and sometimes five) positions where he qualifies are among the shallowest in baseball only makes him more valuable. The former first overall pick had the best season of his career last year, hitting .278/.328/.454 with 22 homers. His high-strikeout ways make him a curious leadoff choice, but he'll be atop the Orioles lineup, right in front of Manny Machado, Jonathan Schoop and Adam Jones. His likely low OBP will prevent him from making a push for 100 runs, but he could easily give his owners a .260-.320-20-10-80-70 line. That's not bad for pick No. 250.
Max Kepler, OF, Twins (ADP: 280.73)
Kepler was a dangerous hitter against righties last year, slashing .272/.343/.484 with 17 homers and 29 doubles. He was a black hole against lefties, hitting .152/.213/.240. Kepler posted 117 wRC+ with the platoon advantage, equal to what Carlos Santana and Eugenio Suarez did for the full season. Against lefties, however, he had 16 wRC+, meaning that Kepler against lefties was literally one of the worst players in the league. He'll always be on the long side of any platoon, and that has him on the radar in most fantasy leagues. If he can figure out lefties, though, a breakout could be written in the stars.
Logan Morrison, 1B, Twins (ADP: 295.91)
Morrison didn't just blindly run into more pitches than usual last year. He made significant changes at the plate, and they led to his career season in which he hit 38 homers and slugged .516. Morrison is part of the launch angle revolution, increasing his average in the category to 17.4 degrees last season. His previous career high was 12.1 degrees. A change that dramatic doesn't occur by happenstance. Morrison cultivated the change, and it launched a true power breakout. What's more, for those of you in OBP leagues, he's a plus in your rate category. Morrison had a 13.5% walk rate last season, helping him to a .353 OBP. His career walk rate is 10.5%, and there's reason to believe he'll outpace that again this season as one of the most dangerous hitters in Minnesota's lineup.
Randal Grichuk, OF, Blue Jays (ADP: 319.65)
Power has never been an issue for Grichuk. He hit 22 homers in 442 plate appearances last year, and has 66 in about two and a half seasons' worth of games in his career. Playing time has been a problem, though, exacerbated by his own strikeout-driven deficiencies. That's what made the trade to Toronto such welcome news for the outfielder entering his age-26 season. This will be the first time in his career he'll have the inside track for an everyday spot his team's lineup. At worst, you're getting a cheap 25 homers, 70 RBI and five steals. At best, the former first round pick finally puts it all together, and hits 30-plus homers with plus rates. That's well worth a dart throw at pick No. 320.