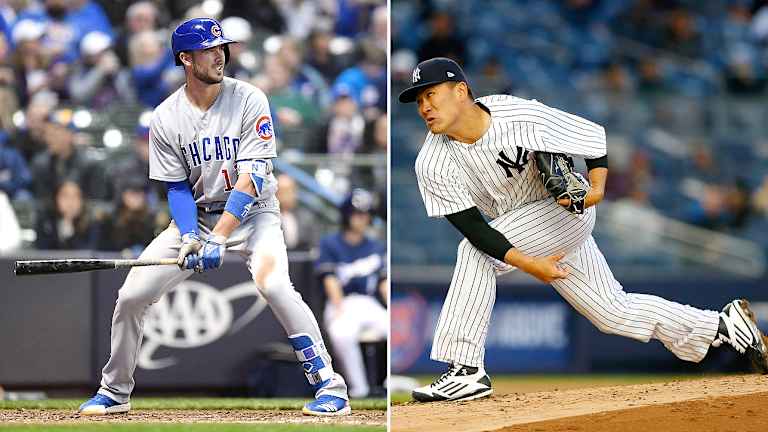 MLB DFS Plays for April 11
Wednesday's full day of MLB action is split evenly between afternoon and evening games, creating a couple of diverse DFS slates.
The regular rhythm of the MLB season has arrived, with all 30 teams in action on Wednesday. Seven of the 15 games are in the afternoon, meaning there are a handful of slates on both main DFS sites. Some of our picks below will apply to the early slate, while others will play this evening. Be sure to plug your picks into our MLB Lineup Optimizer to round out your lineups.
Starting Pitchers
MasahiroTanaka, at Red Sox (FD: $8,900, DK: $9,300, evening slate)
Tanaka has looked sharp out of the gates this season, allowing four earned runs and recording 15 strikeouts in 12 1/3 innings. The Red Sox will be missing a key part of their lineup Tuesday with Xander Bogaerts (ankle) on the DL, making things a little easier for Tanaka, even though that certainly wasn't the case for Luis Severino on Tuesday. Tanaka has also pitched well in his career at Fenway, posting 3.35 ERA in seven starts.
James Paxton, at Royals (FD: $8,400, DK: $10,400, early slate)
Paxton is a nightmare matchup for the Royals, who have scored the fewest runs (29) in the league so far this year. They have a number of high-profile lefties in their lineup—Mike Moustakas and Lucas Duda chief among them—and Paxton has shut down same-siders in his career, allowing a .210 wOBA to them last season. Paxton is the pitcher to target on the daytime slate.
MLB Power Rankings: Astros Take the Top Spot ... But How About Those Mets?
Zack Wheeler, at Marlins (FD: $6,000, DK: $7,500, evening slate)
Once one of the prized young pitchers in the Mets organization, injuries have sent Wheeler's career in the wrong direction. He only pitched 86 1/3 innings in 2017, and struggled with a 5.21 ERA and 1.59 WHIP. He had significant control issues, allowing 4.2 BB/9.
Wheeler will be making his first start of the season for the Mets on Tuesday, faceing a Marlins lineup that lost several key pieces over the winter. To no surprise, they have struggled this season, batting just .229 with five home runs. Wheeler is certainly a risky play, but he has matchup-based upside at this cheap price and is worth considering in tournament play.
Offensive Stacks
Atlanta Braves vs. A.J. Cole, Washington Nationals, early slate
Stadium – Nationals Park
The Braves offense has been hot to start this season, posting the third-highest batting average (.259) and the third-most runs scored (63) in baseball. Freddie Freeman has led the charge, but important contributions from players like Preston Tucker and Dansby Swanson have helped to lengthen their lineup.
Cole had a horrendous first start of the season against these same Braves, allowing 10 earned runs in 3 2/3 innings. His 3.81 ERA from 2017 is a bit deceiving since his FIP was 5.20 and he had an unsightly 1.50 WHIP. Although the Braves might not score 10 runs on him again Tuesday, they should be in line for another excellent offensive performance.
The Table Setter: Taking a Break from Shohei Ohtani Appreciation Week to Appreciate Bryce Harper
Los Angeles Angels vs. Matt Moore, Texas Rangers, evening slate
Stadium – Globe Life Park in Arlington
Moore had a terrible season for the Giants in 2017, posting a 5.52 ERA and 1.53 WHIP. Not only did he record just 7.6 K/9, but he also allowed a career-worst 34.7% hard hit rate. He's not off to any better of a start in 2018, allowing nine earned runs in just 7 1/3 innings.
The Angels lineup is loaded with right-handed batters who hit lefties well, including Mike Trout, Justin Upton and Zack Cozart, all of whom had a wOBA of at least .387 against southpaws in 2017. This one could get ugly for Moore, so don't hesitate to stack your lineup with Angels.
Milwaukee Brewers vs. Adam Wainwright, St. Louis Cardinals, early slate
Stadium – Busch Stadium
Wainwright was once one of the best pitchers in the National League, but he hasn't been the same since injuring his Achilles and missing most of the 2015 season. In both seasons since, he has posted an ERA of at least 4.62 and a WHIP of at least 1.40. Home runs have become a problem, with Wainwright posting HR/FB rates of 11.8% and 12.7% in the last two seasons, respectively, which is much higher than his career mark of 8.3%.
He didn't have a great first start of 2018, allowing three earned runs in 3 2/3 innings to the Diamondbacks. He surrendered four hits and issued four walks, so it could have been much worse. The Brewers are down one of their best left-handed hitters with Christian Yelich (oblique) on the DL, but they can still give Wainwright plenty of trouble Tuesday.
By Adding a Cutter to His Arsenal, Cardinals Ace Carlos Martinez Is Even More Dangerous
Chicago Cubs vs. Steven Brault, Pittsburgh Pirates, evening slate
Stadium – Wrigley Field
Brault struggled in a cup of coffee with the Pirates in 2017, finishing with a 4.67 ERA and 1.59 WHIP in 34 2/3 innings.  He only had a 6.0 K/9 and allowed a 33.3% hard-hit percentage, so he wasn't really fooling anyone at the plate.
He has a sparkling 1.13 ERA through two appearances this season, but a deeper look at the numbers indicates he is not pitching nearly that well. He has issued five walks in eight innings, but has been able to escape trouble in large part due to opponents having just a .238 BABIP. The Cubs are missing Anthony Rizzo (back), but still have plenty of right-handed hitters who can do damage against the lefty Brault on Tuesday.