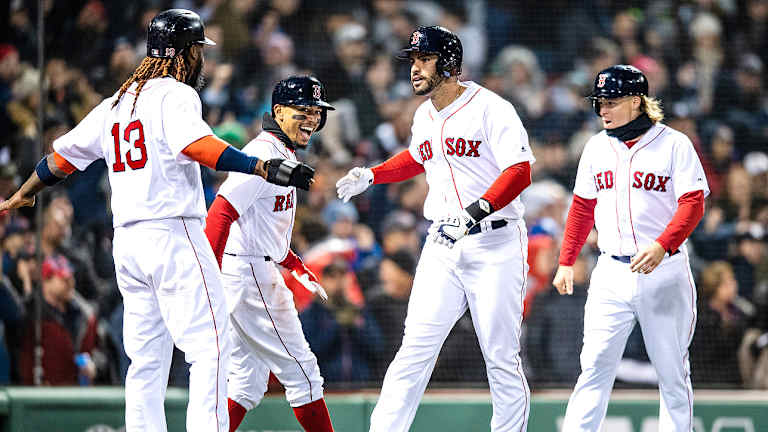 Red Sox Offense Highlights Friday's DFS Plays
Offenses to stack and pitchers to target on Friday's MLB DFS slate.
It may be Friday, meaning all 30 teams are in action, but only a handful of true No. 1s are taking the mound. The good news is there are only two games with early start times, leaving you with almost a full slate of options to choose from for DFS. Consider using some of the starting pitchers and offensive stacks below who have favorable matchups, and then plug them into our MLB Lineup Optimizer to round out your lineups.
Starting Pitchers
Gerrit Cole, vs. Rangers (FD: $10,000, DK: $12,100)
Cole has looked like the ace he never quite was in Pittsburgh in his first two starts in Houston. He has surrendered one run while recording 22 strikeouts in 14 innings, allowing all of 10 baserunners. Michael Beller dove into Cole's first two starts, but the main takeaway is he's shoving. He gets a favorable matchup Friday against a Rangers team that is missing both Elvis Andrus (elbow) and Rougned Odor (hamstring). Cole is the most expensive pitcher of the night, but he also has the most upside.
Mike Clevinger, vs. TOR (FD: $8,300, DK: $9,500)
Like Cole, Clevinger is off to an excellent start, allowing one earned run over 12 2/3 innings in his first two starts. He had a BB/9 of at least 4.4 in both of his first two seasons in the majors, so it is encouraging that he has only walked four batters so far.
He hasn't provided much in the way of strikeouts yet, but with a 10.1 K/9 last season, he has plenty of upside in that department. The Blue Jays also strike out out a ton, with their 120 strikeouts ranking seventh-most in baseball. They do hit a lot of home runs, but Clevinger still has the potential to provide value at this reasonable price Friday.
A Brief History of Yankees-Red Sox Brawls
Vince Velasquez, at Rays (FD: $6,700, DK: $7,900)
Velasquez has loads of potential, but he has struggled with consistency in his career. He has a hard time pitching deep into games, averaging fewer than five innings per start in 2017. Hitters didn't have a hard time squaring him up, either, with Velasquez posting a 38.1% hard hit percentage and a 20.8% HR/FB ratio.
Velasquez was shelled in his first start of the season against the Braves, but he settled down to allow one run in six innings in his second outing against the Marlins. He'll face a similarly weak lineup in the Rays on Friday, who are tied for the third-fewest runs scored (39) in baseball so far. Velasquez also has strikeout upside, making him someone worth considering in tournament play.
Offensive Stacks
Boston Red Sox vs. Chris Tillman, Baltimore Orioles
Stadium – Fenway Park
The addition of J.D. Martinez added a significant power bat that the Red Sox were sorely lacking last year. They are off to a good start offensively with the fourth-highest batting average (.259) and the seventh-highest slugging percentage (.421) in the majors.
Friday brings a great matchup against Tillman, who has carried over his 2017 struggles into this season. He has an unsightly 8.68 ERA through two starts and has had trouble keeping men off base with a 2.46 WHIP. Not only has he already issued eight walks, but he only has three strikeouts. He doesn't have the kind of stuff that is going to fool many hitters, leaving the Red Sox as an excellent stacking target.
Gabe Kapler Is an Analytics Fanatic Addicted to Fitness. Are Phillies Fans Ready to Embrace Him?
Washington Nationals vs. Kyle Freeland, Colorado Rockies
Stadium – Nationals Park
Freeland had a respectable 4.10 ERA last year, but he flirted with danger often as a result of his 1.49 WHIP. He doesn't have an overpowering arsenal either, posting just a 6.2 K/9 last year. With just a 6.1 K/9 during his time in the minors, don't expect that to improve much, if any, this season.
Freeland has been done in by the long ball in the early going, allowing four home runs in his first two starts. His ERA sits at 5.56, but it could have been even worse considering his 6.76 FIP. Even though the Nationals are missing Adam Eaton (ankle), they still have one of the more talented lineups in the league. Don't hesitate to stack them against Freeland.
Philadelphia Phillies vs. Jake Faria, Tampa Bay Rays
Stadium – Tropicana Field
Faria is off to a horrible start this year, posting a 14.29 ERA and 3.00 WHIP through two starts. He has eight walks in 5.2 innings, which is certainly not a recipe for success. Both starts did come against the Red Sox, though, so he deserves a bit of a pass.
Faria is going to have to improve his control to have a shot at a good performance Friday, which might not be easy against the selective Phillies, who have drawn the fifth-most walks (51) in the league. Two hitters you may want to key in on in this game are Carlos Santana and Cesar Hernandez, as both of them had a wOBA of at least .345 against righties last year.
By Adding a Cutter to His Arsenal, Cardinals Ace Carlos Martinez Is Even More Dangerous
San Francisco Giants vs. Tyson Ross, San Diego Padres
Stadium – Petco Park
Ross hasn't been able to regain the success he had earlier in his career before having thoracic outlet surgery in 2016. He remained upright for just 49 innings last year, posting a 7.71 ERA and 1.84 WHIP. He also had just 6.6 K/9, significantly lower than his career mark of 8.3.
Things haven't been any better early on this year, with Ross allowing seven runs over 12 innings in his first two starts. The Giants were one of the worst offensive teams in the league last year and haven't been much better this year, scoring the sixth-fewest runs (40) in the league, but this could be a good spot for them, and for DFS players to zig away from the crowd.