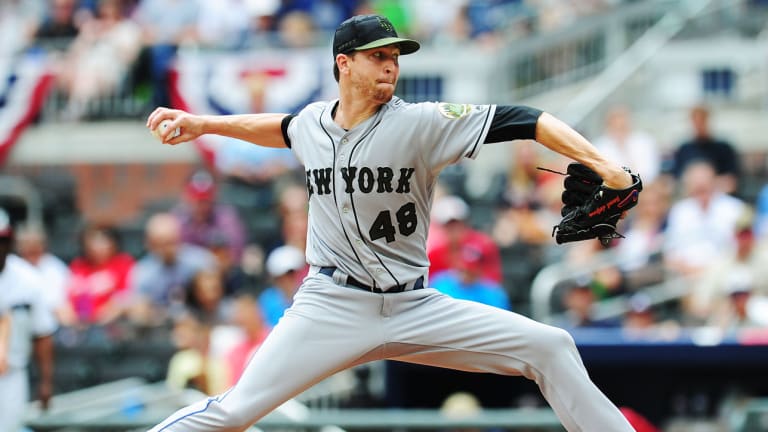 The Mets Keep Doing Nothing to Help the Brilliant Jacob deGrom
Jacob deGrom is the best pitcher in the National League this season, but his own team can't figure out how to get him a win.
The day changes, but the nightmare is always the same for Mets ace Jacob deGrom. He's thrown seven good innings and reached double digits in strikeouts, and his offense has scratched out a couple of runs. As he exits the game with a lead and watches from the dugout, he allows himself to think that maybe today is the day where his hard work pays off.
Instead, what inevitably plays out is the dashing of a masterpiece by a bullpen that seems determined to ruin deGrom's life. In the first game of a doubleheader on Memorial Day against the Braves, it was Seth Lugo who spoiled a fantastic effort by deGrom—only one run allowed in seven innings against eight strikeouts—by giving up the tying run in the eighth, the tying run again in the ninth and then the winning run in a 4–3 Atlanta victory.
For deGrom, this is nothing new. Monday's disappointment is his seventh no-decision in 11 starts despite a 1.52 ERA in 65 1/3 innings. It's his third start this season in which he's thrown at least seven innings and given up no more than one run but not gotten the win. It's the third time he's handed an eighth-inning lead to his bullpen this year and watched them blow it. And it's the Mets' sixth loss of the year with deGrom on the mound—again, despite that aforementioned 1.52 ERA, which is second lowest in all of baseball behind only Justin Verlander.
It's a failure on all fronts for the Mets when deGrom pitches. Beyond those three blown wins by the bullpen, his offense has gone completely dead when he's on the mound. In the six losses with deGrom on the mound, the Mets have scored a combined 15 runs, with six of those coming in one game. On Monday, New York hitters could manage only two runs against Braves fill-in lefty Max Fried despite four hits and four walks, thanks in large part to two double plays grounded into and a pair of pickoffs—the latter both coming in the same inning.
Despite the total lack of run support, deGrom was able to keep the Braves in check, blanking them through six innings before running into trouble in the seventh. A Tyler Flowers leadoff homer cut the Mets' lead to 2–1, followed by a Preston Tucker walk and Johan Camargo single. That brought manager Mickey Callaway out of the dugout, though deGrom was none too happy to see him.
Callaway relented, though, and deGrom bounced back to strike out Dansby Swanson, get pinch-hitter Kurt Suzuki to pop out, and induce a soft groundout from Ender Inciarte to strand the two runners and hold onto the lead. But at 115 pitches, his day was at an end, and converted starter Lugo wasted no time in throwing that one-run lead into the trash in the eighth. Back-to-back singles by Ozzie Albies and Freddie Freeman put runners on the corners with nobody out, and Nick Markakis cashed in Albies with a sacrifice fly to rightfield to tie it up.
What makes this loss even crueler for deGrom and the Mets, though, is that they stole the lead right back in the ninth on a solo homer by Devin Mesoraco. But with the second game of the doubleheader looming, Callaway opted not to go to closer Jeurys Familia, instead letting Lugo try to redeem himself by finishing the win. That didn't work out: Lugo promptly gave up a leadoff walk, then a walk-off homer to light-hitting infielder Charlie Culberson—just his seventh dinger in six-plus major league seasons—to finish off the Mets' latest disaster.
The Mets and deGrom have taken a lot of gut punches; Monday's isn't even the worst of the season for either. But this one may be the hardest to stomach, coming on the heels of yet another strong start that his bullpen ruined—a 2–1 loss to the Marlins in which Familia gave up both runs in the ninth after seven shutout innings from deGrom—and given how ludicrously good he's been of late. Over his last three starts and 21 innings, he's given up just two runs and struck out 29. In his last eight turns, he's rocking a miniscule 0.94 ERA. There are few pitchers even close to deGrom's level right now, and yet the Mets somehow can't capitalize on his absurd run.
Instead, the Mets' total inability to make deGrom's starts stand up has left them at .500 on the year, and that's despite starting the season 11–1. New York is now 8–16 in the month of May and in fourth place in the NL East, trailing Atlanta by five games for first place. Yoenis Cespedes remains stuck on the disabled list, the bench and bullpen are a total mess, and half the rotation is getting destroyed on a regular basis. Amid all that carnage, deGrom's starts should be a reliable source of hope. Instead, the Mets are doing all they can to ensure that the best thing about their season gets dragged down into the gutter with them.