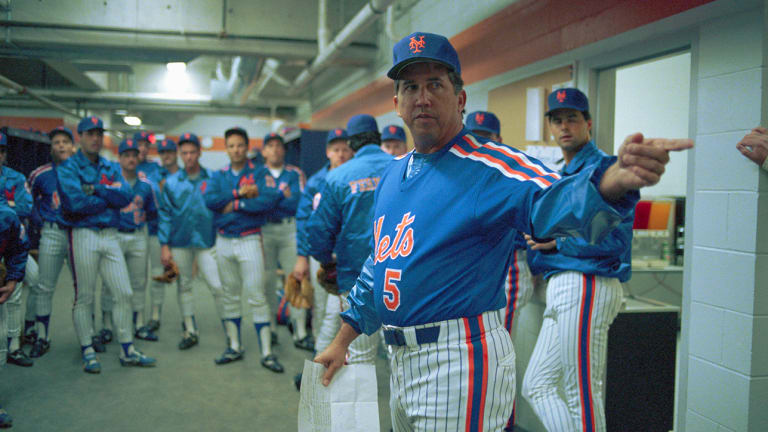 What It Was Like to Manage a Rookie Doc Gooden, the Gritty Wally Backman and the New York Mets
In an excerpt from his new book, Davey Johnson recounts how he became the manager for the New York Mets. 
The following is excerpted from Davey Johnson: My Wild Ride in Baseball and Beyond by Davey Johnson with Erik Sherman is printed with the permission of Triumph Books. For more information and to order a copy, please click here.
"I have a list of 10 skills I look for in a manager," Cashen said to me during my interview in an Atlanta Fulton County Airport lounge. "Fearless, intelligent, good communicator, energetic, tough, dedicated to player development, patient, hardworking, cooperative, and positive."
"Yeah, I got all those," I told him. "Anything else?"
Frank, my GM when I played in Baltimore, gave a slight grin at my cockiness, which he knew all too well, then moved the talk to salary.
"We can pay you $50,000 a year."
I kind of laughed and said, "Frank, I can't take that job for less than a hundred grand. It's New York City!"
After getting close enough to the figure I wanted, we had a two-year deal, but I told Cashen, "I'm only going to deal with one general manager. Not you and Lou Gorman. I'm only going to deal with you, Frank. I don't want two different opinions getting filtered into the organization."
At the time, Gorman was the Mets' VP of player personnel, but more important to me, he was like the chief deputy to Cashen.
Frank agreed that I only needed to report to him.
Of course, it all became a moot point when Gorman left the Mets to accept the Red Sox's general manager job just prior to spring training. Another team vice president, Al Harazin, and McIlvaine, who was now director of scouting, would absorb Gorman's duties.
If I seemed direct or even brash during my interview with Cashen, it's because I was confident he was going to offer me the job. In fact, I believed he didn't have a choice. There was a lot of young talent in the minor league system and nobody had a better knowledge of it than I did.
BUY NOW
Davey Johnson: My Wild Ride in Baseball and Beyond
by Davey Johnson
Davey Johnson reflects on his wild and remarkable journey, from his All-Star playing days to years of managerial success in New York, Cincinnati, and Baltimore, and much more.
I have long believed that, ideally, the prerequisite to becoming a first-time manager should be to manage in a team's minor league system and see how the organization reacts to your judgments and how they deal with you so you'll get constructive feedback from them before going to the big-league level. I felt like that was what I did and it made it easy for me to transition to the major leagues.
The announcement of my hiring was made in Philadelphia at a press conference during the '83 World Series.
"I'm really happy to be here," I told the reporters. "I like working for smart men and Frank Cashen is a smart man for hiring me."
In an unconventional move, I announced the hiring of Frank Howard, the manager I had just replaced, as one of my coaches. Although I didn't agree with him on some of the ways he managed the ballclub, I thought he was an outstanding coach. He would relentlessly work with the outfielders—who usually never got enough practice.
A few days after the press conference, I made another hire that could be perceived as uncommon. I brought on a young data processing manager named Russ Richardson. I wanted offensive data on how every one of my players hit against every National League pitcher and information on how every Mets pitcher did against every hitter in the Senior Circuit.
I would learn so much from this data. For example, I learned that the switch-hitting Backman had a harder time swinging right-handed than he did left-handed.
I also wanted Russ to get me information on all the other National League clubs—like on what counts they like to steal or hit-and-run on. Richardson would spend the next several months over the winter preparing this data for me and enter it into what I called my "manager's book." All of that information was going to be much better than trying to use my memory all the time.
I also had Russ prepare a "pitchers' manual," which would tell me things like who my various pitchers' regular catcher was, how many pitches they typically threw, and how far into games they went. All of that data was important. I was basically a systems analyst at that point.
I was going to be baseball's first big-league manager to embrace sabermetrics.
One of the primary ways I wanted to change the culture of the Mets and their moribund path was to stress working on fundamentals—something the last-place club hadn't emphasized in previous years.
During my first spring training as Mets manager, we worked on some bunt plays I picked off from the Cardinals, the wheel play, and all kinds of defensive alignments. I think a tight structure set up at spring training allows extra work time for the guys who don't do things very well. The instruction and practice they receive are just part of the learning process that helps them become major league–level ready.
I leaned heavily on field coordinators, which enabled me to be at different stations during spring training. Even though I had interviewed all my coaches and knew them well, I wanted to see how they were interacting with players and, conversely, how my players took to that interaction. That's how you gain cohesion on a ballclub.
One of my pet projects that spring was with one of our second basemen, Wally Backman, who had bounced back and forth between the majors and minors, but excelled for me at Tidewater. He was a little guy, so low to the ground that I used to joke that when he crouched into his fielding position and farted, dust would kick up off the infield dirt.
I would preach to him, "Wally, there's no 'hands up.' You should be a great fielder because your hands are so close to the ground."
He worked extremely hard to get "softer" hands and ultimately became one of the most sure-handed guys in baseball.
I actually saw a lot of myself in him. Backman was a gamer—always getting his uniform dirty—and was driven by trying to find ways to beat you.
We had another second baseman in camp, Brian Giles, who had twice the talent—good speed, good power, good arm, smooth—but his makeup wasn't half as good as Backman's. Wally would be our starting second baseman coming out of spring training. It was an easy decision for me.
I didn't think Backman would go into managing, but when he did, I thought he would be pretty successful because of the way he played the game. I feel for him that some of his off-the-field issues from many years ago have apparently kept him from getting a big-league job.
One of my other missions that spring, of course, was to head north with Doc on the big-league roster. I knew how good he was—he had such great command. If I had to be picky, maybe his only drawback was how he was a little slow to the plate because of his high leg kick and lengthy follow-through. This made it easier to steal bases off him.
Still, I would think, Those base runners could steal all day long if they wanted, but they ain't gonna score. Nobody's stealing home!
Early in camp, I brought the specter of promoting Gooden to Cashen.
"He's ready, Frank," I told him. "At least keep an open mind."
But Cashen was noncommittal and I knew exactly why. One of his big bugaboos was what happened with another one of our talented young arms three years earlier. At just 21 years old, Tim Leary was lighting it up at Double A Jackson, going 15–8 with a 2.71 ERA. Then, early in the '81 season, Frank brought him up to start the third game of the year on a frigid day in Chicago. Leary lasted just two innings, leaving the game with a bad shoulder because of the freezing weather. Tim would miss the rest of the season.
So Cashen clearly remembered that, and thought, Oh, I took a young kid out of Double A ball, I brought him up to the big leagues, and he hurt himself trying to do too much.
Frank didn't want to make the same mistake twice.
By the end of spring training, despite a stiff back, Doc showed everyone his stuff was more than major league ready.
I practically pleaded with Frank.
"I'll take care of him," I told Cashen. "Trust me. I won't abuse him."
I simply never had a doubt that Gooden could handle the big stage—even as a teenager. I had him as young as seventeen in the minors. Dwight was a young man who loved the game—that was apparent early. He was always happy, came from a great family, and pitched for a great high school coach. I didn't see any behavior out of the ordinary that would lead me to think he would consider any other path than to take care of himself.
Frank finally acquiesced—but under one condition.
"I don't want him hitting left-handed," Cashen told me. "I don't want to expose that great right arm of his."
I was actually a little upset about Frank's order, because Doc was a good switch-hitter.
"Nobody is going to hit him," I countered. "He can hit them back anywhere he wants—and with a much harder fastball."
But that's the way Cashen wanted it and I couldn't override him on that.
Still, I got my ultimate wish.
Doc was coming to Flushing.