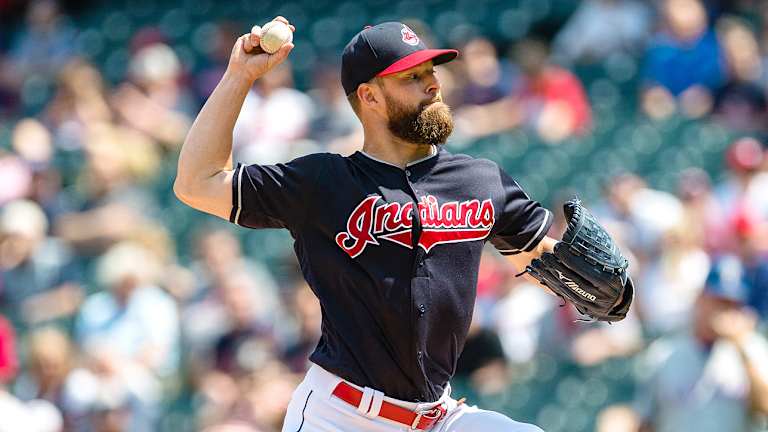 MLB DFS Plays for June 15
Pitchers to target and offenses to stack for Friday's DFS contests.
Baseball brings a full slate of night games Friday, leaving a lot of options to sift through in DFS. Don't worry, we've got you covered. There are elite pitchers taking the mound like Corey Kluber and James Paxton, but there will also be some struggling starters in action who could give up plenty of runs. Consider using the picks below and plugging them into our MLB Lineup Optimizer to help complete the rest of your lineup.
Starting Pitchers
Corey Kluber, vs. Twins (FD: $12,000, DK: $13,600)
Kluber's consistency is outstanding. He hasn't allowed more than three runs in any start this season and he has pitched at least seven innings in 10 of his 14 outings. It seemed like it would be difficult for him to replicate his stellar 0.87 WHIP from last season, but he's been even better so far this year with a 0.83 WHIP. He's shown great control with a 0.9 BB/9, which certainly helps his pitch count and allows him to log so many innings each game. He thrives pitching at Progressive Field as well, recording a 1.26 ERA, 0.82 WHIP and 10.3 K/9 there this season. He'll eat up a significant portion of your budget, but he should be worth it.
Ross Stripling, vs. Giants (FD: $9,100, DK: $9,800)
If one positive can be taken from all of the injuries the Dodgers have suffered to their starting rotation, it's that those injuries helped pave the way for Stripling to get regular starts. To say he has taken full advantage of his opportunity is an understatement, as he has a 2.01 ERA, 1.01 WHIP and an 11.1 K/9 in eight starts. He allowed four earned runs in his first start, but has only allowed a total of six earned runs since. The Giants have struck out the third-most times (643) in baseball and lost one of their better hitters in Evan Longoria to a hand injury Thursday, opening Stripling up for the possibility of another great outing.
Eduardo Escobar Is the Latest Success Story of the Launch Angle Revolution
Seth Lugo, at Diamondbacks (FD: $6,400, DK: $7,100)
Speaking of teams dealing with injuries to their starting rotation, the Mets are currently without one of their aces in Noah Syndergaard (finger). Lugo has pitched primarily out of the bullpen this season, but he should start until Syndergaard returns. Lugo pitched very well against a potent Yankees lineup in his last outing, striking out eight batters and allowing just two hits in eight scoreless innings. He has a career-high 9.3 K/9 this season, with some of that possibility attributed to his average fastball velocity of 93.8 mph, up significantly from 91.8 mph last year. Some of that, however, might be because he is giving max effort in short appearances, so it will be interesting to see if he can keep that up when he starts. The Diamondbacks offense has been much better lately, but they still have the third-lowest OPS against righties (.664) in baseball.
Offensive Stacks
Los Angeles Dodgers vs. Derek Holland, San Francisco Giants
Stadium – Dodger Stadium
Holland has been beset by injury throughout his career, which has resulted in him throwing 135 innings or fewer in each of the last four seasons. He's been healthy this season, but he still has a 4.54 ERA and a 4.39 FIP across 13 starts. Hitters aren't swinging at many of his pitches outside of the strike zone and he has allowed a 38.9% hard-hit rate, which isn't great news for his value moving forward. He has already faced the Dodgers twice this season and allowed nine runs, seven earned, in 8 1/3 innings combined.
New York Yankees vs. Nathan Eovaldi, Tampa Bay Rays
Stadium – Yankee Stadium
Eovaldi returns to face his old team Friday after mostly struggling during his two seasons in pinstripes. He's only made three starts this year and has a 3.94 ERA and 0.63 WHIP. Opponents only have a .119 BABIP, though, a number which obviously won't hold up over the course of the season. He has generally had trouble keeping runners of base with a 1.37 WHIP for his career. He doesn't have swing and miss stuff, either, which is dangerous against any team, and especially the Yankees. The Yankees have scored the third-most runs (349) and have hit the most home runs (109) in baseball, leaving them with significant upside against Eovaldi.
Andrelton Simmons Is The Hardest Player to Strike Out in the Big Leagues
Washington Nationals vs. Aaron Sanchez, Toronto Blue Jays
Stadium – Rogers Centre
Sanchez has battled significant control issues this season, resulting in a 5.2 BB/9. He's primarily a groundball pitcher, so while he can get the help of the double-play, he doesn't have much room for error. His 1.50 WHIP this year has helped lead to a 4.31 ERA and a 4.91 FIP. Sanchez particularly struggles against left-handed hitters, as he has allowed a .406 wOBA against them this year. The Nationals have some excellent lefty bats in Bryce Harper, Juan Soto, Daniel Murphy, Adam Eaton and Matt Adams, creating a stacking opportunity that could provide a hefty return.
Pittsburgh Pirates vs. Matt Harvey, Cincinnati Reds
Stadium – PNC Park
Harvey hasn't pitched much better since joining the Reds and has allowed at least four runs in each of his last three starts. His propensity to give up home runs has followed him to Cincinnati, serving up seven long-balls in 30 1/3 innings. He only allowed one run over six innings in his last start against the Pirates, but that game was played in Cincinnati. The Pirates only have a .708 OPS on the road this year, but they have a .770 OPS at home. They're a good bet in the rematch.