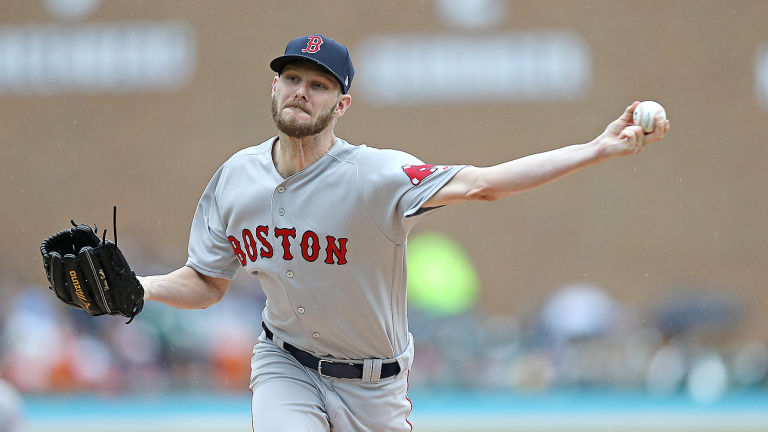 MLB DFS Plays for July 27
Finding the best pitchers and lineups to stack for Friday's DFS contests.
There weren't any elite starting pitchers in action Thursday, but that certainly won't be the case Friday with Chris Sale, Max Scherzer and Clayton Kershaw all scheduled to take the mound. There are some good second-tier options available, as well, which might make offense hard to come by, but there are still a few key stacks that may be able to provide value. Consider using the picks below and plugging them into our MLB Lineup Optimizer to help round out the rest of your lineup.
Starting Pitchers
Chris Sale, vs. Twins (FD: $12,800, DK: $13,500)
Sale has been absolutely dominant all season and especially in the recent term, allowing one run and recording 57 strikeouts in 33 innings across his last five starts. He allowed 24 baserunners during that stretch and has a career-low 0.87 WHIP for the season. His 16% swinging-strike rate has helped lead to a 13.1 K/9, giving him one of the highest upsides of anyone in DFS. This is a great matchup against a Twins team that has fared well against right-handed pitching, but only has a .677 OPS against lefties. In Sale's first start against them this year, he surrendered two runs and recorded 11 strikeouts over seven innings.
Madison Bumgarner, vs. Brewers (FD: $9,300, DK: $9,300)
Chris Archer stands out as a great mid-tier option facing the Orioles, but it looks like a wet night is ahead in Baltimore. A safer play in that price range might be Bumgarner, who has a 3.19 ERA and a 1.25 WHIP across nine starts. He's been a bit lucky based on his 4.00 FIP and .257 opponents' BABIP, plus he has an uncharacteristically high 3.9 BB/9. However, it's certainly encouraging that he has allowed three or fewer earned runs in seven of his nine outings. The Brewers .687 OPS against left-handed pitchers ranks in the bottom-third of baseball, leaving Bumgarner with significant upside.
Fantasy Football 2018: Why Your League Should Embrace the Superflex Format
Wade LeBlanc, at Angels (FD: $7,000, DK: $7,900)
LeBlanc has bounced around the league his entire career, with the Mariners being the seventh team he has played for in 10 seasons. He didn't start a single game for the Pirates last year, but he's made 15 starts among his 20 appearances this season. The Mariners couldn't have asked for more from him, as he has a 3.44 ERA and a 1.13 WHIP. He's not going to provide a lot of strikeouts with his 7.1 K/9, but he's also shown excellent control with a 1.8 BB/9. He's pitched well in his first two starts against the Angels, allowing three runs and recording nine strikeouts over 12 innings. It's not a surprise that he has had success against them considering they have the second-lowest OPS against lefties (.647) in the league.
Offensive Stacks
Arizona Diamondbacks vs. Luis Perdomo, San Diego Padres
Stadium – Petco Park
Perdomo hasn't put up great numbers the last couple of seasons, but he's been absolutely dreadful this year. He's only made eight starts, but he has a 6.99 ERA. His 4.66 FIP suggests he hasn't been that bad, but he's not going to have much success if he keeps up his current 1.90 WHIP. He has done a good job of limiting home runs, but he doesn't have an overpowering arsenal with just a 7.5 K/9, and he walks way too many hitters with a 4.6 BB/9. The Diamondbacks have had their struggles against right-handed pitchers, but they still present an excellent stacking opportunity against Perdomo. One player to target specifically is David Peralta, who has a .392 wOBA against righties.
Boston Red Sox vs. Lance Lynn, Minnesota Twins
Stadium – Fenway Park
Lynn has always had problems with walks, but he's been even worse this year with a 5.7 BB/9.  He has a bloated 1.66 WHIP, which has resulted in a 5.23 ERA and a 4.69 FIP. He's been even worse on the road with a 7.58 ERA and a 1.85 WHIP over 10 starts. That's not good news against a Red Sox lineup that has not only scored the most runs in the league, but also has its highest home OPS (.846). To top it off, their .811 OPS against right-handed pitchers is also best in the majors. Lynn could be in for a painful start.
Fantasy Football 2018: Running Back Primer
Pittsburgh Pirates vs. Jason Vargas, New York Mets
Stadium – PNC Park
Vargas has been on the DL for more than a month with a calf injury, but he is expected to return Friday. Things couldn't be going much worse for him in his first season with the Mets, posting an 8.60 ERA and a 1.83 WHIP across nine starts. He's had a real problem keeping hitters inside the park, giving up 11 home runs in only 37 2/3 innings. He's failed to pitch more than five innings in any of his starts, which means the Pirates may also be able to take advantage of a Mets bullpen that already lost traded its best reliever, Jeurys Familia, to the A's.
New York Yankees vs. Brad Keller, Kansas City Royals
Stadium – Yankee Stadium
After serving as a reliever at the beginning of the season, Keller has shifted into the starting rotation for the Royals. While he does have a 3.75 ERA over nine starts, he's been in trouble often with a 1.42 WHIP. He doesn't record a lot of strikeouts with a 5.6 K/9, which is scary considering he has to face the powerful Yankees lineup Friday. The Yankees are dangerous wherever they play, but they're especially powerful at Yankee Stadium with their .827 home OPS the second-highest in baseball. Losing Aaron Judge to injury Thursday is a big blow, but the Yankees still present an excellent stack to target.