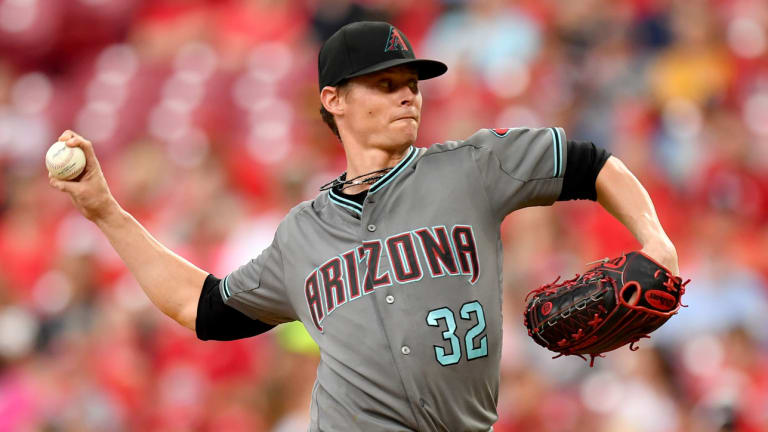 Clay Buchholz Is Back And Helping Steady the First-Place Diamondbacks
Clay Buchholz was once one of Boston's most promising talents. Several injuries later, he's back resurrecting his career in Arizona.
Let's get it out of the way, because people keep asking Clay Buchholz about how he met his wife. No Clay Buchholz story can be complete with a mention of his friendship with President Trump. No, they're not buddy-buddy. Yes, Trump introduced Buchholz to his wife, Lindsay, at a UFC after-party. And yes, whenever Buchholz is in New York—before the election, that is—he would stop by Trump Tower. But politics aren't a constant clubhouse conversation, and Buchholz admits he's not really into politics. "I have enough to worry about," he jokes.
Long before that, Buchholz suffered a bad omen. Before Buchholz's highly-anticipated first start in Boston in 2007, his manager, Terry Francona, said: "This kid can come up and pitch a no-hitter, and he's going to go back down." He didn't pitch a no-hitter in that game (he did go six solid innings, giving up three earned runs in an 8–4 win), but it was his next game that saw him throw that no-no against the Orioles. He was the third pitcher since 1900 to pitch a no-hitter in his first or second major league start, joining the St. Louis Browns' Bobo Holloman in 1953 and the White Sox' Wilson Alvarez in 1991.
Of course, we can't connect the 115 pitches in that performance to his subsequent arm trouble, though it is worth nothing that Theo Epstein said 120 was the limit for that start. But after two more games, Buchholz was shut down. Shoulder fatigue.
Thus began a long list of injury problems, surprising for someone who says he had never been hurt beforehand. A torn fingernail in 2008; a pulled hamstring in '10 after an All-Star selection; a stress fracture in '11; esophagitis in '12; a neck strain in '13; a knee injury in '14; an elbow injury in '15 that led to over two years of pain before missing almost the entire '17 season.
But now, Buchholz is back, a late addition to the Arizona rotation and posting a 2.47 ERA in 12 starts for a first-place team. Says Buchholz: "It's been three years in the making."
Like many players this offseason, Buchholz spent most of spring training at home, in Austin, Texas. His '17 trade to the Phillies did not go as planned. He made just two starts, throwing a total of 7 1/3 innings, and giving up 10 runs. Buchholz admits that his elbow—he had his flexor tendon repaired last April—impacted his performance. "That was the toughest thing," he says. "Just canceling out some of the pitches I throw. It was hard to get through a lineup that way."
With a week in left camp, Buchholz signed with Kansas City on a minor league contract. Buchholz went in with the intention of joining the rotation after building up his arm. And he pitched well at Triple-A Omaha, with a 1.59 ERA after two starts. But KC, he says, wanted to go young, and on May 1, he exercised his opt-out clause.
"I got more attention after I opted out than I did in the offseason," he says.
Some of that attention came from his old friends in Boston. Torey Lovullo, who spent four years as a coach in Boston, is the manager in Arizona. GM Mike Hazen spent 11 years in Boston; special assistant to the GM Craig Shipley is a Beantown vet; so is hitting coach Dave Magadan.
"Communication is key for any sport," Buchholz says. "Just being able to sit and talk to guys about anything, whether it be a coach or a manager, being able to talk and not being scared to say anything, that paves the way for opportunity and success."
What also helps is being healthy. He says he's 100%. He can throw any pitch in any situation, without the fear of his arm barking. At times in Boston, he says, he was throwing at 60%, trying to pitch through the pain. "It feels so much better to grip a baseball and throw all your pitches, without something in the back of your head knowing that this pitch is going to hurt," he says.
That's led to 12 strong starts, including a seven inning, nine-strikeout, one run performance against Miami in June, and Thursday's complete game, five-hitter in Arizona's 5–1 win over San Diego. He's had only one real clunker—four innings, five runs against Pittsburgh, but Arizona won anyway. And the Diamondbacks are back on top of the NL West. After a May malaise, the D-backs are 67–55, and still in control of the division. "This team, for the last couple years, has had some really talented young guys, core key veterans, and they got a little taste last year," he says. "That's how you build a foundation, a winning team. It's a fun group of guys."
Buchholz is healthy now and ready for the stretch run in Phoenix. And, after turning 34 this week, he looks back at his injuries as a blessing. "I don't have the number of innings that some of the starting pitchers that have been around. I feel like there's a lot of bullets left in there."
So about that omen. Maybe he won't pitch a no-hitter again. But this time, if he does, he won't be sent back down. He's done with that, ready to re-start his career as a healthy pitcher. Says the grateful Buchholz: "I'm not ready to give up the game."