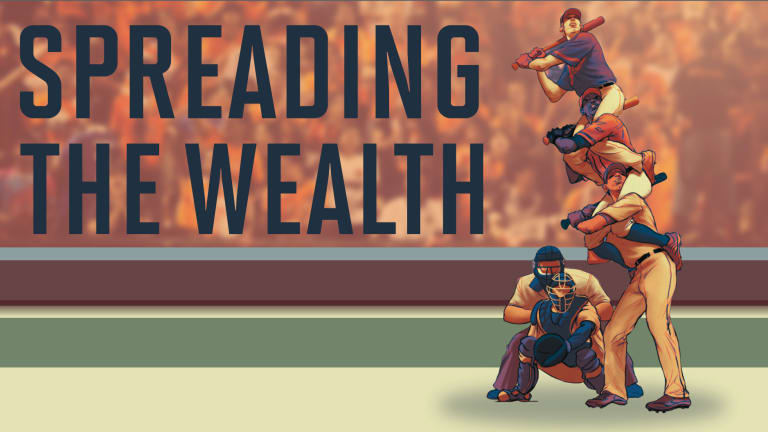 Most Minor Leaguers Won't Reach MLB, So Why Not Share the Risk?
A startup company is trying to pool together minor league baseball players' earnings to share risk. Can it catch on?
Except for the steady ascent of salaries, there's been hardly any change over the last decade or two in the way teams pay their athletes. New CBAs and shifting market conditions have created wrinkles here and there—opt-outs, performance bonuses, franchise tags and the related holdouts—but the basic formula persists. Teams pay players modestly when they're drafted and in the few years after that. Windfalls don't come until a talented player reaches free agency or, preemptively, receives a contract extension or an arbitration deal.
This model has been sustained because it has made the very best players very rich. But what happens to the players who never receive a big payday? Now there is a way for them to shed some of the risk they assume during the years before they reach the big leagues—if they reach the big leagues.
Pando Pooling is a startup headquartered in Palo Alto, Calif. The company's founders, Charlie Olson and Eric Lax, met in 2015 at Stanford's Graduate School of Business where they dreamed up an endeavor that would support people in high-volatility careers—entrepreneurs, primarily. (Pando is Latin for "I spread out," and also refers to a colony of aspen trees, whose roots intertwine to make a massive underground network.) What if, they wondered, a large enough group of entrepreneurs pooled shares of their earnings, ensuring that each entrepreneur stood less chance of going bust? In theory this would allow entrepreneurs to take more risks in pursuing their ideas.
TAYLER: One Free Agent Every National League Club Should Sign
Olson and Lax didn't start with entrepreneurs, though. They took their idea to a different field—literally. Just as MLB teams pool a third of their revenue to support smaller-market teams, Olson and Lax saw an opportunity to give young baseball players more security. As with entrepreneurs, only a small set of players go on to earn fortunes; many talented, driven players leave with little. (Less than 25% of first-round draft picks play more than three years in the majors.) Unlike tech founders, though, players are paid at regular intervals.
Here's Pando's pitch: A young player contributes a fixed share of his salary to his pool after he receives at least $1.6 million in MLB earnings. There is more than one pool, but every member in each pool must agree on every other poolmate, and Pando takes 10% of each pool. Pando recruits players through agents, financial advisers and players who have already signed with the company; Olson says he has 150 members so far. Once a player is on board, Pando then tries to match him with a handful of similar players to form a pool.
Take the 2002 draft; nine college pitchers were drafted in the sixth round. Only two reached salary arbitration, but one, righty reliever Pat Neshek, will have made $44 million in his career by the time his latest deal expires. Had Neshek chipped 5% to 10% of that into a pool, he'd still be a very wealthy man, and his poolmates, whose dreams did not turn out as his did, would have made six figures each. (A player's contribution is capped at $20 million.)
Benton Moss, a 25-year-old righthander who pitched this season for the Rays' Double A affiliate in Montgomery, Ala., signed with Pando in the spring and is still looking to be matched into a pool. He double-majored in business and economics at UNC, so he may have a special interest in seeing if this new kind of marketplace takes off. "The odds are against minor leaguers making it," he says. "Essentially they're trying to help you de-risk your career."
TAYLER: Playing Free-Agent Match Maker With American League Teams
Olson hopes the pool approach catches on widely enough in baseball that Pando can move into other high-volatility fields. Their first expansion is into football. For now, the company is small, running on seed money, with any major baseball proceeds years away. It's a long shot. But at least they know that.