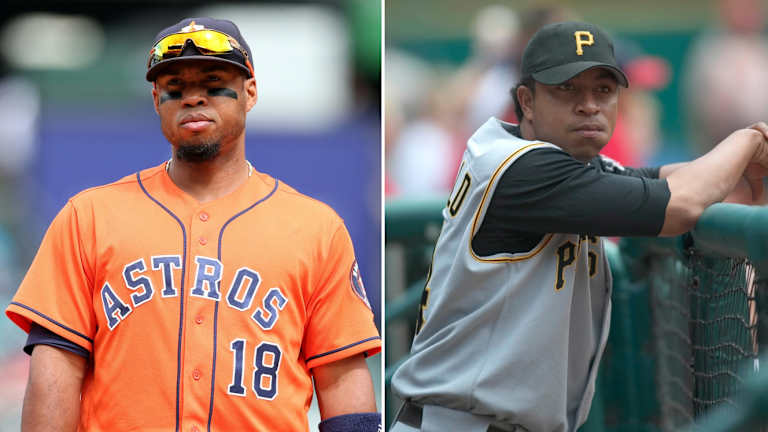 Police Arrest Four People Suspected of Robbing Luis Valbuena and Jose Castillo in Fatal Crash
Authorities said the players may have been the targets a criminal act.
Authorities said the players may have been the targets a criminal act.
Police have arrested four people suspected of robbing former Angels infielder Luis Valbuena and former Pirates second baseman José Castillo after the two players were killed in a car crash in Venezuela early Friday morning.
According to the Los Angeles Times, authorities believe Valbuena and Castillo, along with two passengers who survived, may have been targets of criminal behavior by groups in Venezuela who are known for throwing rocks onto roadways to disable cars and rob the occupants. Julio León Heredia, the governor of Yaracuy in Venezuela, said the four suspects arrested by police were found with Valbuena's and Castillo's personal belongings.
Valbuena, 33, and 37-year-old Castillo in Venezuela playing in the country's winter league and were teammates on the Venezuelan winter ball club Cardinales de Lara. The two were on their way home after a game on Thursday night when their car reportedly collided with a rock that slid onto the road, per the Venezuelan baseball website BeisbolPlay.
Valbuena played 11 seasons in the majors and last played for the Angels in 2018 before being released in August. He finished his career with a .226 batting average with 114 home runs and 367 RBIs.
Castillo played five seasons in the majors from 2004 to 2008 and had stints with with the Pittsburgh Pirates and San Francisco Giants before finishing his career with the Astros, recording a career .254 batting average with 39 home runs and 218 RBIs.