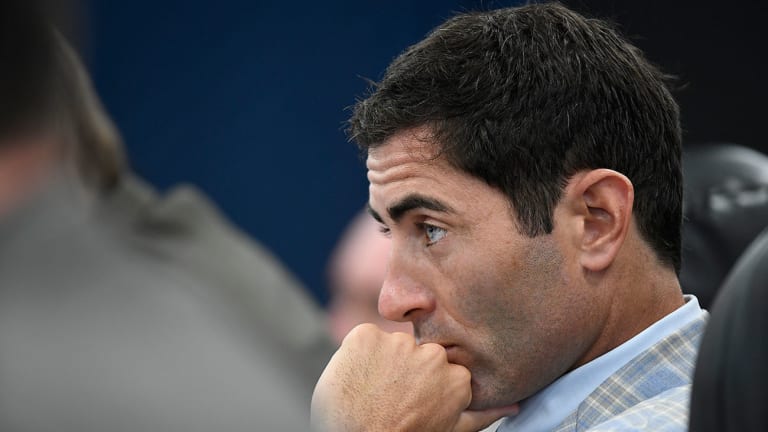 Are the Developing Padres Serious Players for Manny Machado or Bryce Harper?
Are the Padres primed to compete in 2019? They present one of the most unique rosters and payrolls of any team in baseball.
No 66–96 team in baseball history has been in as enviable yet precarious a position as the one in which the San Diego Padres presently find themselves. 
The farm system is as flush as any in recent memory; just days ago, MLB.com ranked 10 Padres prospects among the game's top 100, with five of them, including No. 2 overall prospect Fernando Tatis, Jr., expected to contribute as major leaguers in 2019. Meanwhile, the big league roster (with two crucial exceptions) is essentially a blank canvas ready for general manager A.J. Preller's paint. According to Spotrac data, only five teams have smaller total payrolls than the Padres' $74 million, and that number factors in the $25-plus million the Padres owe in dead money. Only the Rays have less pledged to their 25-man roster than San Diego's $49 million.
Preller has made a couple of token dabs on that canvas—reaching two-year deals in December with injured Angel starter Garrett Richards, who will likely miss 2019, and 36-year-old second baseman Ian Kinsler, whose charmed career entered its decline phase two years ago—but has not yet made any sort of splash. Will he? Should he? 
The questions are worth asking in light of recent reports that the Padres have made a delayed play for Manny Machado and are even sniffing around Bryce Harper. (The two lead a class of still-unsigned players that also includes Dallas Keuchel, Craig Kimbrel, and Marwin Gonzalez.) The reports, on their own, don't mean much. Presumably, every team could find a home for one or both players, and every team that isn't owned by cheapskates or already financially overextended would gladly add one or the other at advantageous terms. But because of the unusual composition of its roster and payroll, San Diego presents an uncommonly captivating set of hypotheticals. 
JUNG: Listing the Obscure Players Who Signed Before Machado, Harper
As with an NFL club lucky enough to have a star quarterback on a team-friendly contract, San Diego's meager commitments to the likely future cornerstones of its roster allow it to pay market prices for a star or two or three—and win—without reaching the payroll heights the Dodgers, Angels and Giants do. (Though San Diego is not exactly a small market, ranking as the 17th most populous metropolitan area in the country, the Padres have been in the bottom half of the NL, attendance-wise 17 of the last 20 years.) 
Then again, if the Padres were to sign Machado or Harper, and the prospects fizzled, San Diego could be stuck with three players earning more than $20 million annually on a middling team. For all of Preller's hard work in following the dizzying rebuild of his first offseason with something more sustainable and affordable, he has nevertheless stuck himself with a pair of bad contracts. The first is the six-year, $83 million extension signed by Wil Myers after the 2016 season, which bought out Myers' arbitration years and what would have been his first three free-agent years. The Padres got a bargain on the early years—factoring in his signing bonus, Myers will make just $5.5 million this year, the deal's third—but Myers will be paid a $20 million base salary in each of the three seasons thereafter. $20+ million is too rich, in the current climate, for an offense-only player with power but a low walk rate. San Diego has reportedly been trying its best to move Myers, but it has found no takers.
Worse than Myers' deal is the eight-year one Eric Hosmer signed last offseason to bump Myers from first. Hosmer is a slap-hitting first baseman, which is bizarre enough on its own—but of the 332 hitters last year with enough batted balls to qualify, he was the only one with a negative launch angle; that is to say, his mean batted ball was pounded into the ground. The Padres will be paying him $21 million annually for each of the next four years, and then $13 million annually for the three years thereafter, if he doesn't opt out.
GROSSMAN: How Peter Magowan Changed the Giants Forever
The team signed Hosmer not only to hit all those grounders. Supposedly he possesses the ideal character traits for developing and motivating this crucial class of prospects. Whether he actually does possess those traits, and whether he can marshal them despite his offensive struggles, remains to be seen; Padres fans must know, deep down, that the team would have less trepidation about splurging on Machado or Harper had they not gone big for Hosmer.
I suppose the prudent thing for San Diego to do would be to pass on Harper and Machado and see how the youngsters fare in 2019; if the team wins 75 games on the strength of their contributions, that'll be progress, and maybe Preller will find a midseason taker for Myers, clearing room to sign Nolan Arenado and Gerrit Cole. 
But San Diego must know, too, that Harper and Machado are ripe for the picking in a way that Arenado, Cole, Anthony Rendon, Chris Sale and all the rest may not be next winter. Prudence is a fine thing, but there is something to be said for seizing an opportunity when it's there.