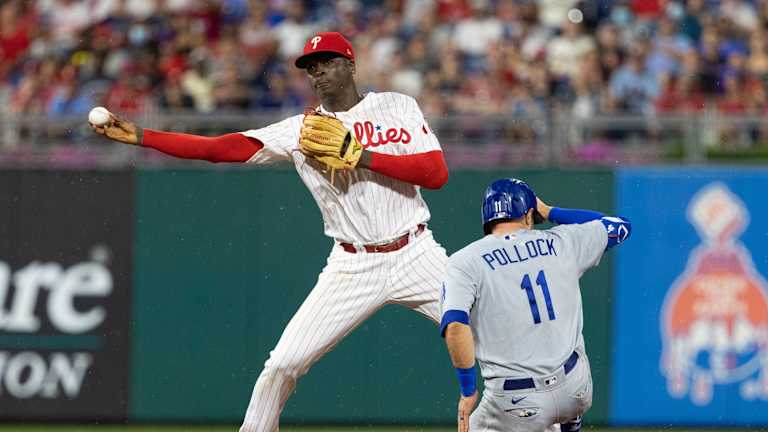 Gregorius Not Guaranteed as Phillies Opening Day Shortstop
Dave Dombrowski stated that Didi Gregorius has been told he's not a lock as the 2022 Opening Day shortstop.
Philadelphia Phillies President of Baseball Operations Dave Dombrowski held his first offseason press conference on Wednesday. 
Among the items he addressed were two of the biggest causes for concern on the current Phillies roster: Alec Bohm and Didi Gregorius.
Gregorius, fresh off of one of the worst seasons of his career, has been informed that he's not guaranteed as the Opening Day shortstop for the Phillies come the 2022 MLB season.
While he did deal with an elbow injury labeled as pseudogout, Gregorius' 2021 was lackluster from both an offensive and defensive standpoint. He hit just .209/.270/.370 in 103 games. His -0.8 WAR was one of the least valuable in all of the National League, and was by far the lowest of his career.
Additionally, Gregorius was a defensive liability up the middle, as he committed 18 errors on the season, fifth most in all of MLB.
Whether the team chooses to develop a shortstop from within or sign one from the historic free agent class this winter is currently unknown. However, with the team also looking for a middle of the lineup bat, it appears Philadelphia could accomplish both of these goals in one move.
With names like Carlos Correa, Corey Seager, and Trevor Story all available, the Phillies may elect to go over the luxury tax threshold. With a revamp of the minors underway, Philadelphia's best current asset is money. Coupled with the fact Dombrowski has a history of spending where he has previously been, it's not hard to see one of the above names donning the red pinstripes in 2022.
Whichever route they decide, Dombrowski made it clear that they need better offensive production from the middle of the order, and it is one of their priorities this offseason.
More From SI's Inside The Phillies:
---
Make sure to follow Inside the Phillies on Facebook and Twitter!