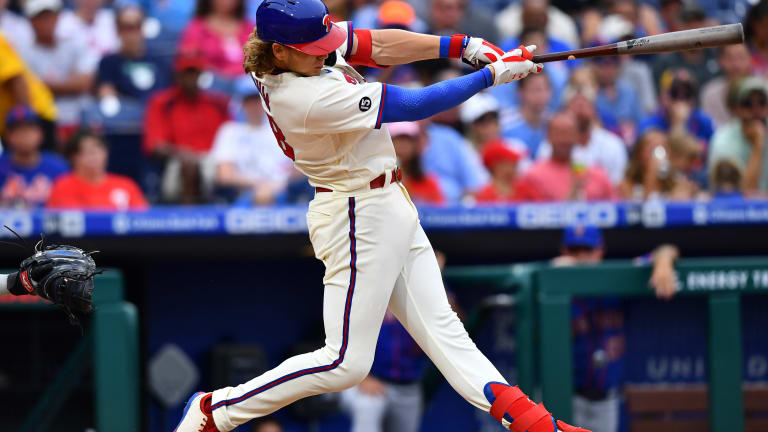 New Hitting Coach Long Working With Bohm in Clearwater
Philadelphia Phillies new hitting coach Kevin Long has said he plans to work with third baseman Alec Bohm in Clearwater, Florida.
Philadelphia Phillies third baseman Alec Bohm struggled in 2021, both offensively and defensively. And although his defensive woes are more cause for concern, they wouldn't have been has prevalent had his offensive production resembled that of 2020.
Bohm's 2021 season saw a faction Phillies fans giving up on the 25-year-old, but the club's new hitting coach Kevin Long believes there is no need to worry.
"We're acting like it's the end of the world," Long said on Kevin Frandsen's Pine Tar for Breakfast. "I hope Alec doesn't do anything crazy and I hope he understands where he's at."
Bohm is also backed by President of Baseball Operations Dave Dombrowski, who stated in an Oct. 6 press conference that Bohm will be the Opening Day third baseman in 2022.
Bohm has a residence in Clearwater, Fl., and has already spent much of his offseason at the Phillies' facility, working on his offense and defense. In order to get Bohm up to par, Long said in his introductory press conference that he planned to join the former third overall pick in the 2018 MLB Draft in Clearwater to work on getting him back on track. 
"I just recently got done hitting with him. We're going to get him a little bit closer to the hitting position," Long said. "His timing is going to be a little bit more efficient and his move to the ball is going to be shorter and quicker. That should take care of that."
Despite Bohm's underwhelming sophomore campaign, there is still a lot of power harnessed in his bat, as he is ranked in 89th percentile in average exit velocity and 90th in hard-hit percentage. 
The former Washington Nationals hitting coach Long even gave Bohm a Juan Soto comp. "His strength is a lot like [Soto's], it's middle, middle the other way," he said. "He's gotta stay there. Even if he gets beat by a fastball or he doesn't catch up to a couple fastballs, he's gotta stay with his strengths."
With the coaching of Long, Bohm refining his approach at the plate and slightly adjusting his swing should help him return to form. It's also highly likely that the recent addition of infield coach Bobby Dickerson sees Bohm working with him on defense as well.
It is obvious that Bohm cares about living up to expectations and performing well for himself and for the team. It is highly encouraging to see Bohm so dedicated to bettering himself for sake of the organization that drafted him third overall.
More From SI's Inside The Phillies:
---
Make sure to follow Inside the Phillies on Facebook and Twitter!