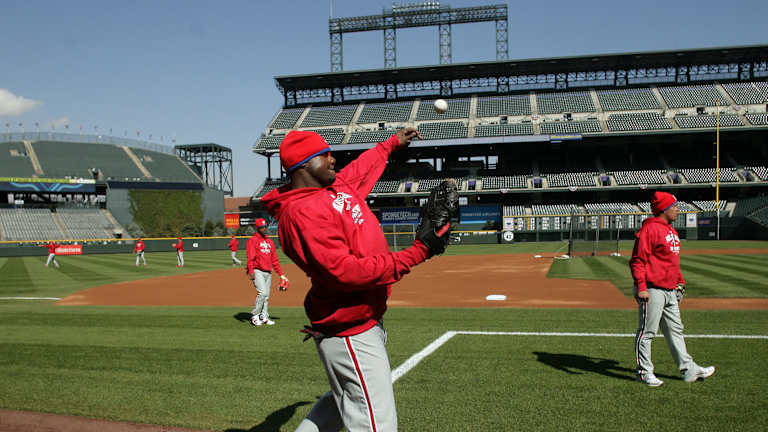 This Day in Phillies History: October 11
Today in Philadelphia Phillies history includes a former president and more cold weather!
In 1915, the Philadelphia Phillies and the Boston Red Sox faced off in Game 3 of the World Series. Pete Alexander got the nod for the Phillies to start and pitched the entire game. However, with the game on the line in the ninth inning and the game tied at 1-1, the Red Sox broke through.
Boston's Duffy Lewis broke the tie with an RBI single to bring the series to 2-1 Boston after three.
Next up was Game 1 of the I-95 World Series in 1983 against the Baltimore Orioles. Both Joe Morgan and Gary Maddox hit home runs to help power the Phillies past Baltimore. Philadelphia's starter on the day, John Denny, tossed a gem when he pitched 7.2 innings allowing just one earned run off of a solo shot by Jim Dwyer.
President Ronald Reagan was in attendance for the game in Baltimore as he watched the Phillies claim Game 1 by a score of 2-1. 
Finally, on this day was the makeup Game 3 of the 2009 NLDS from the previous day when it was snowed out. Playing baseball in Colorado in October had its hazards it appears. However, the Phillies would prove to be victorious thanks to some ninth inning heroics with the score tied. 
With Jimmy Rollins already on, Chase Utley was awarded a base after a controversial call that saw the ball fouled off his leg, but was ruled a single anyways. Finally, Ryan Howard stepped up to the plate and drove Rollins home from third on a deep sacrifice fly. 
More From SI's Inside The Phillies:
---
Make sure to follow Inside the Phillies on Facebook and Twitter!