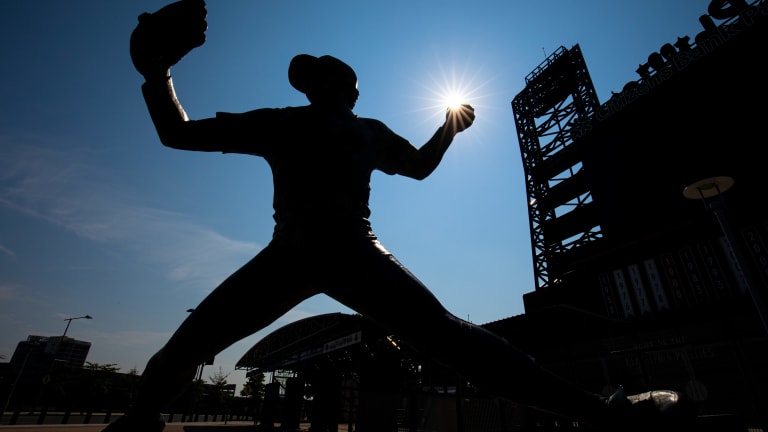 This Day in Phillies History: October 14
Today in Philadelphia Phillies history features a rookie getting a win in the World Series.
Today in Philadelphia Phillies history starts in 1884 as we continue to chronicle the City Series. The City Series featured the two Philadelphia teams in the Athletics for the American League and the Phillies for the National League. 
The series began in 1883 and a hot rivalry was formed that drew immense interest from the local fans. It continued until the Athletics moved to Kansas City in 1955.
The Phillies defeated the Athletics 6-4 in Game 1 of the second City Series to ever be hosted.
Three years later on the same day, the Phillies would not fare so well in Game 3 of the 1887 series. The Athletics emerged victorious 11-6 in what was a slugfest.
Perhaps more contemporary, we move to 1980. Bob Walk, a rookie at the time, got the start for Game 1 of the 1980 World Series. He led the Phillies to a win over the Royals. Walk was the first rookie since 1952 to start a Game 1 of the World series.
Finally, in 1983, the Baltimore Orioles defeated Philadelphia 3-2 in Game 3 of the World Series. Steve Carlton got the start and gave up two earned runs in 6.2 innings pitched, including a solo shot to Dan Ford in the sixth, and an RBI single to left field by Benny Ayala in the seventh. 
This prompted a pitching change that saw Al Holland enter the game, who allowed Ford to reach on an error and score Ayala to make it 3-2. Ultimately, Philadelphia was unable to mount a comeback and Baltimore took Game 3 of the 1983 World Series.
More From SI's Inside The Phillies:
---
Make sure to follow Inside the Phillies on Facebook and Twitter!