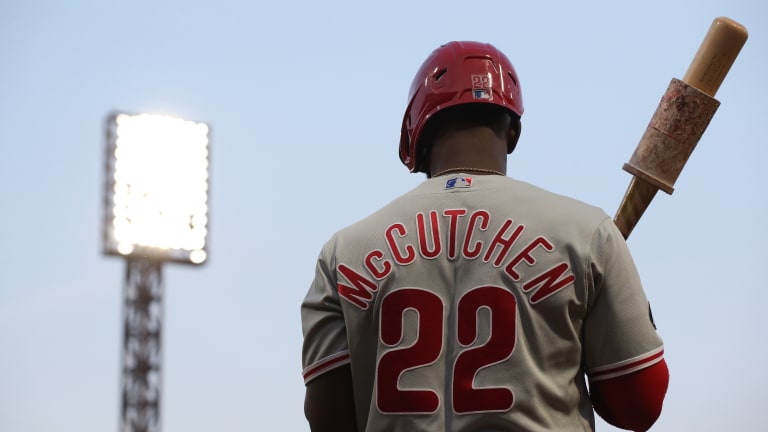 Phillies Season in Review: Andrew McCutchen
Inside the Phillies continues their season in review series with Philadelphia Phillies left fielder Andrew McCutchen.
The 2021 season was paramount for Andrew McCutchen, with his performance being the deciding factor if the Philadelphia Phillies would pick up his contract for 2022.
This was the first year in which McCutchen played 100+ games as a member of the Phillies, after suffering a season-ending ACL tear in 2019 which saw him play only 59 games, and a 60-game season in 2020 where he played 57 games.
McCutchen started off cold for Philadelphia this season, sporting a batting average of .169 and a slugging percentage of .247 in April. To say that McCutchen was looking to heat up during May after an excruciating opening month would be an understatement.
Heating up is just what McCutchen started to do, turning it up in May for the Phillies. McCutchen's average rose to .227, while his slugging percentage shot up to .454, hitting six home runs and driving in 13.
If McCutchen's May was good, then his month of June was great. His batting average reached a season-high .301, and a slugging percentage of .603. This would be McCutchen's peak during 2021.
July saw McCutchen start to slow down, although he still came up big at times, contributing seven home runs and 17 RBI. A part of his reduced production could be due to missing time after being placed on the 10-day IL on July 4 with an oblique injury.
August was the lowest point for McCutchen, with his batting average sinking to a season-low .155. And for the second straight month, McCutchen would find himself on the 10-day IL, this time with left knee inflammation.
When he returned from the IL, McCutchen was able to raise his average back up to .221, his slugging percentage to .474, and drove in 16 runs during the final stretch of the season.
Despite McCutchen's season being a bumpy ride individually, he ranked high on the team in several categories. He was tied for second with Rhys Hoskins for home runs, ranked second in RBI, and second in walks.
Perhaps because of the injuries he's sustained to his knee, McCutchen is not as quick on his feet when fielding balls in left field. The 35-year-old veteran is certainly not going to look as sharp in the outfield as he used to, and his lackluster defense, outside of a few web gems here and there, could be another reason the Phillies decide to move on from Cutch.
It's most likely that McCutchen will not be back in red pinstripes come 2022. And although his tenure with Philadelphia was injury-filled and underwhelming at times, Cutch still grew to be a beloved Phillie amongst the fanbase during his short time here.
More From SI's Inside The Phillies:
---
Make sure to follow Inside the Phillies on Facebook and Twitter!