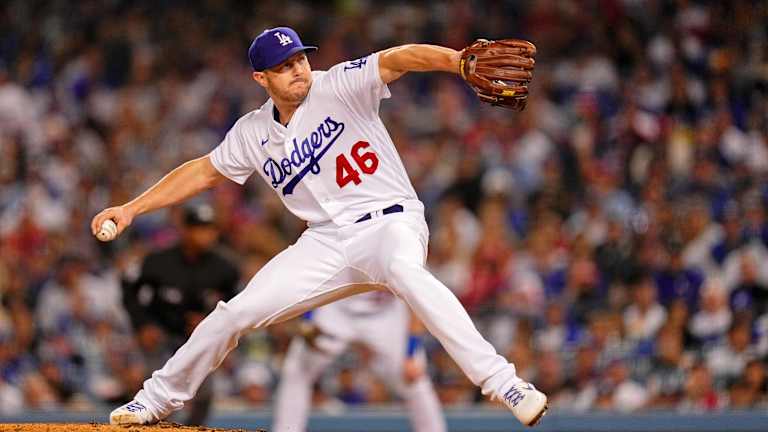 Can Corey Knebel Be Elite for the Phillies in 2022?
Just a few years removed from Tommy John surgery, how will Corey Knebel help boost the Philadelphia Phillies bullpen this season?
Corey Knebel signed with the Phillies in December ahead of the MLB lockout on a one-year deal worth $10 million. For a team that was desperate for bullpen help this past season, Phillies President of Baseball Operations Dave Dombrowski saw that it was imperative to get a deal done before the expiration of the collective bargaining agreement (CBA).
In 2017, Knebel was one of the most feared and dominant relievers in all of baseball, but after having Tommy John surgery in 2018, and being sidelined for the entirety of the 2019 season, does Knebel still have what it takes to lock down his opponents late in games?
The short answer is yes, and if his 2021 season is any indication of what is to come, the Phillies may have struck gold for their bullpen.
Knebel will be entering his third season since his surgery and after a rough go in 2020, he came out strong in 2021. As a member of the Los Angeles Dodgers this past season, Knebel posted a 2.45 ERA with a 0.97 WHIP while holding the opposition to a .176 batting average. He also struck out 30 batters in his 25.2 innings pitched.
Most importantly, Knebel's fastball velocity saw a major uptick in 2021 compared to 2020 as it rose from an average 94.3 mph to 96.3 mph.
Coming off of the second best season of his career, Knebel is looking to continue his rise and prove that he can still be a top reliever on his one-year deal. What makes Knebel so dangerous is his arsenal. He likes to keep his fastball up in the zone and pair it with a killer knuckle curve that presents the illusion of the high fastball before it drops last second below the strike zone.
As a pitcher who throws high fastballs, command is in many ways more important to Knebel than velocity. High strikes have a very small margin of error because if you throw the pitch an inch too high, it's a ball and if you throw the pitch an inch too low, it's over the fence.
Knebel showed on the mound last season that his command has gotten a lot better with his K% at nearly 30% (29.7%) and his lowest BB% since his rookie season at 8.9%. With that being said, when he did miss his spots, the balls were absolutely crushed.
Knebel gave up two home runs in 2021, both against the San Diego Padres in late August. The first was an inside fastball to Jurickson Profar that was hit off the inside of his bat and traveled 346 feet into the right field seats. The second came the following night on an up and away fastball to Fernando Tatís Jr that had an exit velocity of 104.2 mph.
A few days prior to giving up the home runs, Knebel delivered a pitch that would return right back up the middle off the bat of Pete Alonso with an exit velocity of 118.4 mph, the second hardest hit ball by a National League player in 2021.
The bottom line is, when Knebel hits his spots (and there is reason to believe that more likely than not, he will) he is an absolute force on the mound. However, being the pitcher that he is, there is always the concern that a missed location on a high fastball will turn into a disastrous home run that can turn the tides late in games. Fans will just have to trust that Knebel is continuing to improve since his surgery.
While there have been many occasions of pitchers failing to make a successful comeback to the majors after the surgery, there are also plenty of examples of players coming back and continuing to dominate. Some recent players include Matt Harvey, Stephen Strasburg, Adam Wainwright, and Nathan Eovaldi, just to name a few.
It is worth noting as well that Knebel missed 92 games during the 2021 regular season with a major right lat strain. He pitched six innings in April before the injury and made his return on Aug. 10, where he was able to finish out the year strong. His injury history may be a slight concern as he has been out for 417 in-season days over the course of his career.
Eight of Knebel's 27 appearances in 2021 came against NL East opponents, one of which against the Phillies. In those games, Knebel pitched 6.2 innings while giving up five hits, no runs, and striking out nine.
Dombrowski has yet to officially commit to the idea that Knebel has the closer slot locked up for 2022, but it is implied that he will be a major component to the bullpen in late game situations.
Between both the eye test and the numbers, Knebel should no doubt be a reliable arm in 2022 for a Phillies team that has been desperate for help. It is unclear if Dombrowski and the Phillies plan to make another big splash for the bullpen before the season or if they will add smaller pieces, but Knebel is about as good as it gets. 
More From SI's Inside The Phillies:
---
Make sure to follow Inside the Phillies on Facebook and Twitter!