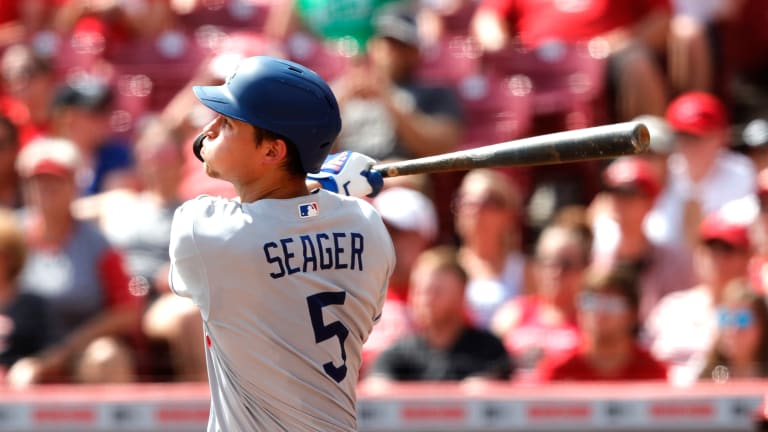 Corey Seager Could Help Solve the Phillies Problems
Could signing Corey Seager help solve the majority of the Philadelphia Phillies roster issues?
The Philadelphia Phillies need help. Badly. They platooned at third base and shortstop during the 2021 MLB season, and for a contending team, that cannot happen. It is an issue they will have to address this offseason. The shortstop position would be the easiest way to solve said problem, and doing it in free agency could be the way to go.
The potential solution to the issue? Corey Seager.
Didi Gregorius was told he isn't guaranteed the starting shortstop job on Opening Day. So, let's read between the lines: Unless there is any other option, Gregorius will not be manning shortstop next season. 
There are few internal options for Philadelphia, and as good as prospect Bryson Stott has been this past season and currently in the Arizona Fall League, he isn't in consideration for Opening Day. 
That leaves only options via trade or free agency, and seeing as that the Phillies' biggest asset is cash, they may chase one of the shortstops in the upcoming historic free agent class.
Out of Carlos Correa, Trevor Story, Javier Báez, Marcus Semien, and Corey Seager, the latter makes the most sense for numerous reasons. 
Compared to the rest of the crowded free agent class, Seager is consistent, younger, and doesn't taunt fans (that wouldn't go down well in Philly, Mr. Báez). 
Despite the routine propaganda that the Phillies and owner John Middleton don't like to spend money, it is blatantly false. The franchise signed Bryce Harper, Zack Wheeler, and J.T. Realmuto in three successive offseasons, in that order. And reports at the past trade deadline stated that Middleton isn't scared to go over the luxury tax. Whatever that may look like, one thing is for certain: Middleton will do it for the right player.
In 2021, Corey Seager missed some time due to injury. Once he returned, he didn't miss a beat. In 95 games, he slashed .306/.395/.521 with 16 home runs and 57 RBI. 
Seager's career numbers are in the same ballpark and it is easy to extrapolate that the 27-year-old will only continue to produce as he has in 2021 and throughout his career. 
Adding a player like Seager would meet Phillies President of Baseball Operations Dave Dombrowski's list of needs. Dombrowski specifically called out Gregorius, the shortstop position, and the need for a middle-of-the-order bat. Seager fits that of Dombrowski's criteria.
Seager would also slot in as the likely fourth hitter in the lineup. The 2020 World Series MVP would provide excellent protection for Harper, something he didn't have much of this season. If 2021 is any indication of what Harper can do on his own, it becomes a mouth-watering prospect at what he can do in a lineup that would include Realmuto, Seager, and Hoskins behind him. 
Of course, one could argue that the Phillies should spend their money elsewhere, such as on the rotation, bullpen, and even left field. But those will all be addressed. However, the shortstop position is arguably one of the most important on the diamond. In Philadelphia's case, solving that problem helps answer a number of their issues. 
With a new CBA needing to be addressed, it remains to be seen what the new luxury tax threshold will look like. It may also put a freeze on free agent spending early in the offseason. Regardless, the Phillies will spend money. They always do.
The first call they need to make is to Corey Seager's agent.
More From SI's Inside The Phillies:
---
Make sure to follow Inside the Phillies on Facebook and Twitter!