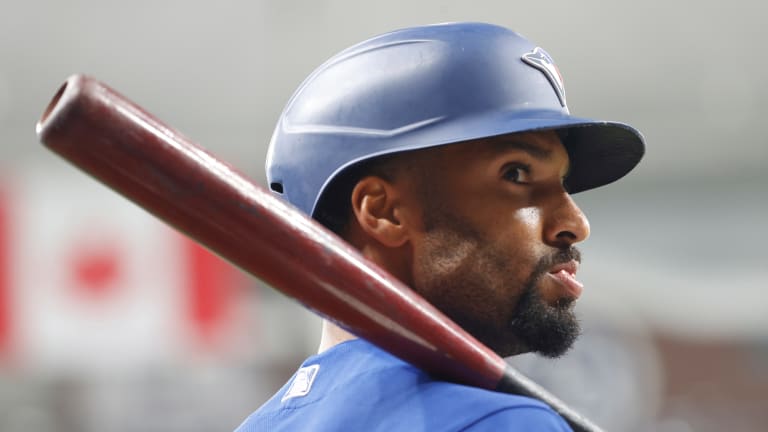 Could Signing Marcus Semien Make Sense for the Phillies?
Toronto Blue Jays shortstop Marcus Semien's contract expires at the end of the season, could the Philadelphia Phillies bring him in to help fortify their offense?
A top candidate for shortstop that the Philadelphia Phillies should look at signing this offseason is Toronto Blue Jays' Marcus Semien, whose contract expires at the conclusion of the season.
During the 2021 season, Phillies everyday shortstop Didi Gregorius had trouble finding his stride, falling flat both offensively and defensively. In the first-half, Gregorius missed time due to injury, playing in only 41 of 81 games. Overall, Gregorius slashed just .209/.270/.370, with 13 home runs and 54 RBI in 103 games.
In an attempt to improve their defense at shortstop, Philadelphia acquired former Phillie Freddy Galvis from the Baltimore Orioles at the deadline. Galvis supplied serviceable defense at both shortstop and third base, but not the offensive pop the Phillies lineup so desperately needs. So, the issue still looms: the Phillies need a shortstop who can provide solid defense and bring consistent offensive production to their lineup.
At the end of the 2020 season, Semien left the Oakland Athletics where he had played for six seasons and signed a 1 yr/$18 million contract with the Blue Jays.
Semien had one of his best seasons in 2021, where he hit .265/.334/.538, belted 45 home runs, and had an OPS of .873. This earned him his first All-Star Game selection. Along with his teammates Vladimir Guerrero, Jr. and Bo Bichette, he helped keep Toronto in the playoff picture right up until the very end of the season.
Semien also brings decent defense, sporting a fielding percentage of .984, better than both Gregorius (.953) and Galvis (.944). However, the Blue Jays began using Semien as a designated hitter in the middle of the season rather than at shortstop, meaning that the 31-year-old could potentially share the DH spot in the Phillies lineup should it come to the National League in 2022.
However, if Philadelphia is unable to land Semien during the offseason, Dombrowski has other options amid the historic class of free agent shortstops. Among them is Colorado Rockies' Trevor Story, who could also make sense for the Phillies.
Story has been with the Rockies since his debut in 2016, and after signing a two-year deal in 2020, his contract is set to expire at the end of the season.
Story's 2021 wasn't his best, but that isn't to say it wasn't still good, batting .251/.329/.471 with an OPS of .801, 24 home runs, 75 RBI, and 20 stolen bases. There's a reason that Story won back-to-back Silver Slugger Awards in 2018 and 2019, as well as being named to two All-Star Games. 
On the defensive end, Story had a fielding percentage of .975 over 138 games at shortstop this past season. Overall, Story would be a great addition to the lineup from both an offensive and defensive standpoint.
If one of either Semien or Story were to join the Phillies, they would help solidify the already strong core of Bryce Harper, Rhys Hoskins, and J.T. Realmuto. Semien would be the preferred pick due to his stronger offensive numbers, but Story would also more than fill the offensive and defensive holes that have been left by Gregorius.
Deputy Editor Lauren Amour contributed to this article.
More From SI's Inside The Phillies:
---
Make sure to follow Inside the Phillies on Facebook and Twitter!