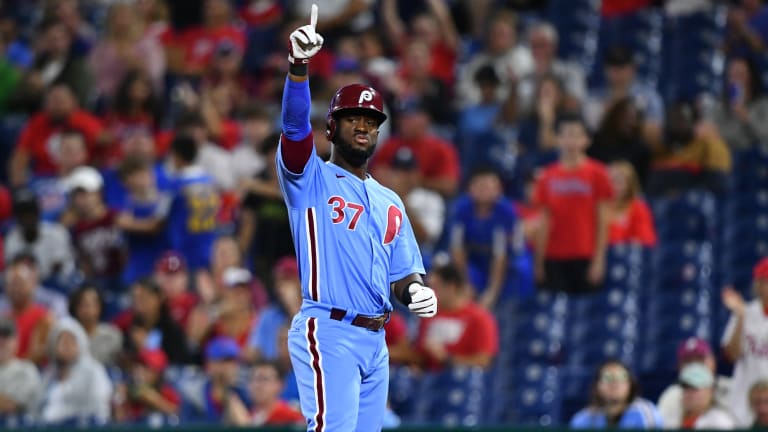 Phillies Season in Review: Odúbel Herrera
Inside the Phillies continues their Season in Review series with center fielder Odúbel Herrera.
Philadelphia Phillies center fielder Odúbel Herrera is a polarizing figure. From his off-the-field issues to his on-the-field play, Herrera has many varying opinions about his tenure with the Phillies.
After his 2021 season, there is a very good chance he returns as Philadelphia's center fielder in 2022. The Phillies have a club option on him for 2022 and 2023. The buyouts those years of $2.5 million and $1 million, respectively, may help sway the decision. However, he is projected to make $11.6 million in arbitration according to MLB Trade Rumors.
Herrera's 2021 slashline of .260/.310./416 was about in line with his career average. He was also worth 1.1 WAR in 2021, which means that he performed better than any replacement level player in the MLB. That being said, he was 34th amongst center fielders for WAR.
Perhaps placing him in the leadoff spot is what hurt him offensively. Herrera is not a prototypical leadoff hitter and it showed in 2021. He has the ability to play solid defense in center and has a decent bat, but he cannot and should not lead off with his current approach at the plate. 
Herrera was serviceable in center this past season. There are other holes to fill on the roster, but the team could move on. There are plenty of options on the free agent market that would fill the center field position and the leadoff spot. It all depends on what Philadelphia wants to prioritize.
For these reasons, it seems Herrera will be back as the center fielder for 2022. Of course, Matt Vierling could get his chance or at least share some time in the outfield. But, Herrera has proven himself as an adequate player in a lineup where at times that can be devoid. 
As hot as Herrera can be, he is also cold. It will all be about how to manage his ups and downs. As far as 2021, you couldn't have asked for much more. 
More From SI's Inside The Phillies:
---
Make sure to follow Inside the Phillies on Facebook and Twitter!