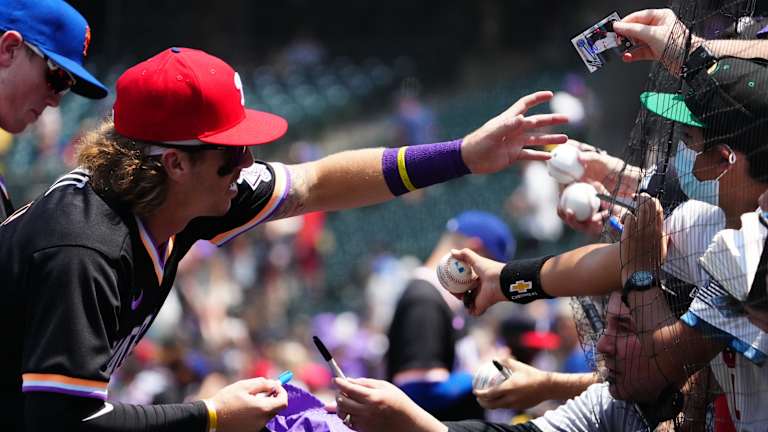 Stott, O'Hoppe, and Jones Named to Fall Stars Game
Bryson Stott, Logan O'Hoppe, and Damon Jones have been named to the Arizona Fall League's 2021 Fall Stars Game.
The Philadelphia Phillies announced on Wednesday that prospects Bryson Stott, Logan O'Hoppe, and Damon Jones were named to the Arizona Fall League's 2021 Fall Stars Game. The game will take place on Saturday, Nov. 13 at 7 p.m. ET.
Stott, O'Hoppe, and Jones' Fall campaigns for the Peoria Javelinas have been commendable so far. After a rocky start, Peoria is now two games above .500 at 12-10 in the West Division. Stott and O'Hoppe's offensive production and Jones' shutdown pitching over the first four weeks in the Fall League have propelled the Javelinas to success.
Let's take a look at their seasons, what earned them the Fall Stars Game selection, and the four other Philadelphia prospects' Fall League stats at the halfway point.
SS Bryson Stott (no. 2): Stott is slashing .299/.446/.403, which has dropped significantly since the last time we checked in on him when he was batting .346/.471/.481. But Stott's team-leading 21 RBI and an AFL-leading 20 walks have earned him a rightful spot on the Fall Stars team. 
His fall season as a whole has been incredibly successful, and even warranted some recognition from Phillies' President of Baseball Operations Dave Dombrowski. According to The Philadelphia Inquirer's Matt Breen, Dombrowski told Stott to "come with the mindset of trying to win a spot with the big-league club when you come to spring training." 
The Phillies' 14th overall pick in the 2019 MLB Draft's showing across the minors and the AFL in 2021 have clearly impressed the Philadelphia front office, as they are willing to give him a shot at being their Opening Day shortstop. Dombrowski knows that the Phillies have plenty of holes to fill this offseason, and after he informed Didi Gregorius that he wasn't guaranteed the spot, shortstop was another question mark for the club. But based on Dombrowski's comment to Stott, it's obvious he has faith in the 24-year-old, making it known to him that the shortstop position is his to lose, as the outfield takes priority for the Phillies in 2022.
C Logan O'Hoppe: Although Stott has garnered most of the attention, O'Hoppe should be receiving just as much praise. While the catching prospect has been chasing Stott's numbers most of the fall, he has since overtaken him over the last week. 
O'Hoppe clubbed his second home run of the Fall on Nov. 8. His slashline is up to .310/.455/.534, with seven doubles, 14 RBI, and 17 walks in 16 games. The Phillies' former 23rd round pick in 2018 has solidified himself as an emerging top prospect this Fall and is on Philadelphia's radar now more than ever. His selection to the Fall Stars Game comes as no surprise, as the 21-year-old has dazzled in 77 plate appearances.
LHP Damon Jones: The Fall Stars Game selection for Jones must feel good, as the 27-year-old has appeared in 93 games across four seasons in the Phillies' minor league system. This is Jones' first time in the Fall League, and his 0.96 ERA through seven games and 9.1 innings has impressed over the first four weeks. He's allowed only one earned run, struck out 12, and walked seven. 
RHP Hans Crouse (no. 3): Crouse started his fourth game of the Fall on Nov. 5, allowing three hits, an un-earned run, and striking out five across five innings of work, outdueling former Phillies' prospect Connor Seabold in the process. The 22-year-old, acquired by the Phillies at the deadline from the Texas Rangers, has pitched to the likes of a 5.06 ERA, striking out 24 in 16 innings.
LF Simon Muzziotti: Muzziotti's Fall has been up and down. The 22-year-old is hitting .255/.379/.273, down from his .293/.431/.317 last week. He's collected 14 hits, 12 RBI, and 11 walks through 66 plate appearances this season.
RHP James McArthur: Like Muzziotti, McArthur's season has been a bit all over the place. Across four starts, the 6-foot-7 right-hander has tossed 12.2 innings, and allowed 14 runs on 18 hits, good for a 9.95 ERA. He's also struck out 14 and walked only five batters through the first few weeks in the Fall League.
LHP Erik Miller: Miller has been solid in relief for the Javelinas this year. His 2.25 ERA and eight strikeouts through eight innings weren't enough to earn him a Fall Stars Game selection, but the 23-year-old has impressed in five games thus far.
Be sure to follow Inside the Phillies for our continued coverage of the Phillies' seven prospects' performances in the Arizona Fall League!
More From SI's Inside The Phillies:
---
Make sure to follow Inside the Phillies on Facebook and Twitter!