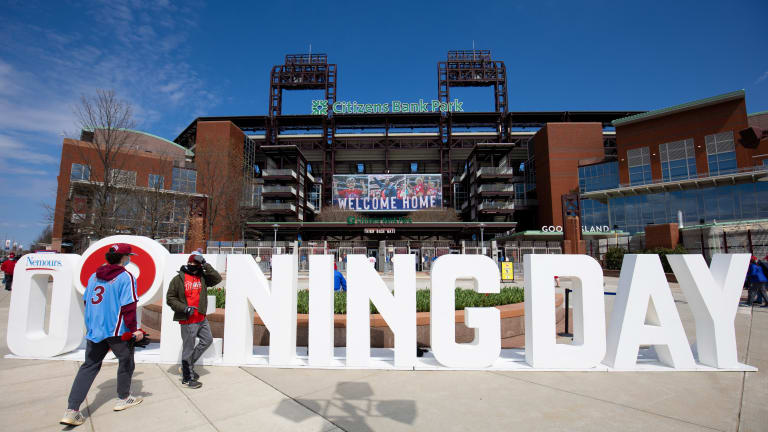 Predicting the Phillies 2022 Opening Day Roster
The Phillies have a whole offseason and a potential lockout to figure out their Opening Day roster, but what might it look like whenever that may be?
As the postseason comes to a close, more and more teams have begun to move their eyes towards spring training and Opening Day 2022. The Phillies, likewise, have many decisions to make regarding their bullpen, lineup, and bench construction.
With the new front office at the helm for their first full offseason, President Dave Dombrowski and General Manager Sam Fuld will have some tough decisions to make considering who will return to the Phillies and who might join the Phillies through free agency and trade.
That in mind, it will be intriguing to observe whether or not the Phillies are aggressive in the free agent market, the trade market, or both. Either way, they'll certainly have a lot of ground to cover should they want to catch the National League Pennant winner Atlanta Braves atop the division.
Here's how the Opening Day roster for 2022 might look:
Pitchers:
Rotation:
RHP Zack Wheeler:
Wheeler is one of MLB's true aces. In 2021, he raised his value even further, putting together a Cy Young-caliber season over 213 innings, the most in MLB. The only reason Wheeler would not start opening day would be due to an offseason injury.
RHP Aaron Nola:
Though trade talks have heated up for the former number one starter over the past two years, it would be unlike Dave Dombrowski to sell Nola at such low value. Barring trade or injury, the 2018 Cy Young runner-up will probably be the number two starter for the 2022 Phillies. Should Nola regress further next year, it isn't out of the realm of possibility that the Phillies would void his $16 million club option for 2023.
LHP Ranger Suárez:
Suárez had his breakout year in 2021. Shockingly, Baseball Reference even ranks him ahead of Bryce Harper by WAR. While there's a chance Suarez might begin the season closer to the back of the rotation than the front, the only way he could miss the Opening Day roster is through injury.
RHP Zach Eflin:
Eflin is in his final year of arbitration in 2022. A valuable asset, he will undoubtedly be tendered a contract for next season. Unless Eflin's chronic knee troubles land him back on the 60-day IL, he will make the Opening Day roster as the third or fourth starter.
RHP Kyle Gibson:
Gibson's trade deadline arrival in 2021 was a welcome respite from the starts of Matt Moore and Chase Anderson down the stretch for the Phillies. While Gibson wasn't always dominant in his outings, his veteran presence helped to stabilize a shaky rotation. Gibson is the only current starter who could possibly miss the 2021 rotation though poor spring performance, though his leash is likely long, as the Phillies have few other starting options.
Bullpen:
RHP Connor Brogdon:
Brogdon was one of the Phillies' most reliable relievers in 2021. Flying under the radar with a 3.43 ERA of 57.2 innings, his value to the Phillies is far greater than his value to most other teams. Though moving Brogdon this offseason is not impossible, it would be highly unlikely, seeing as the Phillies have already lost both Archie Bradley and Héctor Neris to free agency.
LHP Bailey Falter:
Falter didn't quite burst onto the scene in 2021 so much as slowly push his way into the picture. The big lefty made 22 appearances in red pinstripes for a 5.61 ERA over 33.2 IP. While Falter was inconsistent, he showed that he can be highly useful with a funky delivery as a long-man out of the bullpen. Unless Falter falls flat in spring training, it seems the Phillies liked what they saw out of the young pitcher in 2021.
LHP Jose Alvarado:
Alvarado was unreliable in 2021. Yet, his blazing fastball and peripherals against lefties make him a dangerous weapon out of the bullpen. Alvarado faces arbitration for 2022 and will almost certainly be tendered a contract. Should the Phillies pay him this offseason, it would be strange to see that money miss the Opening Day roster.
RHP Hans Crouse:
Crouse is an interesting specimen, both on and off the field. Instantly recognizable by his mirage of tattoos and bizarre delivery, Crouse had two starting opportunities late in the 2021. In both starts he struggled, allowing four runs and seven walks over seven innings, reminiscent of a former Phillies starter acquired from Houston in the winter of 2015. And just like that former Phillie, Crouse may be best suited pitching from the bullpen where he can focus on improving a lively fastball and a devastating slider.
RHP Sam Coonrod:
Though Coonrod is now in his age-29 season, he has yet to become arbitration eligible, thus he will likely reappear on the Phillies 40-man to begin the season. However, the 26-man roster is less certain. After carrying a 0.95 ERA into May 22, Coonrod faced over two months on the IL in the middle of season and pitched to a 6.56 ERA over 23.1 innings post May 22. Though his struggles were easily apparent, his 100 mph fastball and dazzling start to 2021 will probably keep him on the 26-man with even a mediocre spring training.
RHP Héctor Neris:
Neris' contract expired after 2021 and a tenure with the Phillies organization stretching back to 2010. Neris, while inconsistent, has impressed as a reliever for the Phillies over the previous six seasons and holds the Phillies all-time strikeout record for relievers. With such deep ties to the organization, it's hard to imagine the Dominican reliever pitching anywhere but Philadelphia. A contract for the 32-year-old reliever might look something like 3 yrs/$16 million with a fourth year option.
RHP Adam Ottavino:
Ottavino will be 36 to start the 2022 season, but he's been a paragon of consistency since 2018, even if at first glance his stats don't show it. Since his final year with the Colorado Rockies, Ottavino's FIP has never strayed above 3.96, and due to lackluster ERA's over 2020 and 2021, he'll likely sign for a cheap one-year deal. Even if Ottavino continues to regress, he can provide workhorse stability at the back-end of the bullpen. A contract for Ottavino might look something like 1 yr/$2 million.
RHP Raisel Iglesias:
Iglesias is the pinnacle of the 2022 free agent closer market, a position which the Phillies have not solidified since franchise save leader Jonathan Papelbon left the club at the 2015 trade deadline. Iglesias will likely command a high price, but that figure may drop due to competition with fellow free agents Craig Kimbrel and Kenley Jansen. Iglesias' 34 saves and 2.57 ERA in 2021 might command a contract looking something like 4 yrs/$45 million. Read more about this potential signing here.
POSITION PLAYERS:
CATCHER:
C J.T. Realmuto:
Realmuto is signed through 2025, meaning he has at least four more years in Philadelphia. He is regarded as one of the top catchers in the game and while his offensive numbers were slightly down this year compared to what the team would like to see, he was still an All-Star and the best option behind the dish for the Phillies.
INFIELD:
1B Rhys Hoskins:
Hoskins has been part of the team's core for years now. He was having one of the stronger seasons of his career batting .247/.334/.530 with 27 blasts, but he only played 107 games and missed the entire month of September with an abdominal tear. The Phillies should expect him to continue his success in the city and hope he remains healthy for a full 162 in 2022.
2B Jean Segura:
Segura is locked in Philadelphia through 2023 and was one of the brighter spots of this Phillies team. He batted .290 this year and his OPS of .784 was his highest since 2016. He can be versatile on defense, but should be tied into his role at second base for next season.
3B Alec Bohm:
There should still be some level of cautious excitement surrounding Alec Bohm. He played in 115 games this season while batting .247 and striking out 111 times. These are things that will need to be addressed in the offseason, but the Phillies have some big holes to fill and may need to rely on Bohm to lock down the hot corner in 2022 so they can spend big money elsewhere.
SS Marcus Semien:
Semien is part of an incredible free-agent shortstop class this year that includes Carlos Correa, Trevor Story, Corey Seager, Javier Baez, and Andrelton Simmons. Realistically, Semien is a much more viable option than the first three listed who would be the hottest commodities of the six. Semien is coming off of a career year hitting 45 homers with an .873 OPS. Dombrowski hinted at moving on from Didi Gregorius as the starting shortstop, and Semien would be an incredible replacement. It is worth mentioning that Marcus played all 162 games in 2021 and 2019, showing that he is durable and ready to play every day. Read more about this potential signing here.
OUTFIELD:
RF Bryce Harper:
There are some questions with the Phillies outfield moving forward, but it is safe to say that Harper will be standing out in right field at Citizens Bank Park for many years to come. He is coming off an MVP-caliber season and will continue to be the face of the franchise. Who he will play alongside in the outfield next season is the real question.
LF Odubel Herrera:
The Phillies likely don't want to pay Herrera $11.5 million in 2022, and have a club option with a $2.5 million buyout. With Andrew McCutchen likely gone next season, the Phillies already have a hole in the outfield to fill. They might keep Herrera on the roster with one of three options:
They eat the $11.5 million and keep him as the current contract reads.
They decline the club option and take a $2.5 million buyout, but tender him a contract through salary arbitration.
They decline the club option, but work out a deal at a much smaller amount to make him worth the money.
CF Starling Marte:
Of every acquisition, this is likely the biggest reach, but would be an absolute slam dunk for the Phillies. Marte is testing free agency for the first time in his career and is coming off of his best season at age 33. He batted .308 with an .837 OPS while leading the league in stolen bases with 47. He is a threat in every phase of the game, and could really help this Phillies team reach a new level of play. Read more about this potential signing here.
BENCH:
C Rafael Marchan:
Phillies manager Joe Girardi seems to really like Marchan's hard work behind the plate. He could be used in a trade, but the Phillies would probably like to keep him as Realmuto's backup. Andrew Knapp may have been a fun clubhouse presence, but he is mostly a dud at the plate and it makes more sense to give the 23-year-old Marchan the backup spot instead of keeping a 30-year-old Knapp around.
INF Matt Vierling:
Vierling only played in 34 games with 77 plate appearances in 2021. However, he batted .324 and made the most of his short time in the big leagues. This team could use his versatility as he is available to play both the outfield and first base. He should be a good bench piece for the Phillies next season.
INF Didi Gregorius:
Gregorius is signed with the team through 2023. As previously stated, Dombrowski mentioned potentially wanting to move on from Gregorius who had a disappointing 2021. Gregorius can still be a part of this team as a utility infielder, but it's hard to see his role getting any bigger than that.
OF Adam Haseley:
Haseley versus Mickey Moniak is a toss up. Moniak had three hits in 33 at-bats last year, while Haseley had four hits in 21 ABs before leaving the team for personal reasons. Haseley had such a brilliant spring training in 2021 that he was awarded the Opening Day start in center field. The Phillies hope he can build off of that for next season as they are desperate for a big boost from both Haseley and Moniak. 
INF/OF Luke Williams:
Williams and Nick Maton both took on utility roles in 2021, but Williams can be used both in the infield and outfield. With Gregorius returning in a bench role, he can easily handle the left side of the infield and Williams can take care of second base. In 98 at-bats, Williams batted a decent .245 with a .631 OPS. Girardi could also use him to pinch-hit for pitchers or pinch-run in late game situations.  
More From SI's Inside The Phillies:
---
Make sure to follow Inside the Phillies on Facebook and Twitter!