Filling out the 2013 sports calendar ... in advance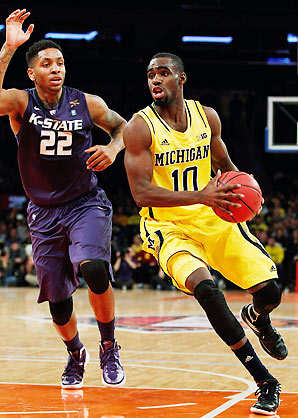 We will look back on 2012 as the year the Mayans tried to end the world with too many Mayan jokes. We will look back on sports in 2012 as the year when a bunch of teams won, a bunch of teams lost and some guys did some stuff. Blah, blah, blah. It was nothing compared to what happened in 2013.
Don't you remember next year? It was and will be great.
Let's look back at sports in 2013:
Jan. 1, 2013: The nation goes over the fiscal cliff, but is pulled back safely by Robert Griffin III.
Jan. 1: Because of the NHL lockout, there is no Winter Classic. Commissioner Gary Bettman declares it a success.
Jan. 1: After losing its other bowl games by an average of 37 points, the Big Ten gets a boost when Wisconsin defeats Stanford 24-23 in the Rose Bowl. As Big Ten commissioner Jim Delany holds the Rose Bowl trophy and weeps, Stanford releases a statement decrying the Big Ten's low admissions standards.
Jan. 7: Alabama beats Notre Dame 21-13 in the BCS title game. On the podium afterward, Crimson Tide coach Nick Saban grabs a microphone, wipes away a tear and tells the crowd, "I want to say a few words about these young men." He then excoriates them for their missed assignments in the second quarter.
Jan. 8: With Bettman at his side, NHL Players Association executive director Donald Fehr announces that the two labor negotiators are "close." Bettman takes one step away and shouts, "Are we close now, Don?" He takes another step and says, "How about NOW, Don?" Bettman keeps doing this until he falls off the podium, raising international concerns/hopes that he might be concussed. Doctors pronounce him fine and say he is lucky his head is not far from his feet.
Jan. 9: In a surprising twist, Barry Bonds and Roger Clemens are elected to the Hall of Fame when their support mysteriously gets 30 percent stronger for no apparent reason.
Jan. 10: At a Jets charity fundraiser, Mark Sanchez and Tim Tebow decide to settle the team's quarterback controversy by playing each other in dodge ball in a small room. The game never ends.
Jan. 15: Bettman and Fehr announce that they will settle their dispute with a thumb-wrestling match. The plan goes awry when Bettman reveals that he has six thumbs and Fehr sues him for misrepresenting his hands.
Feb. 3: Bettman cleans his desk and finds a proposal from Fehr that had been lost under a stack of unsalted rice cakes. "Looks good to me," Bettman says. The proposal is dated Aug. 4. The NHL and its players use the proposal to settle their dispute. They announce this at 7 p.m. ET that night, in the middle of the Super Bowl.
Feb. 3: The Green Bay Packers meet the Denver Broncos in Super Bowl XLVIIMOQP-ISH. The Broncos appear to win on a fourth-down stop late in the fourth quarter, but Denver linebacker Von Miller gets hit with a 15-yard personal foul for sneezing near Aaron Rodgers. The Packers rally to win 31-24. Peyton Manning completes 38-of-42 passes for 400 yards and three touchdowns in the losing effort, just a year after a career-threatening neck injury. Many pundits conclude that he simply does not have the ability to win big games.
Feb. 6: Exactly one year before the start of the Winter Olympics in Sochi, Russian President Vladimir Putin awards the first gold medal, to himself.
Feb. 8: On one wild Friday night, the Big East adds four teams, subtracts two, cuts five more in half, flips one upside down and bursts into flames.
Feb. 9: In a hastily arranged morning press conference, the Big East announces that it has a terrible headache and will undergo alcohol counseling.
Feb. 14: With his team out of the Top 25, Kentucky coach John Calipari finds a loophole in the NCAA rules that allows him to bring in an entirely new group of freshmen midseason as long as Kentucky changes the name of its school. The university happily obliges.
March 5: Alex Smith runs away from 49ers coach Jim Harbaugh and lands in the arms of ... Ravens coach John Harbaugh.
March 19: In a stirring finish to the World Baseball Classic, nobody cares.
April 8: Michigan beats the University of Calitucky 81-78 to win the NCAA men's basketball championship.
April 9: Connecticut beats Stanford 78-70 to win the NCAA women's basketball championship.
April 14: Inspired by his final-day Ryder Cup performance, Rory McIlroy tries to oversleep for his final-round tee time at the Masters. Unfortunately, he botches it and gets to the course two hours early, forcing him to get a police escort to a nearby Waffle House so he can kill an hour and a half and then get to the course late. He runs onto the first tee and is kicked off the grounds for running. He then sneaks back in and wins the Masters.
May 1: The Houston Astros announce that on the first and 15th days of each month, the first 25 fans to show up will each get to bring a roll of quarters into the ballpark to give to a player, allowing the team to meet its payroll. The promotion fails when only 13 people show up, leaving the Astros without a pitching staff. The team declares that this is all part of the rebuilding plan.
June 20: The Miami Heat beat the Oklahoma City Thunder 124-122 in triple overtime of Game 7 to end the best NBA Finals in history.
June 23: The New York Rangers defeat the Vancouver Canucks to win the Stanley Cup. The series is marred by a Game 5 scrum in which players from both teams pound on Bettman.
June 27: A tree falls in the forest. The Wizards draft it.
July 1: Dwight Howard announces that he will re-sign with the Lakers in a nationally televised prime-time show on the Cartoon Network.
July 2: New Memphis Grizzlies executive John Hollinger persuades the NBA to change its rules so that, instead of two-pointers and three-pointers, the court is divided into scoring areas ranging from 0.2-pointers within three feet of the basket to 6.73-pointers beyond half court. NBA stars spend their summers honing their 6.73-pointers.
July 16: Major League Baseball holds its All-Star Game. Southern California defeats the rest of North America.
July 24: The NCAA suspends 42 student-athletes for buying steroids -- not because the steroids are illegal and could kill the players, but because they got them at a discount.
Aug. 3: ESPN debuts a new talk-show concept in which pundits on ESPN, ESPN2 and ESPNU simultaneously scream at each other. It is a smash hit.
Aug. 20: In an effort to bond with his critics, Lane Kiffin announces that he also hates himself. Critics rip him for refusing to say why.
Aug. 30: The day before Texas A&M opens its season against Rice, Johnny Manziel officially changes his name to Johnny Football. A&M sells a record number of uniforms with FOOTBALL on the back.
Sept. 8: Serena Williams wins the U.S. Open, but critics focus more on the political significance and cultural meaning of the dance she does as she exits the court. As it turns out, she just has an itch on her knee.
Sept. 9: Roger Federer wins the U.S. Open for his second Grand Slam title of the year and 19th of his career. He then smiles and thanks Roger Federer for making him Roger Federer.
Sept. 29: On the final day of baseball's regular season, the Angels beat the Rangers in 12 innings to clinch the AL West. Critics agree that the difference between the clubs was either a single hit or $500 million.
Oct. 21: On Monday Night Football, Tom Brady breaks Drew Brees' record for consecutive games with a touchdown pass, but this is obviously not as important as the fact that it clinches fantasy wins nationwide.
Oct. 31: The Toronto Blue Jays defeat the Washington Nationals to win the World Series. Since the Nationals used to be the Montreal Expos, this is a karmic victory for Canada, if you think about it. Nobody thinks about it.
Nov. 23: Alabama defeats Chattanooga 114-3 at Bryant-Denny Stadium. Saban demotes two members of the field-goal-defense team.
Nov. 25: Roger Goodell announces that he has "settled the lawsuits from our former players, and also settled the lawsuit from Jonathan Vilma, but I'm putting a team in Los Angeles as soon as I can and isn't that so cool, guys? YEAH!"
Dec. 2: Federer is named Sports Illustrated's Sportsman of the Year.
Dec. 7: Florida defeats LSU in the SEC championship game, setting up a national title game matchup between Florida and some other team that SEC fans refuse to dignify by naming.
Dec. 13: With just two months to go in his commissionership, David Stern fines six NBA teams and suspends 14 players for their role in failing to get him coffee.
Dec. 31: More proof that the world is not run by me: The year ends on time.