Bill Walton on suicide, his return; John Hollinger's new job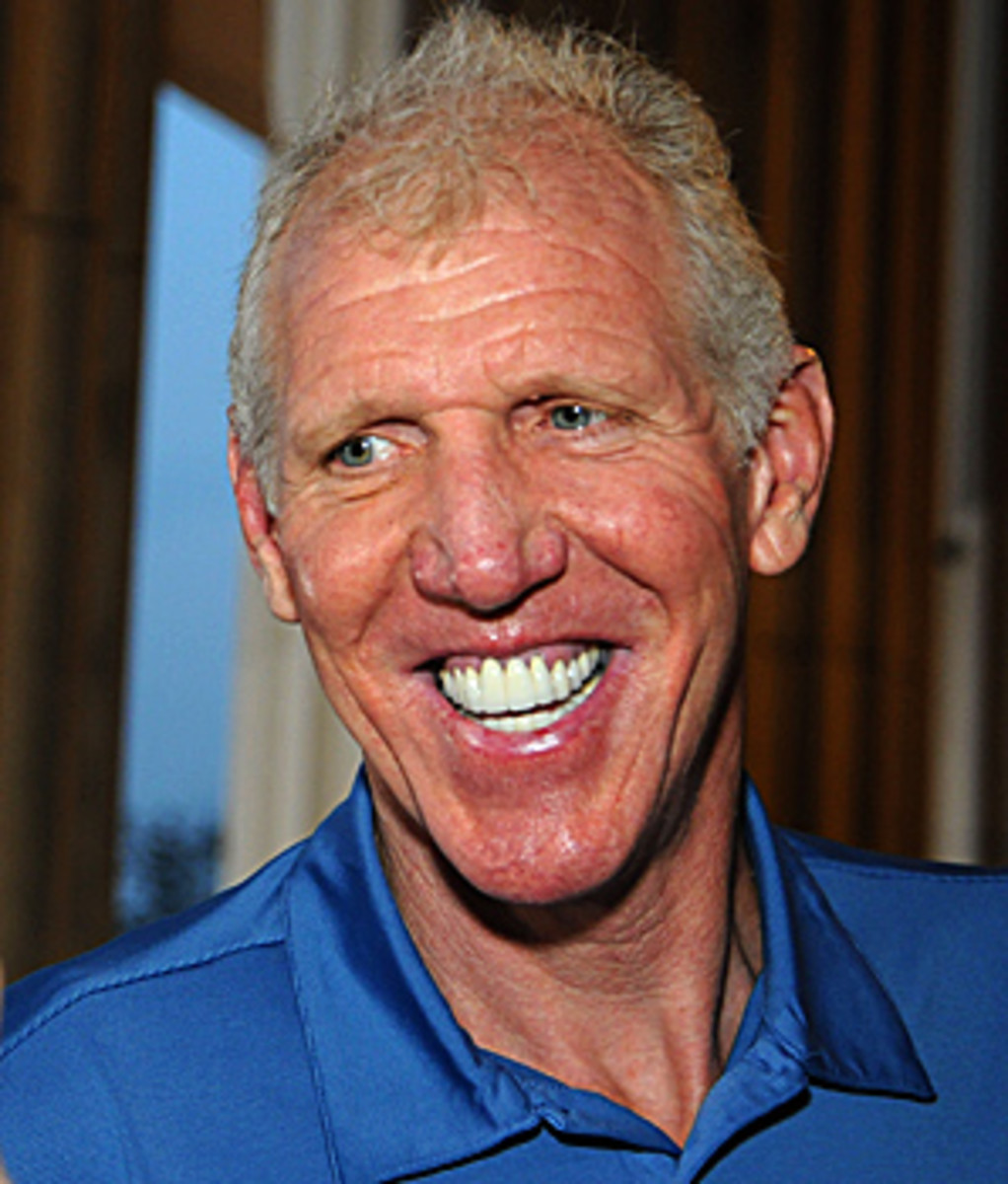 At the worst moments, when the back pain was so great and his mind filled with thoughts of suicide, Bill Walton had a horrible thought: He might actually live.
"When you are in unrelenting, excruciating and debilitating pain that never goes away for years on end, your life is over," Walton said. "You go through the stages of thinking you are going to die to wanting to die to the worst possible stage of all which is: I'm going to live and this is what I'm stuck with. But I got better and it is amazing what they have been able to do for me. I can think. I can sleep. I can move. I can ride my bike. I can dream."
It has been a long, strange trip for the broadcaster, now 60, now healthy, and back working as a college basketball analyst for the Pac-12 Network and ESPN, and on select Sacramento Kings games. On Friday he and ESPN play by play announcer Dave Flemming called UCLA's thrilling overtime win over Missouri and the performance was the full Walton, a mix of education, hyperbole, passion and occasionally losing track of the time of the game.
During an interview with SI.com on Sunday, Walton said he is pain free today as a result of eight-and-half-hour spinal surgery in Feb. 2009 by Dr. Steven Garfin, the chairman of the Department of Orthopaedic Surgery at UC San Diego. The procedure included four incisions, four four-inch bolts, two titanium rods and a cage to hold it together. Prior to that, his life was mostly darkness, unable to walk or move, a prisoner of his San Diego house. At the darkest moments, when he thought about suicide, Walton said he drew on his friends and family who called him daily, urging him not to give up. He has four children and three grandchildren and met his second wife, Lori, at a party organized by the Grateful Dead. "I am busier than ever, happier than ever, and I haven't been this healthy since high school," Walton said. "It's a miracle what has happened to me. I have no pain. I take no medication. I had no idea what life was like without back pain."
GALLERY: Never-Before-Seen Bill Walton Photos
Walton praised ESPN president John Skipper, Pac-12 commissioner Larry Scott and the Kings owner, Joe and Gavin Maloof, for letting him return to the booth. Why did he want to return to broadcasting? "It's fun, it's interesting, and I love being part of a team," Walton said. "My whole life has been chasing the dream of being part of something special. Being a broadcaster encompasses the business of sport, which is my life today, and it encompasses the skills of being a history student, and the ability of being a performer. The great thing about being a broadcaster is you have this incredible responsibility to the people that make it all happen, the people that turn on the television set."
Walton, being Walton, reflected on the litany of broadcasters who have been mentors over the years, including retired Blazers broadcaster Bill Schonely, Clippers broadcaster Ralph Lawler, and the late great Marty Glickman. He retold the story of how Don Corsini, then Prime Ticket's vice president of programming and production, gave him his first job in television. "Don looked at me and said, "Walton, you are 6-11, you have red hair, you have a big nose, freckles, you have a goofy, nerdy-looking face, you can't talk, you are a life-long stutterer and you are a Deadhead. Why would I ever put you on TV?' But Don took a deep breath, he gave me a chance, and who would have ever thought it? I am the luckiest guy in the world.
I asked Walton if he was aware of @NotBillWalton, the popular Twitter parody account that pays homage to him. "Is that a cheese, homage? Walton replied, deadpan. "Yes, I am aware of them."
The broadcaster said he draws daily inspiration from Bob Dylan, and particularly Neil Young. "There is a song on Neil's new album [with Crazy Horse] Psychedelic Pill and it is so appropriate for me," Walton said. "The song is called "Walk Like A Giant" and the lyrics go something like this: 'Think about how close we came. Think about how good it feels.' Well, I want to walk like a giant on the land. I don't want to float like a leaf in the stream."
Walton is a polarizing figure -- both loved and hated for his unique style -- but most viewers respect that he is not part of the broadcasting school that mythologizes current college coaches (Walton does with John Wooden) on a nightly basis. Away from the booth, Walton said he is working on a memoir with former ESPN and SI staffer John Papanek, a friend for 40 years. Walton said his entire life's journey will be covered in the book but his publisher, Simon & Schuster, did give him one stern requirement:
"They asked me to keep it to under 2,000 pages." Walton said, laughing.
The Noise Report
(SI.com examines some of the more notable sports media stories of the weekend.)
1. As part of a small fraternity of sports writers-turned-front office executives, John Hollinger said he feels a great sense of responsibility to make sure that he succeeds so others can follow in his path. He is in his second week as the vice president of basketball operations for the Memphis Grizzlies after eight years as an NBA writer at ESPN.com. At his former employer, Hollinger was at the forefront of using analytics as part of his NBA commentary. His new job entails contributing to personnel decisions, salary cap management, scouting, as well as building "a first-rate analytics infrastructure that can support all those decisions." Hollinger's hire follows the Oklahoma City Thunder bringing in former Grantland NBA blogger Sebastian Pruiti as a video analyst.
"This is new enough and high-profile enough that I want to do well not just for me, but to ensure the door stays propped open for people after me to make a similar jump," Hollinger said. "That said, I think it's easier for this to happen now than at any time in the past because the ubiquity of the Internet has made my former line of work so much more accessible to the NBA community. "
In an email interview with SI.com last week, Hollinger said the biggest factors for switching careers was the opportunity to impact decisions in the NBA, and the comfort level he had with Grizzlies CEO Jason Levien and team chairman Robert Pera. Hollinger and Levien had known each other for years, a relationship that evolved during Levien's days as an agent.
"He was asking me how he could use analytics to help his clients," Hollinger said. "He was the only one doing that, so his willingness to think outside the box struck me immediately, and since then we've had a lot of conversations about analytics and the game. Over several years, a friendship and respect level developed...The growth in analytics in pro basketball has created a lot of opportunities for people that simply weren't there a decade ago, the same way it happened in baseball a decade or two earlier. It's not just that they're new positions, it's that its created a demand for skill sets that you don't tend to learn just by playing and coaching. That's turned a fence into a door for people like Sebastian and me."
Hollinger said he's pleased to see the growth of statistical analysis among those who cover the NBA, especially among national writers and columnists. "Five or ten years ago, you wouldn't see a guy like [former SI.com staffer and now Grantland's] Zach Lowe mixing in advanced stats with more general NBA coverage," Hollinger said. "In another five or ten years, I'm hoping you'll find it odd that somebody wouldn't. For the beat and TV guys, the biggest limitation on their using it more is the audience has to catch up to them -- you risk losing casual fans with an offhand reference to True Shooting Percentage. But they're getting there.
"The key, obviously, is that TV is always going to be the dog that the online community wags. The familiarity has to build up with a national audience enough before you can routinely drop Rebound Rate and point differential into a broadcast without requiring a 90-second tangent to explain everything. Even in baseball, you'll still the home run-RBI-batting average line on a guy when he steps up to the plate. Those types of things are the last to change."
On a similar note, we've yet to see a major sports network commit long-term to a statistics-based show. (MLB Network's "Clubhouse Confidential" may be the closest.) Sadly, ESPN2's Numbers Never Lie dropped its original charter and has become just another debate show. Can a statistically-oriented sports show succeed on television? Hollinger, who appeared on the original version of Numbers Never Lie, thinks the format can succeed, but needs time to be nurtured.
Said Hollinger: "Basically, you need the same ingredients that we needed to make it succeed on the web: You need some really crafty producers that share an analytical mindset and can bring a real "Wow, I didn't know that" factor to the show. You also need patience, as I imagine it would take more time to develop the audience than in some other formats. But if you're just flinging numbers at people, nobody wants to watch that. It has to be genuinely smart and insightful, and that can be tough on slow news days."
2. CBS Sports Radio launches its national radio lineup on Jan. 2 and its morning show includes the former ESPN studio host Dana Jacobson, who like The Shawshank Redemption's Andy Dufresne, crawled through the river of First Take and has thankfully come out clean on the other side. She teams with radio veteran Brandon Tierney and Tiki Barber, the former NFL player who has not worked full-time in the media since NBC Sports parted ways with him in 2010. "I am genuinely excited," said Jacobson. "On First Take it was mostly we want you to tee up the question, and let them debate. But I have opinions and it is still rare that women in sports get to be heard with their opinions. I'm not saying my opinions are right. Sometimes they are stupid. Sometimes they are brilliant. But they are always real. I'm excited that I get to put it out there."
The radio network is collaboration between CBS Radio and CBS Sports and will provide 24 hour a day, seven day a week programming to more than 100 affiliates. The network said its morning show will appear in Top 50 markets including WIP-AM (Philadelphia), WFOM-AM (Atlanta), WXYT-AM (Detroit), WJZ-AM (Baltimore), KFNZ-AM and KJQS-AM (Salt Lake City), and WSJZ-FM (Orlando).
On the TV side, Jacobson filled in for Jim Rome last week on his CBS Sports Network show and will likely pop up from time to time on the network (as will other CBS Radio talent). Part of the appeal of the new job, Jacobson said, was a chance to live in New York City fulltime. "I lost my Dad a year ago and he was the first person to say that life is too short to do something that is not making you happy," she said, "and living in Connecticut was not making me happy anymore."
The rest of the CBS Sports Radio weekday lineup includes John Feinstein and Andrew Bogusch (9:00 a.m.-noon), Jim Rome (noon-3:00 p.m.), Doug Gottlieb (3:00 p.m.-6:00 p.m.), Chris Moore and Brian Jones (6 p.m.-10 p.m.), Scott Ferrall (10:00 p.m.-2:00 a.m.) and Damon Amendolara (2:00 a.m.-6:00 a.m.).
3. NBC Sports Radio plans to debut its complete schedule this April but its weekend block of programming launches Saturday. The best news was seeing Jon Stashower, always professional as an update person on ESPN Radio, getting his own Sunday morning show (9:00 a.m. -- noon ET). Other weekend programming will be hosted by Football Night In America analyst Rodney Harrison, Brian Webber of NFL Network's NFL AM morning show, SI's Chris Mannix, Clay Travis of the college football-oriented site OutKicktheCoverage.com, radio vets Anita Marks, Jason Page, Newy Scruggs, and exec-turned-on-air talent Rob Simmelkjaer. NBC Sports Radio's weekly lineup now includes the uninspiring choice of Erik Kuselias as a host from 7 p.m.-10 p.m. and the interesting pairing of former NFL pro Amani Toomer and Eytan Shander on an overnight show from 10 p.m.- 1 a.m.
Note: An earlier version of this file misreported the prior two times.
4. Fantastic end-of-the-game television production by Fox Sports NFL producer Richie Zyontz and director Rich Russo after the Vikings win over the Packers. Following Blair Walsh's game-winning field goal, the Fox cameras followed Minnesota running back Adrian Peterson on the field and showed him shaking hands with Packers quarterback Aaron Rodgers among others. The crew then showed a couple of different angles of the game-winning field goal, including a great shot of Vikings linebacker Chad Greenway celebrating from the sidelines. They then threw the coverage to reporter Pam Oliver, who smartly asked the same question twice to get a memorable television moment, informing Peterson he had fallen short of Dickerson's NFL single-season rushing record by just nine yards. Here's the transcript:
Oliver: You played your heart out. Nine yards. Boy, that's got to hurt?
Peterson: Nine yards what? Nine yards what? From breaking it?
Oliver: That's what I heard.
Peterson: Well, you know, ultimately, we got the 'W.' That was main focus. Coming into the game I said, 'If it happens, it happens, but don't focus on it.' I feel good. We play another week."
I will say this: I was surprised how many people criticized Oliver in my Twitter feed for what they perceived to be a funereal or downcast question following the huge win. (And for not asking about the playoffs.) I didn't see it that way but a fair take.
4a. Classy move by CBS to use the Patriots radio feed for a portion of its Patriots-Dolphins coverage to highlight retiring Patriots radio announcer Gil Santos. On Sunday, Santos called his final regular-season game. Santos's longtime partner Gino Cappelletti, who retired after the 2011 season, joined Santos on the call for the first series.
4b. Nice work again by Zyontz and Russo catching Packers wide receiver Jordy Nelson grabbing the red challenge flag that Packers coach Mike McCarthy threw late in the third quarter. On the same play, analyst Troy Aikman and rules official Mike Periera were strong on the challenge flag rule.
5. NFL pregame show notes: Fox NFL Sunday analyst Terry Bradshaw criticized Jay Cutler and the Bears' offense prior to the team's win over Detroit. Said Bradshaw: [They]"have a quarterback in Jay Cutler who I don't think even likes himself."
5a. Solid work by NFL Network's First on the Field to get Dickerson on the prospect of Peterson breaking his single-season rushing yards record. Said Dickerson: "I really don't think about it. I don't go around saying 'Oh my god, if he breaks my record what am I going to do?' If anyone deserves a record like that, it is Adrian Peterson because he is that kind of player. I wouldn't be sad about it...but I don't want him to break it. I want to hold onto that record as long as I possibly can."
5b. CBS Sports PR sent out a note late Sunday night recalling that prior to the Week 8 set of games, analyst Shannon Sharpe said the following on The NFL Today: "I believe the Broncos and Peyton Manning, playing as well as he is, run the table. They get to 13 3." Nicely done.
6. First Take update: The New Year brings a return of Skip Bayless and Stephen A. Smith to First Take but will the tenor and tone of the show change in the wake of Rob Parker's offensive comments about Redskins quarterback Robert Griffin III during a Dec. 14 airing of the show?
ESPN announced on Dec. 20 it had suspended Parker for 30 days, with Marcia Keegan, a vice president of production for ESPN, saying, "Our review of the preparation for the show and the re-air has established that mistakes both in judgment and communication were made. As a direct result, clearly inappropriate content was aired and then re-aired without editing. Both were errors on our part. To address this, we have enhanced the editorial oversight of the show and have taken appropriate disciplinary measures with the personnel responsible for these failures."
Parker's suspension is scheduled to end on Jan. 14 but as many have written, he's a bit player who simply followed the script that this circus demands. The real question is whether ESPN is serious about changing the show. Last week the show's obsession with Tim Tebow continued, just toned down without Bayless, who like a third-rate wrestling character will continue to push his Tebow agenda with the hopes of trending on Twitter and being talked about.
Last week I asked ESPN management whether the producers for First Take had sent notice to Parker after the show about the show's tone or content. An affirming email would be a damning example that the producers were fine with Parker's words. At least one producer was suspended along with Parker and ESPN sources suggested that another producer was also disciplined in some form. Responded an ESPN spokesperson: "Those involved were talked to and the review was handled by the appropriate senior management. The disciplinary review was completed when Marcia's statement was released, but we will be continuing an internal dialogue on enhancing the editorial direction of the show."
7. Among the memorable sports pieces this week:
? New York Times sports writer Greg Bishop had a beautifully-reported piece on Declan Sullivan, the 20-year-old Notre Dame student who died on Oct. 27, 2010 at a Notre Dame football practice, atop a 40-foot aerial lift that collapsed when winds gusted up to 53 miles an hour.
? The Washington Post's Dave Sheinin delivered a strong profile of Robert Griffin III and how he became the team's leader as a rookie.
? Boston Globe writer Chad Finn examined the NBC Sports Network and CBS Sports Network's attempts to steal audience from ESPN
? The Atlantic examined how the brilliant multimedia feature by New York Times sportswriter John Branch and Co. on three deaths during an avalanche came together.
? Here's Branch's piece if you missed it.
The Awful Announcing site chronicled yet another online battle between Fox Sports NFL reporter Jay Glazer and ESPN's newsgathering operations.
8. TNT NBA analysts Charles Barkley and Shaquille O'Neal were not shy about Nets guard Deron Williams growing reputation as a coach killer. Said Barkley: "He's got the reputation of getting coaches fired. Whatever happened in Utah, it happened. Whatever happened in Brooklyn, it happened. This is all on Deron Williams right now. It's time to put up or shut up." Then came Shaq: "Sometimes before great players point fingers, they should look in the mirror. This is the first time I've heard the guy with the ball at all times say that he doesn't like the offense. My advice is for him to look in the mirror and see if he's doing enough. At times, I think he's trying to do too much. There are only 24 seconds on the shot clock and he spends 10-12 seconds dribbling between his legs. He needs to get everyone else involved and himself involved...he's not really playing that well."
8a. ESPN delivered its most-watched NBA Christmas Day since 2004 by averaging 2.82 million viewers. But an interesting context note from the Twitter feed of TV Sports Ratings: The 9:30 p.m. 10:30 p.m. airings of the Big Bang Theory on TBS had larger audiences than all three ESPN NBA games that day.
9. The NFL Network's Thursday Night Football schedule averaged a robust 7.3 million viewers, the highest viewership for that programming in the network's history. The network said that each week of the schedule, the NFL Network's game telecast was the day's most-watched program on cable television. No doubt those healthy numbers were due in part to 2012 carriage deals with Time Warner Cable, the nation's second-biggest cable provider, BrightHouse, the sixth-largest provider and Cablevision, which has more than 3 million customers mostly in the New York area.
10. The FA Cup, the world's oldest soccer competition, will debut on U.S. broadcast television Saturday (noon ET) when Fox airs Manchester United-West Ham in the third round of the competition. The following day, Fox Soccer will air FA Cup matches between Swansea City-Arsenal (8:30 a.m.) and Mansfield Town-Liverpool (11:00 a.m.)