Americans finish 1-2 in World Cup skeleton finale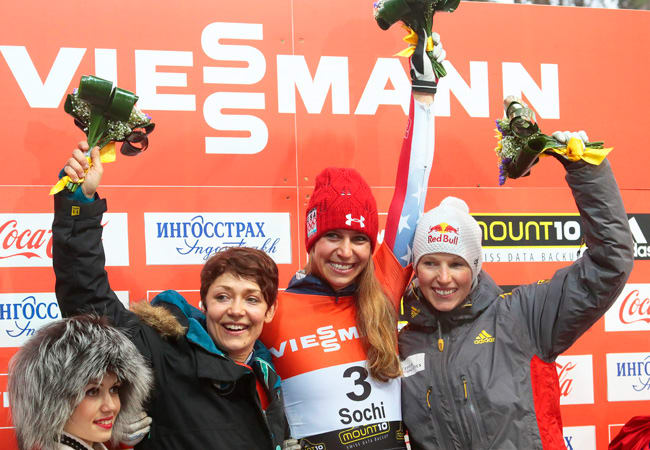 A year from the Sochi Olympics, the U.S. women's skeleton and bobsled teams have sent a clear message to the rest of the world.
Quite simply, the Americans plan to be ready for a medal push.
U.S. teammates Noelle Pikus-Pace and Katie Uhlaender took the top two spots - by a wide margin - in the season-ending skeleton World Cup race on Saturday at the 2014 Olympic track north of Sochi, Russia. They did so hours after Elana Meyers and Aja Evans won silver for the Americans in the women's bobsled finale on the circuit.
"What a season," said Pikus-Pace, who won two of the last three World Cup races in her first season back from retirement. "I am already ready and looking forward to starting next season."
With good reason.
Pikus-Pace finished two runs at the Sanki Sliding Center in 1 minute, 58.91 seconds, 0.11 ahead of Uhlaender, the 2012 world champion. The gap between Uhlaender and third-place Anja Huber of Germany was 0.76 seconds - a huge margin in a sliding sport.
Germany's Marion Thees finished with the season-long skeleton points title, edging Huber. But the real celebrating on Saturday was being done by the U.S., which clearly figured something out at the track that was built for the upcoming Sochi Games.
"This was an awesome day for the team," U.S. coach Tuffy Latour said. "Katie and Noelle have been pushing each other week after week, and they are continually making each other better. They really are trusting the process, and this is definitely a great moment to be coach of the U.S. skeleton team."
Pikus-Pace wasn't even qualified for the World Cup circuit to start the season as she rebuilt credentials after her two-year retirement, and finished with two gold, two silver and two bronze medals in her last six individual races.
"I can't believe it," Pikus-Pace said. "I'm going to take this all in now, but I know next year will be a different story. I have to wipe the slate clean and give it my best, and hopefully my best will be better than everyone else's so I'm back on the podium a year from now."
For Uhlaender, the silver on Saturday was her fourth World Cup medal of the season, capping another strong year for the veteran. She finished third in the season points standings.
"I'm really pumped though, because USA finished one-two," Uhlaender said. "I want to leave something in the tank for next year, and the next fastest person is my teammate. We work really well together, and I think we're going to really challenge our competitors when we're back next season for the Olympics."
Meanwhile, Meyers already has an Olympic medal from her days as a bobsled push athlete. As a pilot now, she might be in line to win another next year.
Meyers and Evans had the best start of anyone in the field, riding that momentum to a second-place finish - beating, among others, reigning Olympic champion Kaillie Humphries of Canada.
"The push is huge on this track," Meyers said. "Aja did a great job."
That great job by Evans - a rookie who won the national push-start title - came while she dealt with personal tragedy. Evans competed in the season finale just days after the death of her grandfather. She considered leaving Russia early, and stayed at her mother's insistence.
"To pull through this week and finish out as strong as I did, I know there's much more in store for the Olympics," Evans said. "My dream of being an Olympian feels very real now."