Penn State takes early lead at NCAA wrestling championships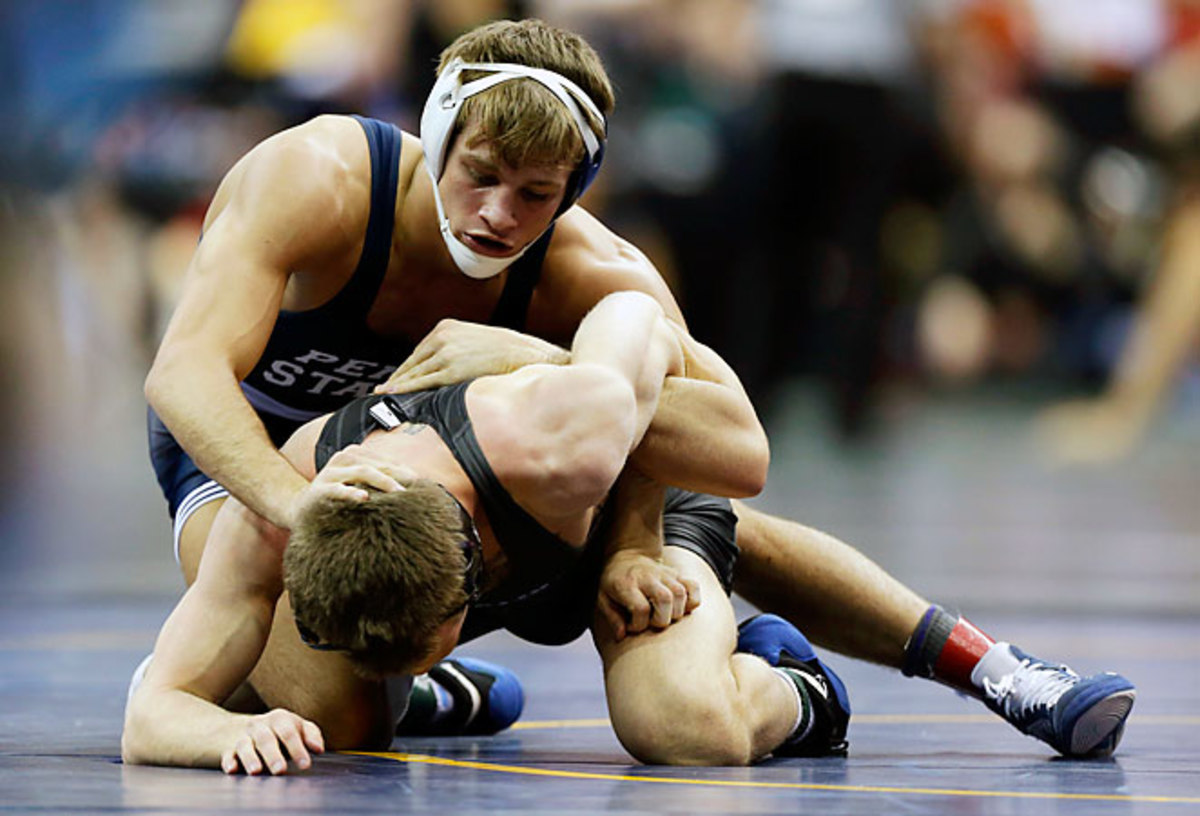 DES MOINES, Iowa (AP) -- Cornell's Kyle Dake joked that he wasn't even aware of rival David Taylor's results.
No one believed him.
Dake, the three-time NCAA champion, remained on course for a final showdown with Taylor, the 2012 Hodge Trophy winner, after the opening matches Thursday in the NCAA wrestling championships.
"Did he win his first match?" Dake joked. "Mainly focused on who I have, what the next step is."
But it's Taylor and the two-time defending champion Penn State Nittany Lions with the edge heading into the quarterfinals.
The Nittany Lions went 6 for 6 in the second round and lead the meet with 32.5 points. Oklahoma State was second with 29 points and seven quarterfinalists.
Minnesota was third with 24, followed by Iowa with 22.
"As a team, I feel like everybody is doing what they have to do," said Penn State's Ed Ruth, the top seed at 184 pounds.
Dake's bid for to become the third wrestler with four NCAA titles - and the first in four weight classes - got off to a sluggish start.
Ohio State's Mark Martin, who entered the tournament at 17-16, kept it 0-0 through two periods. But Dake opened the final frame with an escape and scored a takedown for a 3-0 win.
Dake finished with a 10-0 win over Indiana's Ryan Leblanc.
"I feel pretty good conditioning wise. I feel healthy," Dake said. "Guys are having really game plans when they wrestle me. It makes it tough but, a win is a win."
Taylor was selected the nation's top wrestler in 2012 before losing his top seeding when Dake moved up a weight class.
Taylor got the favored Nittany Lions started with a brilliant debut.
Taylor crushed John Staudenmayer of North Carolina, pinning him in 2:52. Ruth, followed with a decisive pin and, in the second round, capped a string of three straight pins for the Nittany Lions while extending his winning streak to 65.
Taylor scored the fall over Appalachian State's Zachary Strickland to earn his spot in the quarterfinals.
The NCAA moved the 165-pound final to the final match Saturday night, presumably to highlight a potential Dake-Taylor matchup, but Taylor and Dake both insist they're not focused on each other quite yet.
"Bonus points are huge," Taylor said. "My job is pretty simple. To try and score points and pick up bonus points."
Iowa scored 10 points in the opening session, good for fourth at the time. But the Hawkeyes suffered a major blow when heavyweight Bobby Telford hurt his knee during an easy win over Wisconsin's Connor Medbery.
Telford defaulted before his second-round match because of the injury, weakening Iowa's depth for the team race.
But it looks as though nobody might catch Oklahoma State heavyweight Alan Gelogaev anyway. He pinned both of his first two opponents - in just a total of 52 seconds.
Ohio State's Logan Steiber, the 2012 winner at 133 pounds, cruised to the quarters with a pair of pins. Steiber nearly made the U.S. Olympic team and remains the overwhelming favorite to repeat as the champion in his class - though second-seeded Tony Ramos of Iowa also racked up a pair of falls Thursday and has the crowd behind him.
"You can hear them. They're loud. It's nice," Ramos said about the pro-Iowa crowd.
The championships continue Friday with the quarter and semifinals, setting up a Saturday night finals for all 10 weight classes.
"Thursday is just kind of for show when it comes to the team points because the big points are scored tomorrow," Penn State coach Cael Sanderson said. "There are some big matches (Friday) that will make a difference so we need to be ready for them."