Media Circus: Dr. Jack is done; is TV ready for an openly gay analyst?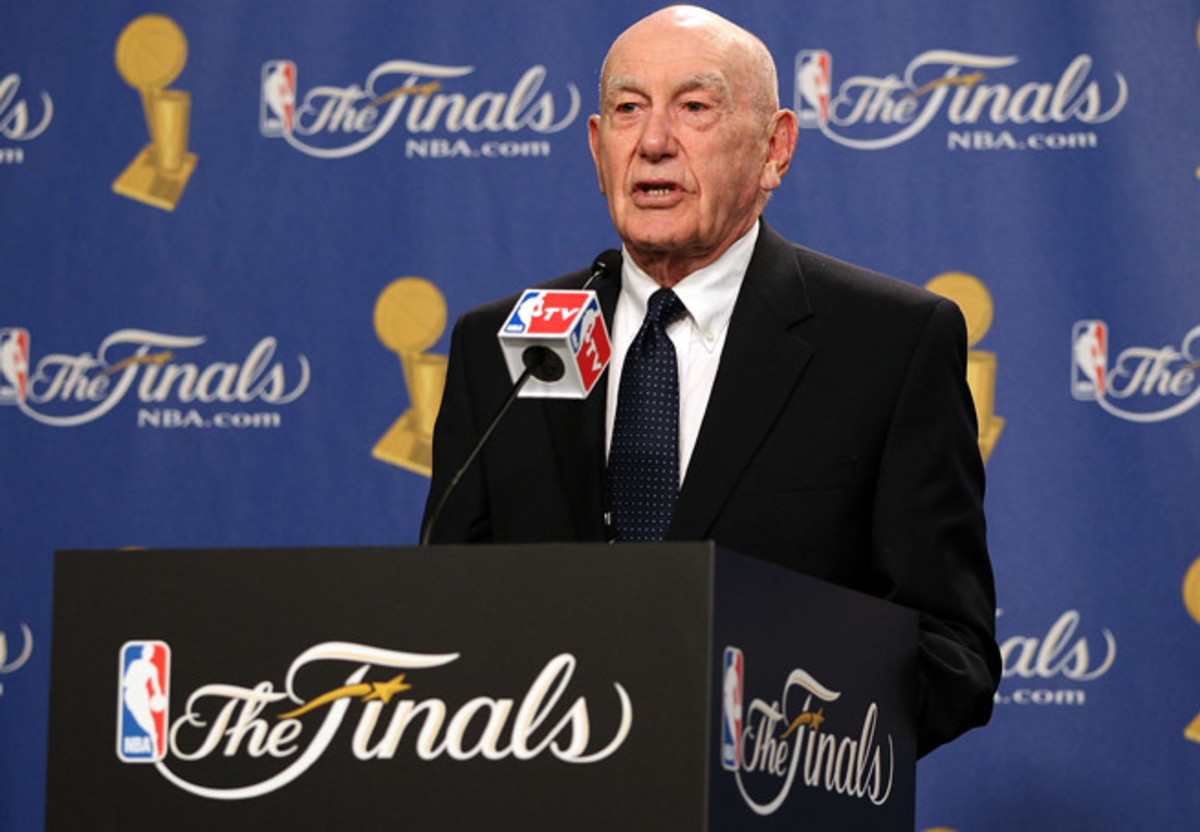 His brio for basketball and enthusiasm to entertain never wavered into his octogenarian years. Jack Ramsay continued to educate ESPN Radio listeners deep into his 80s, and even more importantly, he never stopped educating himself.
"He doesn't think he knows everything -- and he frankly does know everything," said ESPN/ABC NBA play-by-play announcer Mike Breen. "He's always asking questions and was always curious. He'd ask me what I thought of a certain team or player, and I was almost embarrassed to give him an answer. I should not be telling Dr. Jack Ramsay what I think, but he wants to know other people's information because he still thinks he can learn from others. Even though he is from a different generation, his appreciation of today's players is as strong as ever. Sometimes you'll talk to a player or a coach who coached years ago and they'll say that today's players are not the same. Jack doesn't think that way. He changed as the game changed. He grew with the game."
Last week, the Miami Herald reported that the broadcasting career of the 88-year-old Ramsay is likely over as he undergoes medical treatment. Ramsay, who has worked for ESPN since 1996, declined to discuss the nature of his medical condition with the Herald, but the broadcaster was previously diagnosed with prostate cancer in 1999 and has received treatment for melanomas. ESPN said Ramsay would not be talking this week beyond the Herald article. Ramsay's son Chris, an ESPN.com senior director for NBA, golf and NASCAR coverage, politely declined an interview request from SI.com on Saturday.
If this is the end of the broadcasting road -- and I speak for many when I say I hope it isn't -- Ramsay's mark on listeners won't soon be forgotten. He partnered with Jim Durham on ESPN Radio to create one of the NBA's legendary soundtracks, and I'm sure I'm not alone in having searched the duo out even with the television in front of me. Last November, Durham passed away at his home in Tomball, Texas. He was 65. "They were such a pair, on and off the air," Breen said. "I think this was a really hard year for Jack. I mean, everybody misses Jimmy, but Jack lost a piece of a heart with Jimmy. Those two men truly really loved each other."
Ramsay's broadcasting career was a second act after a notable first one: He coached 20 full seasons in the NBA, earning a postseason berth 16 times and famously leading the Portland Trail Blazers to a championship in 1977. He worked locally as a television color commentator for the Heat from 1992 to 2000 and became a beloved Miami broadcasting figure. Few things were cooler in the land of Sonny Crockett than when Ramsay pronounced Voshon Lenard's last name after the guard drilled a three-pointer or dunked.
"To hear that he had actually had to give up the games, I knew something was wrong," Breen said. "For any of us who know him, it is upsetting. I know how much he loves the game. At 88 years old, he still gets fired up before games. He also has the strongest f---ing handshake of anyone I have ever met."
Beth Faber, the lead remote producer for ESPN Radio, has worked with Ramsay for the past 17 NBA seasons. In an interview Sunday night, Faber echoed Breen on Ramsay's endless search for knowledge and his interest in people. "I never got into a cab with Jack where he didn't ask the cab driver, 'Where are you from?,'" Farber said. She said the death of Durham has been tough on Ramsay?the two were terrific friends, even though Durham was a staunch Republican and Ramsay a liberal Democrat,
Prior to the season, Ramsay told Faber that the 2012-13 NBA season would be his last in broadcasting. Last week, when news broke that Ramsay was stepping away, Faber told Ramsay that he still owed her 16 games, and she expected to collect from him one day. "This is a guy who swims in the Gulf of Mexico when he's at his home in Naples," Farber said. The word I think of with Jack is indestructible."
The Noise Report
(SI.com examines some of the more notable sports media stories of the past week.)
1.Steve Buckley is a well-regarded sports columnist at the Boston Herald. He also happens to be openly gay. Two years ago, Buckley wrote a powerful coming-out column and paid close attention to how the sports public reacted to the Jason Collins story in Sports Illustrated two weeks ago. There are openly gay sportswriters around the country -- Buckley being one of the most prominent -- but there are no men or women calling or analyzing NFL, NBA, MLB, or NHL games at the highest levels of U.S. sports broadcasting who are publicly out.
"I don't know why it hasn't happened yet," Buckley said. "I'm a writer, but I do a lot of stuff on television for Comcast SportsNet in Boston, and to my knowledge, it's not like the station is getting inundated with requests to get me off the air because I am gay. If you can talk, you can talk. If I am a network executive and I don't think my viewers are ready for an openly gay play-by-play announcer, then I am not really too bright. Look at the overwhelming support Jason Collins received. Not just from the media, not just from talk shows, but also the President of the United States and former Presidents. With apologies to [ESPN NBA analyst] Mr. [Chris] Broussard and others, the people who are screaming about this sound like they are from the lunatic fringe."
Last year, I interviewed a number of sports television executives on this topic and went back to them again this week to update the quotes. (CBS Sports chairman Sean McManus was interviewed for the first time on Friday.) Every executive I spoke with said a person's sexuality would not be a factor in hiring or the network giving them assignments. (I would not expect otherwise in public comments.) It's naive to think that gay sports broadcasters are not working on-air today, so why haven't we seen an openly gay anchor calling or analyzing the NFL or hosting SportsCenter? "I don't think I can speak for the whole industry," said Fox Sports co-president Eric Shanks. "I can speak for Fox Sports, and at least while I have been here, I don't think the opportunity has presented itself. I don't think it is an issue today. If there were a person qualified, it would not be an issue. Once the opportunity presents itself and there is someone completely qualified, it will absolutely be a reality."
"It is one of those things that I don't even think crosses people's minds anymore when it comes to on-air broadcasters or lawyers or bankers or school administrators," McManus said. "When I look at tapes or have someone in my office who wants to work for me at CBS Sports in play by play or as a studio analyst, it just never really occurs to me or find out what his sexual preference is. I think the Jason Collins story was a big story for a lot of reasons, but if a broadcaster chose to make that kind of statement, I don't think it would be all that big a story. I think most people would say, "Okay, so what? I couldn't care less what your preferences are. What I care about his how good a play-by-play man or analyst you are. If the general public liked that man or woman as an on-air broadcaster, they would have very strong opinions about that person whether that person is gay or straight."
"A gay anchor on SportsCenter is an absolute non-issue," said an ESPN-er who has hosted SportsCenter. "If you are asking how they would be received in-house, my only concern as it related to anchoring a show is with the level of investment and competence the anchor has. Any ancillary issue is honestly not a concern. How would they be received by the viewer? I honestly can't imagine that would be an issue either among most. But I am admittedly hoping that's the case. There was quite a bit of religion thrown about after Collins, wasn't there?"
Not everyone shares that opinion. One ESPN broadcaster I spoke to said sexuality would be a significant factor in how the audience reacts to a broadcaster. "I do think some viewers would be biased and not look at the gay broadcaster the same -- or give them any slack," said the broadcaster. "If this particular broadcaster were to make an innocent mistake on the air --or have a comment or view that some might not agree with -- I think all bets would be off. Sad, but true, in my opinion."
"My sense with play by play is that there is the same level of closeting that goes on for the same reasons athletes aren't more open -- concern over appearance," said another ESPN staffer who has done play by play. "I suppose they wonder if a network and/or the fans would somehow "hear" them differently. It's quite easy for me to say they wouldn't but until someone is courageous enough to say the hell with it, I guess it's a barrier to be crossed."
My take is that an openly gay sports broadcaster calling or analyzing one of the major sports would receive far more support than venom, though they'd have to expect some hate and homophobic speech in some corners. (One broadcast executive suggested that 20 percent of the feedback to his network through phone calls, emails, etc., would be negative, and less about the person being openly gay than for the perception that he or she was using the network as a platform to advance an agenda.) Something Buckley said during our conversation gave me hope -- and a laugh. "The emails and letters I enjoy most today are the ones who tell me they thought I was a sh---y columnist before and a sh---y one now," Buckley said. "Those are the best."
1a. I asked the broadcast executives how they thought their viewers would react to an openly gay broadcaster:
Shanks: "When you sit with your friends, the most frustrating thing viewers talk about is: Is that guy watching the same game I am watching? Those are the things that people watch and listen for. I think there would be pockets of people that would say things, but I don't think the majority of people would have an issue as long as the person is qualified to call the game."
McManus: "I think sports fans have very strong opinions about their likes and dislikes on announcers and I really don't think that the vast majority of people are going to factor in his or her preferences any more than whether they factor if the person is black, white, Indian, tall or short. What the person is saying, how they are saying it, what their personality is -- those are the important factors."
Norby Williamson, ESPN executive Vice President, Programming & Acquisitions: "Absolutely, they would accept it. For sports fans, it's about credibility, it's about doing your homework, it's about working hard and having passion for sports or news. That's where I would like to think we are with the culture. I have been here a long time so I go way back to when the discussion was about women -- Gayle Gardner, Shelley Smith, Robin Roberts, Hannah Storm, there was that discourse about women hosting sporting events. Now on play by play we have Beth Mowins doing college football. Throughout the years, these questions have been there, about what is the next hurdle or next thing. I would like to think we have gone past those hurdles as a society and as a culture. If it's another barrier, if that is a barrier, it should be broken. Sports fans, in my opinion, are ready to accept that." (Note: Williamson was interviewed last year when his title was ESPN's executive vice president, production).
1b. The Collins announcement prompted a young sportswriter to come out in this column on Outsports.com. I emailed the writer, Tony Jovenitti, to ask him why the Collins story propelled him to write his piece. "I found myself thinking about possibly coming out for the past few months, but I immediately dismissed those thoughts," said Jovenitti, who writes for College Hockey News and interned with the Penguins during the 2010-11 season. He has a fulltime job as a project manager for a healthcare software company in Madison, Wisconsin.
"There were a few moments when I nearly told one of my close friends. But I just couldn't do it. Then, I read Collins' story. I was taken aback by his openness and honesty. I loved hearing it from him, in his own words. Then, one particular line in his story hit me -- where he said, 'This is my news to tell, not TMZ.' Granted, TMZ doesn't care about me, but I'm from such a small town and I was worried about the rumors. If just one person found out, I knew my whole town would know by the end of the week. All my friends and family would have found out through someone else. I wanted them to hear it in my own words."
1c. Worth re-reading is this piece from ESPN New York Radio host Jared Max, who came out on the air in May of 2011.
2. Canadian sports broadcasters Jay Onrait and Dan O'Toole will host their final TSN Sportcentre on June 28. The following week, they'll be in Los Angeles to start their new broadcasting adventure: The duo will serve as the primary highlight readers for the upcoming Fox Sports Live program on Fox Sports 1. Their first day on the air comes Aug. 17, the date the new network launches in about 90 million homes.
In separate interviews with SI.com this week, both Onrait and O'Toole said Fox Sports executives have given them a rough outline of what they envision for Fox Sports Live, the new network's challenger to ESPN's SportsCenter, The show will air daily from Los Angeles from 11 p.m. to 2 a.m. ET and Onrait and O'Toole will work Monday through Thursday with the following setup: Charissa Thompson and a still-to-be-determined panel will appear on one side of the studio, and Onrait and O'Toole will be on the other side doing highlights. The day's sports schedule will determine how much airtime each grouping gets during a show. Onrait and O'Toole will also co-host a 90-minute Fox Sports Live show on Sunday night, as well as continue their popular podcast.
"Charissa will be the star of the show, let's be honest," Onrait said. "We'll be sliding in and hanging out in the corner like Chris Elliott did [on "Late Night with David Letterman"] all those years ago."
Fox first approached the duo last August at the London Olympics (Onrait and O'Toole hosted a two-hour show for TSN from Trafalgar Square), and the duo flew to Los Angeles two months later for further discussions. As negotiations heated up, the anchors talked daily (along with their producer, who is joining them at Fox) and made a joint decision to take the new job. "When they [TSN] saw the offer, they said they did not think they could match it," O'Toole said. "But talking with all of our bosses, they were almost of the mindset they did not want to keep us from this opportunity. It was like, 'Guys, you have to try this.' It is a whole new audience that we can hopefully entertain. As opposed to a country of just over 30 million, we will be in 90 million homes. It's just staggering the amount of eyeballs we can potentially reach."
Both Onrait and O'Toole said they were overwhelmed by the amount of messages they have received from Canadians, including a tweet of support from Canadian Prime Minister Stephen Harper. "When you are in a studio in Scarborough, Ontario at 1 a.m. doing a show, you don't lose track of who you are broadcasting to, but you forget that show is repeating for 12 hours across the entire country, and countless families wake up with it," OToole said.
O'Toole is married with two daughters, one five years old, the other two. He said he and his wife went back and forth about uprooting a comfortable life in Ontario (O'Toole was born and raised on a pig farm in Peterborough, Ontario; Onrait is from Athabasca, Alberta, a town of 3,000 in the Canadian prairie). "My wife likes California wine, so I kept stressing that," O'Toole said. "That was one of my sales tactics. It will honestly be a new adventure every day."
I asked each of the new Fox Sports 1 anchors to provide a one-sentence description of the other:
Said Onrait of O'Toole: "Unable to concentrate on one thing for more than five seconds."
Said O'Toole of Onrait: "Extremely talented and extremely strange."
3. The opening day lineup Fox Sports 1 has been announced. Programming will start at 8:00 a.m., and the day is heavy on NASCAR and UFC. The schedule can be found here.
3a. Fox Sports 1 also announced additional on-air talent with the hires of Molly McGrath and Julie Stewart-Binks. Both will serve as update desk and breaking news correspondents. McGrath had been working as an in-arena host for Boston Celtics home games and served as the host of Celtics Now!, a monthly recap program on Comcast SportsNet New England. Stewart-Binks comes from Canada's CTV and previously worked as a reporter for the FOX Soccer Report in Winnipeg. Fox Sports has repeatedly said Fox Sports 1 will produce quality sports journalism and reporting, and as we have said, that message comes with a buyer beware tag given it hasn't come close to showing that in the past on live events when compared to ESPN.
4. ESPN college basketball reporter Andy Katz has re-signed with the network, a six-year deal that will see Katz hitting the 20-year mark at ESPN when his contract concludes in 2020. Katz said he negotiated the deal with ESPN executive vice president of production John Wildhack and did not use an agent, a rarity for a broadcaster with his standing. "This has become home for me, my wife Denise and my two children, Lucia and Salvador," Katz wrote in an email. "You cannot put a price tag on relationships with people you work with and work for, and I consider myself incredibly fortunate. I live in essentially an ESPN neighborhood in West Hartford where there are eight or nine ESPN families in my area, with a number of them going to our same elementary school ... I didn't want to start over somewhere new. I've got my same responsibilities at ESPN.com, my own show on ESPNU (Katz's Korner), and I co-host a podcast (with Seth Greenberg) that has plenty of possibilities, too, as well as all the other appearances on ESPN and ESPN2 shows and contributing as much as possible on SportsCenter."
Katz said he will continue to do games on ESPN and ESPNU, but he's added one very high-profile assignment: He'll be part of a rotation (including T.J. Quinn and Steve Weissman) that will host Outside the Lines when Bob Ley is unavailable. "This is the best show we have on ESPN and I have always wanted to be more involved in OTL for everything the program stands for in journalism and the kind of discussion that can be generated," Katz said. "I'm proud of everything that comes out of OTL and wanted to increase my role on the program."
5. CBS Sports and Turner Sports announced last week that they had tweaked the schedule of the NCAA men's basketball championship for next year and 2015. In those years, TBS will televise the Final Four national semifinals while CBS has the title game. In addition, TBS will televise the Final Four and national championship in 2016 with CBS broadcasting the games in 2017.
5a. Beginning in 2014 through 2024, the regional semifinals and regional finals games will be split by TBS and CBS. Earlier round coverage will continue to be televised across four national television networks: CBS, TBS, TNT and truTV, and the First Four will air on truTV.
5b. McManus said that he and Levy have not discussed broadcaster assignments for the 2014 NCAA tournament. They plan to sit down in the next couple of months. I asked if him if he anticipated changes among the Final Four crew given that it was moving to cable. He refused to bite. "That's why I have lasted as long as I have," McManus said.
6. The following is a press release announcement from Cartoon Network spinoff Adult Swim on a new show: "Mike Tyson Mysteries." "In the new animated comedy series 'Mike Tyson Mysteries,' Mike Tyson is taking the fight from the boxing ring to the streets ... by solving mysteries! Armed with a magical tattoo on his face and a trusty associate by his side ? a talking pigeon ? if you have a problem that needs solving, Iron Mike is in your corner. The series incorporates live-action appearances featuring Mighty Mike himself, and the gloves come off as the former heavyweight champ and his fowl-mouthed partner gear up for weekly adventures as they put unsolved mysteries ? like how to defeat a super computer at chess or why a famous author/werewolf can't finish his novel ? down for the count."
7. Among the memorable sports pieces this week:
? Deadspin asked an important question: Is your state's highest paid employee a coach?
? The Daily Telegraph (UK) has a cool piece on the all-time greatest Manchester United XI under Alex Ferguson.
? Monday Night Football sideline reporter Lisa Salters discusses the process of adopting a son.
? SI.com's Chris Mannix goes under the hood on the Floyd Mayweather PPV view figures.
? Michael Hiestand covered TV sports for USA TODAY Sports for 24 years. This is his final piece for the paper.
? A non-sports piece I recommend highly: The New York Times on a review of some 50 murder cases assigned to an acclaimed homicide detective.
8. NBC Sports announced last week that Carrie Underwood has replaced Faith Hill as the vocalist for its opening theme for Sunday Night Football. Underwood will make her show debut on Sept. 8 before NBC's first SNF broadcast of the 2013 NFL season. Music can play an important role in a sports broadcast -- especially for intros -- but I've always preferred the visuals of an athlete, game highlights, or a story related to the game as opposed to an over-packaged video featuring a musician. Fred Gaudelli, the executive producer of Sunday Night Football and a favorite of Deadspin, explained the importance of music for an NFL production during a conference call last week: "It's a football game, but there's a large entertainment component," Gaudelli said. "Music definitely fits that. We have the 'Waiting All Day' theme and then we have the John Williams theme that gets played, and we like to use a lot of commercial cuts. We've played a lot of Carrie's songs throughout the years (in and out of commercial breaks) because we want to be relevant to pop culture. Music can be somewhat polarizing because not everybody likes the same kind of music, but throughout the course of three hours we try to give everybody a little bit of something that they do like."
9. Awful Announcing presents the first Annual Sports Emmys. I voted for Doris Burke in the reporter category over my colleague Tom Verducci. She was robbed.
9a. Ed Sherman of The Sherman Report attended the Sports Emmys and interviewed some of the winners.
10. If you are a racing fan, start planning for May 26. On that day there will be three major races telecast from three different circuits on three different networks. NBC has the first race with live coverage of the Monaco Grand Prix on broadcast television at 7:30 a.m. ET. The Indy 500 will air at noon on ABC. Fox has the Coca-Cola 600 at 6 p.m. ET.
10a. The Kentucky Derby drew 16.2 million viewers for the program's race portion, making it the second most-watched Kentucky Derby since 1989 and up nine percent from last year's Derby (14.8 million).
10b. Fox Sports said that its broadcast of the FA Cup aired live in 96 percent of its available homes. There were two markets that delayed the coverage -- Hartford and Indianapolis. -- which represent approximately 1.8% of U.S. television homes.