The Carmelo Trail
July 13, 2006
Finally. After a long six months of speculation, the Carmelo saga ended with the All-Star forward getting traded to New York -- his preferred destination all along. Here's a look back over the chain of events, including his statements at the time ... Let's start back in 2006 when he signed a five-year extension with the Nuggets. Unlike his fellow celebrated 2003 draft mates (LeBron James, Dwyane Wade and Chris Bosh), Anthony opted for a longer deal, worth $80 million, that included an early termination option after his fourth year. At the time of the signing, Carmelo sounded happy to stay in the Mile High City: "This is where I want to be," Anthony said. "The whole state has embraced me." My how things changed.
June 23, 2010
Anthony told Yahoo! Sports that the Nuggets offered him a three-year, $65 million extension. Carmelo's words then: "I feel good about it. I appreciate them putting it on the table and wanting me to extend my career there. At the end of the day it's about winning. If I feel I can win there, I will stay. "I've been there five years. I'm comfortable there. Family is there. If I'm able to compete for a championship, I'm there."
July 12
At the reception of Carmelo's New York wedding to LaLa Vasquez, according to SI's Ian Thomsen, LeBron James addressed attendees and drew laughs when he said to Anthony, "If you want any chance against us in Miami, you'd better team up with Stoud in New York." That prompted Hornets point guard Chris Paul to make a toast, suggesting he and Anthony join Stoudemire to create their own Big Three in New York.
July 14 - Aug. 15
Denver ended up with Al Harrington in free agency -- not enough to prompt Carmelo to move ahead and sign the extension offer. Meanwhile, nearly a month later, the Nets acquired Troy Murphy in a four-team deal, giving them a tradable asset in his expiring contract. Four days later, at his basketball camp in Colorado, Anthony told the Denver Post he had no plans to make a decision soon. "I could wake up tomorrow and they could snatch it off the table," Anthony said of the extension. "I don't know. I don't know what their mindset is. "I'm just taking my time with it," he said. "... I'm just taking my time, figuring out if I want to take that extension or not."
Aug. 27
The Nuggets named Masai Ujiri their new general manager. Ujiri, a former international talent scout, vowed to keep the star forward in Denver.
Sept. 20
Less than a month later, the Nuggets appeared to have realized that they were losing the fight for Carmelo and they started fielding offers for him.
Sept. 27
At Nuggets media day, three days after news broke of a potential four-team blockbuster trade that would send Anthony to New Jersey, Anthony said he had a "great conversation" with Ujiri and was unsure about his future. When asked whether the trade rumors were bothering him, Anthony said, "I'm just living, man." He also said, "At the end of the season, I'll sit down with my team, I'll sit down with the Nuggets."
Sept. 28
SI.com's Chris Mannix reported that the four-team deal (which included Charlotte and Utah along with Denver and New Jersey) was "dead."
Oct. 19
Talks between the Knicks and Nuggets began to heat up, according to ESPN.com -- though other outlets said it has "no legs."
Oct. 20
Almost a week before the start of the regular season, Anthony told FanHouse that he hadn't ruled out re-signing with the Nuggets. "Yeah [it's an option]," he said. "When that time comes, we'll discuss that."
Oct. 28
At the start of the season, with coach George Karl back on the bench after another battle with cancer, Carmelo told Yahoo! that he had no intention of signing the extension with Denver. "They want to sit down and talk, but my thing is it's way beyond this year. It ain't got nothing to do with the new GM, [owner] Josh [Kroenke], the players. For me, I feel it's a time for change. "If I do nothing now, I'm never going to do anything. I feel like my time is now to make a decision if I want to leave or if I want to stay."
Oct. 30
Two days later, Carmelo, not surprisingly, backtracked, saying that wanting to have options "doesn't mean anything else." Carmelo said he appreciates that Nuggets fans are emotionally invested and want him to seem that way as well, and that those fans can still count on him to play hard and try to win games for the Nuggets as long as he's with the club.
Nov. 17
When Anthony and the Nuggets visited Madison Square Garden to play the Knicks, he said he never entertained the possibility that it could be the last time he plays against the Knicks. "I never thought about that [Tuesday night]. Never. Not once. Never. That wasn't even on my mind."
Dec. 12
ESPN.com reported that Carmelo told the Nuggets he would sign the $65 million extension only with the Knicks.
Dec. 13
A day later, Anthony denied the reported ultimatum about the Knicks. "No," Anthony told FanHouse when asked about the ESPN.com report, "I haven't talked to Masai [Ujiri] about who I would sign an extension with, and who I want to sign with. I've never had that conversation."
Jan. 7
Amid talk of a three-team trade with the Nuggets, Nets and Pistons -- which would include sending Chauncey Billups to New Jersey and Richard Hamilton to Denver -- Carmelo said he didn't see himself headed to New Jersey anytime soon. "That's my feeling. I don't think so. I don't want to elaborate on that anymore. That's just my own personal feeling," he said after a Nuggets practice. He also said he "didn't really know" if he would sign the extension with the Nets and that he was sorry that Billups' name has been brought up in the proposed trade. "He was looking forward to retiring here, whenever he's done," Anthony said. "To see him and all this stuff that's going on right now, I feel bad about it. I guess that's the business of basketball."
Jan. 11
Carmelo told SI's Ian Thomsen that he doesn't want to handle his departure from Denver like LeBron James approached his exit from Cleveland: "I would never go about it the way LeBron did it." "If he could do it all over again, he wouldn't do it that way -- he would do it a totally different way, I can guarantee you that," added Anthony, who said he talks to James and fellow NBA stars Chris Paul, Kobe Bryant and Dwyane Wade regularly.
Jan. 16
Reports surfaced that the Nuggets gave the Nets permission to speak to Anthony about signing an extension. Hours later, Anthony refuted the report. "I don't want to talk to nobody,'' Anthony said. "I let the front office handle that type of stuff. It ain't my job to be talking to New Jersey, New York, the Lakers, Dallas, no one. That's not my job to do. ... What am I going to meet with [Nets majority owner Mikhail Prokhorov] for?''
Jan 18
Carmelo also told SI that he had weighed every possible option, and location mattered almost as much as money in his decision-making: "People just see the fact that I haven't signed that contract right now and [they think] I don't care about this city, I don't care about the team, I just want to leave, I just want to be selfish, it's about money," he said. "If it was just about money, I would have been signed for $65-mill. Who in their right mind would leave $65 million if it was about money?" While he didn't deny the importance of money in his decision-making, he insisted that location was also a major factor. "That's the best of both worlds," he said. Later he added, "All my family is East -- back home."
Jan. 19
Speaking with reporters before a home game against Utah, Nets owner Mikhail Prokhorov pulled the plug on all trade talks for Carmelo. This was the third time since October that a deal between the Nets and Nuggets fizzled. ''I'm instructing our team to walk away from the deal," the Nets' billionaire owner said.
Jan. 20
A day after the deal with the Nets fell apart, Anthony appeared to contradict his earlier statement about scheduled meetings with the Nets. "In the last past couple of days, yes, that meeting [had] been set up," he said. Anthony also said he was willing to meet with the Nets' owner. "Yeah, I mean he's a very interesting man,'' Anthony said. "For me to just be in the room with him and to just have a conversation, I would have loved that."
Jan. 31
The night before the Nuggets played in New Jersey for the first and only time this season, Carmelo was asked his thoughts on what could have been had the three-team trade gone though. He insisted Prokhorov is a man of his word, and that the Nets were out of the sweepstakes. He said all his options, including the Knicks, were still open. The Nets rejoined the trade discussions shortly after.
Feb. 12
Anthony took some time to congratulate himself for playing so well amid the constant trade rumors. ''I think it takes a strong-willed person, a strong-minded person, to deal with the stuff that I deal with and still go out there and go to work every day and perform on a nightly basis," he said. "I take my hat off to myself for dealing with all this stuff that's going on out there, and still be able to go out there and play at the highest level. I don't really think the average person can walk in my shoes." The humility is just mind-blowing.
Feb. 16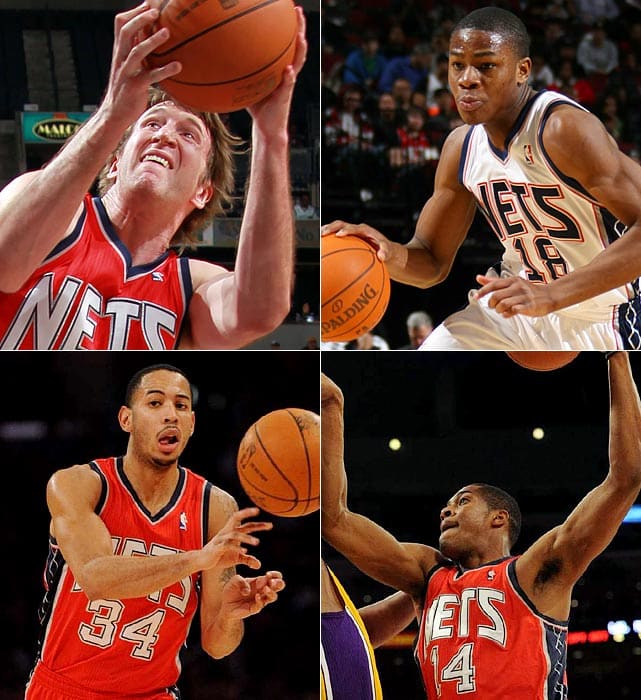 Trade talks quickly began to heat up for Carmelo. The Nets dangled four first-round picks and rookie forward Derrick Favors, while Denver tried to get New York to up the ante and offer four starters and draft picks.
Feb. 18
At media availability on the first day of All-Star activities in Los Angeles, Carmelo told reporters: "I want to get something done. Before I leave here I would love to have something on happen. I would love to have a legit offer on the table where they can sit down with me and say, 'Melo, this is what we have. Let's try to figure it out.'" He also said he had not met and had no intentions of meeting with officials from the Knicks or Nets -- "It's always something new, but that's new news to me. I haven't heard that one," he said when asked about a sit-down with Prokhorov. Anthony reportedly met with Knicks owner James Dolan the night before and had dinner with Nets owners Mikhail Prokhorov and Jay-Z the next night.
Feb. 19
As the Knicks and Nets engaged in an all-out bidding war for him, Carmelo even seemed taken aback by the proposed deals, especially when he considered he could end up with an empty roster: "If anything was to happen with whatever team, of course I would want a team to be able to compete with. As far as all the players that's in the deal, that's supposed to be in the deal -- that's a lot of players for one guy."
Feb. 20
Nearly 48 hours after saying he hoped a deal would be done by the end of All-Star weekend, Anthony said he expected to be in a Nuggets uniform for the team's first game after the break, against the visiting Grizzlies.
Feb. 21
He was traded to New York the next day.