Media Circus: Bad Boys hit the screen; ESPN has no plans to lose NBA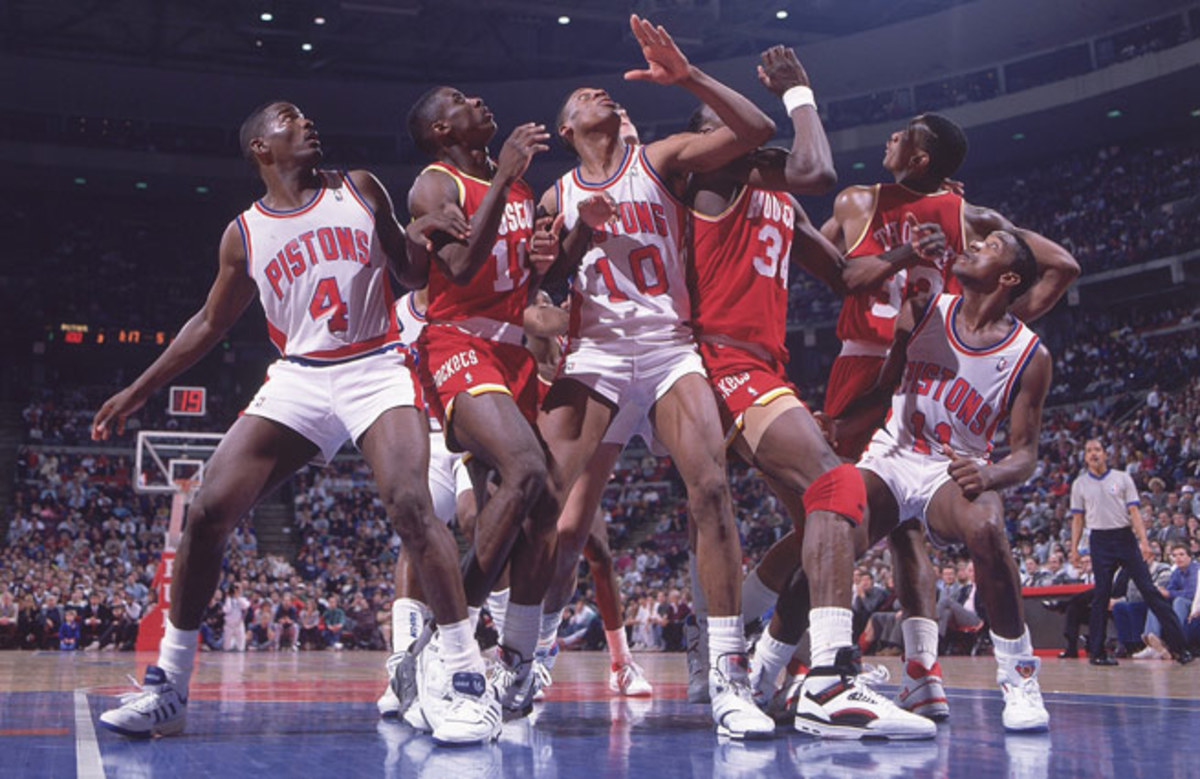 "We're like a hockey team. Everybody wants to see us fight."
-Dennis Rodman, Philadelphia Inquirer, May 28, 1989
The Chicago Sun-Times dubbed them the Motown Meanies. Others called them far worse. The Detroit Pistons of the late 1980s wore the NBA's black hat with pride, a brilliant, hard-nosed basketball team with a two-word nickname that stood the test of time:
Bad Boys.
Now, 25 years after the first of their back-to-back NBA titles, ESPN Films is turning the famed cast of characters (Isiah Thomas, Joe Dumars, Bill Laimbeer, Mark Aguirre, John Salley, Rick Mahorn, James Edwards, Vinnie Johnson, Rodman, etc...) into a two-hour documentary.
In an interview with SI.com this week, ESPN Films executive producer Connor Schell said a documentary on Detroit's championship years titled "Bad Boys" will air in the spring of 2014 sometime between the end of the NBA regular season and the NBA Finals. It will part of ESPN's "30 for 30" series. The idea for a doc on the Pistons had been percolating for years among the "30 for 30" brass and executives at NBA Entertainment. "We felt like the timing of the 25th anniversary of the first title was the right time to do it," Schell said.
Given the previous collaboration between ESPN Films and NBA Entertainment -- they partnered on the brilliant "Once Brothers" and the terrific "The Announcement" -- Bad Boys is likely to be one of the better "30 for 30" efforts. (NBA Entertainment also produced the last year's sensational "Dream Team" documentary for NBA TV.) "They are great storytellers and the right guys for this topic," Schell said. "They have a great working knowledge of the players and a rich archive of that period."
Dion Cocoros, the senior vice president of original production for NBA Entertainment, told SI.com that the film is in the pre-production phrase. His group is currently creating an interview list and culling through the video archives they have on Detroit from those years. They've already met with the Pistons organization -- who are giving it their full support -- and Cocoros has reached out to Dumars, Laimbeer and Thomas. The interview process for all subjects is expected to begin this summer. (Cocoros said his group plans to ask Michael Jordan to participate, given his role in the Pistons dynasty and ultimately ending it.) "The beauty of the Pistons run is they kind of touched the era the Celtics, Lakers and the Bulls," said Cocoros. "Their reach touches all of three of those organizations in terms of who they had to get past to become champions, and who had to beat them to take the throne."
Cocoros said he's already discovered never-before-seen footage of the team inside the locker room before and after games, as well as compelling footage of Chuck Daly's huddles. "The way this team went about their business kind of mirrored the city -- the toughness and the blue-collar work ethic," Cocoros said. "We will look at what was going on in Detroit in the 1980s. There is a lot of parallel to the time period and this film will bring that story to life."
The Noise Report
(SI.com examines some of the more notable sports media stories of the past week.)
1. They were outbid for both the 2018 and 2022 World Cup rights and the English Premier League but props to ESPN for continuing to show an impressive commitment to soccer. The company announced at its upfront presentation for advertisers and media buyers last week that it will debut a 30-minute news and highlights-driven soccer studio show on August 11. The show (ESPN FC) will air daily on ESPN2, likely in the late afternoon hour between 4 and 6 p.m. ET. ESPN FC will air year-round Sunday through Friday. (The Sunday edition will be a one-hour program focusing on the best highlights from the weekend; the Monday through Friday program will air for 30 minutes.) Digital versions of the program will be available on ESPNFC.com.
ESPN executives said the show will focus on the Premier League, UEFA Champions League, Spain's La Liga, Major League Soccer, U.S. Men's National Team and the Mexican National Team. There will also be features on key matches during the year and newsmaker interviews and panel discussions. No staffing has been announced yet.
"What we want to do is assert that soccer remains important to us and a daily show is a way to assert we still care about the sport and we are going to be there," said ESPN president John Skipper. "We bought the rights to the Mexican national team and we bought the rights to Liga MX. The European rights were sold, and in some cases, were sold through blind auctions to other folks. We have the World Cup [in 2014], European Championships and still have the national team through '14. We are also in the MLS. We still want to be in the sport."
1a. Gus Johnson's partner for the all-German Champions League final between Bayern Munich and Borussia Dortmund will be Warren Barton. The game will air live on May 25 on Fox from Wembley Stadium, starting at 2:00 p.m. ET. Fox Sports co-president Eric Shanks liked how Johnson and Barton interacted during their first broadcast last February and I'd argue Johnson is aided much better by Barton than by the non-stop talking of Ian Wright.
2. The NBA will begin informal negotiations on its new television package once the NBA playoffs conclude in June, according to the Sports Business Journal. That's two years in advance of the current television deals expiring with ESPN and Turner Sports. How much interest does ESPN have in extending its contract with the NBA? "I won't comment on whether discussions are about to embark," Skipper said. "Well, I just did comment on comment on it (laughs). The NBA is core and key product for us. The league is ascendant and the interest in the NBA at least during our tenure is at an all-time high. Ratings are kind of back to [Michael] Jordan levels. You have great teams. Players, big cities, I don't think I can state it more bluntly: The NBA is core and key product for ESPN."
Skipper's being optimistic on the Jordan-levels of ratings but ESPN clearly wants the NBA (and vice versa). I see zero chance the NBA and ESPN don't end up extending the deal.
2a. Skipper faced plenty of questions about the August 17 launch of Fox Sports 1, the newest player in the cable sports marketplace. "The guys at Fox are smart and we are respectful of what they do but you heard from us a significant level of confidence," Skipper said. "We like what we have and we like our ability to compete. Two things matter at the end of the day: What is your level of distribution and what subscription fees are you getting from that, and what is the live content that you have to put on that fans want? I would ask everybody writing all of these stories about competition to look at what we actually have and what they actually have before there's any discussion about a head-to-head competition."
2b. How does Skipper define his level of interest in Fox Sports 1's launch versus his level of interest when NBC Sports Network and CBS Sports Television launched their networks? "A year ago we had the same level of respect and understanding that Comcast [NBC] had a lot of resources and a lot of cash and capital, so it is pretty much the same," Skipper said. "What Fox does have is more live rights. I think for NBC what they were looking for is to acquire those [sports rights] on the come so to speak. Fox has more to start with but again, any comparison of our collection of assets and their collection of assets, we have a significantly broader and better portfolio."
2c. On the prospect of losing talent to competitors: "If you are starting a 24/7 network and thinking where you are going to get talent, we have 1,000 people under contract," Skipper said. "That's a lot of people and I think it is pretty much the entire farm system. So if you are going to look for talent, you will look at ESPN. Of the 1,000 people, we have lost half-dozen, nine, 10-11? In many cases, we lost talented people. We didn't want Michelle Beadle to leave. We like Michelle Beadle. She did a great job for us. We wish them well but we have lots of people that have come up behind them and we feel good about a lot the young talent we have signed. We have made it a point the last few years to get significantly more diverse. Sometimes people leave and it gives us a chance to do that on our air, which we are very committed to. We think we will be fine. It does require us to prioritize. We have to decide: Here are the people we are not willing to lose."
2d. Skipper, not surprisingly, downplayed Senator John McCain's plans to introduce a bill to require cable companies offer their channels to consumers on an à la carte basis.
"We do not believe the a la carte bill has any momentum," Skipper said. "I understand Senator McCain's point but we actually think he is dead wrong. It is actually the popular channels and the big channels that hold everything together. We think he has the economics wrong on that. We think the best value for consumers comes in a bundled environment. When you look at what you get in a cable subscription, it is a spectacular value. It's about $70 or $80 a month is what it would cost a family of four to go to the movies one time. It is about 23 cents an hour. That is what a bundled cable subscription costs an average person. I don't know why we are more busy talking about how value. The question is, is it enough value for you to keep paying? We don't see yet any significant deterioration in the overall sub base."
3. Another future 30 for 30 documentary with great promise will focus on Tonya Harding and Nancy Kerrigan 20 years after the 1994 Winter Olympics. ESPN Films has long chased filmmaker Nanette Burstein to be part of its series and she's heading up the project. The working title of the film (which is likely to be changed) is The Whack Heard Round The World and the target date for air is November.
In an interview with SI.com last week, Burstein said the film will focus heavily on the six weeks in 1994 when it seemed the entire sporting world was focused on the two American skaters. The film will also examine how the events impacted the sport of figure skating and the sporting culture at large. "This story raises a lot of issues," Burstein said. "It raises the issue of class, it raises the issue of feminine sports, and it raises the issue of media because this story came at the beginning of tabloid stories taking over as major news and occupying the public for weeks on end."
Burstein said she has already interviewed Harding for the film -- she recently spent an entire day with the former skater. "She has such captivating and strong personality and is very outspoken and emotional about these issues and how it hugely affected her life," Burstein said. "She wanted her story told but she also wanted this to be the last time she did it. She did not want to keep rehashing the story for years to come."
As for Kerrigan, Burstein said she is optimistic she will sit down with her for an interview. "She has a very admirable story to be told," Burstein said. "What she was able to overcome and how she rose to the occasion was nothing short of very admirable. Most people would have quit or never been able to perform on an Olympic level. Her side of the story would add so much."
If the filmmakers cannot get Kerrigan on film, the documentary will proceed. Burstein said there are people who were around Kerrigan at the time who can provide information. Obviously, documentaries are about access and Kerrigan's voice is clearly an important one. Kerrigan does know Harding is participating in the film.
Landing Burstein is a coup for Schell. In 2002 she co-directed the sensational documentary, "The Kid Stays In The Picture," which focused on the life of legendary film producer Robert Evans. Her first documentary, "On the Ropes," followed three young Brooklyn boxers and their trainer. The doc was nominated for an Oscar in 1999.
4. How committed is Skipper to the ESPN2 afternoon lineup of Highly Questionable and SportsNation? "We are committed to those shows," Skipper said. "We are in the process of looking at a different studio for Questionable -- we think more of a live environment, one with a studio environment might work. As for SportsNation, it was very revolutionary when it came on. The graphics, the look, the feel of it. Michelle Beadle and Colin Cowherd did a great job. We moved it to LA and we liked the live feel of it. We have to think about what is next. It has been reported that Charissa Thompson is going to leave so we don't have decisions yet. Nothing [on talent] has been decided but we are working on it. But this I can guarantee: It is on the air this year. It is on the air next year. And the year after that. We have the ability to keep things on, have consistency and be patient."
The showrunners for both shows will be happy to hear the boss's words. SportsNation has averaged 197,000 viewers year to date as of May 12, which is down 22 percent versus last year. Highly Questionable is averaging 156,000 viewers through the same date. That's down 15 percent versus the same period last year. When presented with the data above, the fine folks at ESPN PR passed along that HQ is up 18 percent (61,000 vs. 51,000) year to date in the 18-34 demographic for males. (It also recently added writer and radio host Bomani Jones to the mix.)
They also cited that SportsNation has the youngest studio program on ESPN or ESPN2 with an average age of 32.5 years.
5. ESPN thinks it has found a successful formula for a new NFL studio show: No former players on the set. The network announced that NFL Insiders, a one-hour weekday pro football-themed show, will debut August 5 -- the day after the Pro Football Hall of Fame game. NFL Insiders will replace NFL32.
Seth Markman, the ESPN executive in charge of NFL programming, said he thinks the show will stand out despite the overwhelming number of NFL studio show across the dial. "I am intrigued by the concept of doing an NFL show with people who have never played in the NFL," said Markman. "We think this is different. I mean this: If you played in the league, you will not be on the show. These will be the decision-makers and the reporters who have reported on those decisions. I think it will be smart and different."
The in-house staffers who will appear on NFL Insiders include anchor/host Suzy Kolber, reporters Chris Mortensen and Adam Schefter, former GM Bill Polian, ESPN.com senior writer John Clayton and NFL insider Ed Werder, and NFL Draft experts Mel Kiper Jr. and Todd McShay. There will also be a daily four-person NFL Insiders panel from a roster including former Cleveland Browns general manager Phil Savage, former St. Louis Rams general manager Billy Devaney, USA Today Sports NFL columnist Jarrett Bell, Sirius/XM radio host Adam Caplan, ESPN.com senior NFL writer Ashley Fox, ESPN.com NFC East blogger Dan Graziano and ESPN Insider and ESPN Boston writer Field Yates. (Devaney and Savage were recommended by Mortensen, Polian and Schefter.)
Markman said that the network is not ready to announce what channel and time of day the show will air.
6. Asked by SI.com how ESPN's platforms did on the Jason Collins announcement, Skipper said, "I think we did great other than we made one mistake: The mistake was not being more careful with Chris Broussard [on Outside The Lines], and there is a collective responsibility there. Chris Broussard's job was to come on and talk about the news of the league, how the league was representing it, and through a series of events he made personal comments which was a mistake."
I asked Skipper if he spoke to either Broussard or the producers of Outside The Lines about the segment.
"I had a discussion with everybody. They said, 'Look, we brought [ESPN.com columnist] LZ Grandersonon to talk from a personal point of view, and we brought Chris on as a reporter and it was a mistake for him to cross the line into a personal point of view there.' We don't quarrel with his right to have any personal point of view, although we do assert as a company that we have a tolerant point of view, we are a diverse company, and that does not represent what our company thinks."
7. ESPN and the USTA announced an 11-year partnership last Thursday that will have the network airing the entire U.S. Open tennis tournament beginning in 2015. (The Sports Business Journal placed the deal at more than $770M in total. The move to take the entire tournament to cable ends an era that has seen CBS broadcast the event every year since 1968. (CBS will carry the Open for the next two years.) In addition to ESPN and ESPN2, all telecasts will be available on WatchESPN and ESPN will make every match on all 17 tournament courts available on ESPN3. Presently, six of the 17 U.S. Open courts have camera coverage.
8. Among the memorable sports pieces this week:
?Grantland's Brian Phillips wrote a fantastic piece on the contradictions of outgoing Manchester United manager, Sir Alex Ferguson.
?Longreads is looking for great journalism from college students.
?Loved this piece by Jonathan Wilson on the legacy of David Beckham.
?Yahoo! Sports columnist Adrian Wojnarowski shows a writer at the top of his game with this piece on Pacers guard Lance Stephenson.
?Here is SI's coverage of the 2013 Fortune 50 athletes.
?One non-sports piece of note: The Wall Street Journal examined how social media poses a new riddle for the CIA.
9. Weekday airings of SportsCenter between 9:00 a.m. and 3:00 p.m. ET have averaged 405,000 viewers year-to-date through May 12. That's down 11 percent versus last year. The show's ratings for males 18-24 is also down 21 percent over the same time period. Even with such a decline, keep this in mind: The NBC Sports Network and the upcoming Fox Sports 1 would kill for these numbers for their signature highlight shows.
10. The Big Lead website reported that ESPN tried hard to lure comedian-writer Seth Meyers to host a late-night show.
10a. ESPN college football analyst Ed Cunningham has an interesting second occupation -- documentary filmmaker. His credits include last year's Oscar-winning "Undefeated" and the well-received "The King of Kong." On Monday he and his partners are launching a Kickstarter campaign to raise money for "Finders Keepers," a story that revolves around a severed human foot discovered in a grill bought at a North Carolina auction, and only gets stranger from there.
"When I first heard the story of a guy buying another guy's mummified leg in a smoker grill at an auction, I thought it was at least worth some basic research," Cunningham said. "A few hours later, I had found this complex, historical story of these two very different guys who were slammed together by this bizarre event. It felt very much like the stories we were finding early on during research for "The King of Kong." It was when I heard that the guy who bought the grill was going to sue the amputee who had stored his leg in his storage locker before becoming homeless, I quickly reached out and began getting to the know folks involved. We've been filming with them since early 2008.
"However, it always comes down to the money, and films like this - non-issue based, feature documentaries - are nearly impossible to finance in today's marketplace. So, Kickstarter provides a film that likely never would have been made a method to meaningfully connect with people who are motivated not by their return on investment but by the opportunity to literally help something get made they would want to see."
10b. NBC and the NBC Sports Network will each have coverage of the NHL's conference finals. NBC will broadcast Saturday games on June 1 and June 8. The remaining games from both the Eastern and Western Conference Finals will be televised on NBC Sports Network.
10c. Dottie Pepper has joined ESPN's golf coverage and will make her on-air debut at next month's U.S. Open. Her responsibilities include analyst, on-course reporter and anchor during live play. She will also be an analyst on SportsCenter and write for ESPN.com. Pepper previously worked as a commentator for NBC Sports and The Golf Channel and was also an SI Golf Plus contributor.
10d. Dick Vitale's annual gala to raise money for pediatric cancer research through The V Foundation for Cancer Research was held over the weekend and had a guest list of more than 800 people. Since the event's inception in 2006, the Gala has raised more than $10 million for cancer research.
10e. CBS Sports broadcaster Jim Nantz on the passing of Ken Venturi: "He was one of the finest gentlemen the world will ever know and one of the greatest friends you could ever have. He was a deeply principled man with a dynamic presence. He just exuded class. Through his competitive days and unequalled broadcasting career, Kenny became a human bridge connecting everyone from Gene Sarazen, Byron Nelson and Ben Hogan to the greatest players of today's generation ... I'm so happy he lived to know he was going to be inducted into the World Golf Hall of Fame. I will cherish my 17 years working with him. But more than that, I will treasure the rich, personal, deep friendship that we shared for nearly 30 years."
10f. HBO's Real Sports will be recognized Monday for a Peabody Award for its enterprising reporting. It is the only sports program among the 39 recipients for the 2012 calendar year. The Peabody board annually awards the best in electronic media.