Prospect Watch: Athletic, shot-blocking Cauley-Stein needs polish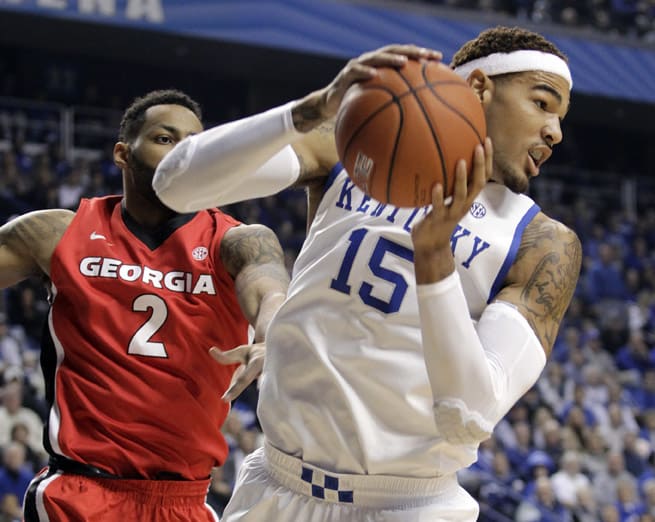 Best of the rest
Andrew Wiggins, F, Kansas -- The scoring numbers the past two games impress -- Wiggins followed up 17 against Baylor with 27 against TCU -- but the most noteworthy number from those is free throw attempts. In those two games, Wiggins went to the line 12 times and 10 times, respectively, with the former being his best performance of the year getting to the line.
What scouts want to see is an assertiveness representative of his talent. Against TCU, he took just 13 field goal attempts to get 27 points -- not to mention adding five assists and five rebounds -- because he shot 9-of-10 from the free throw line. If he keeps attacking the basket with this kind of ferocity, the discussion about the best prospect in the nation is back up for grabs.
Jabari Parker, F, Duke -- It's possible the light has finally gone off for Parker, who, despite up-and-down shooting numbers, has been doing the little things we have wanted to see him do all season. Parker struggled with his jump shot the last two games, going a combined 8-of-25, but snared 29 combined rebounds and worked his butt off on both ends. He added three blocks against Miami and three steals against Florida State.
Saturday's game against Syracuse (more on that later) will be a critical touchstone against an elite team that features both the length and athleticism to give Parker trouble. How he reacts, on the road, in a hostile environment will be telling. No. 1 picks relish in these moments. Can Parker?
Joel Embiid, C, Kansas -- Embiid wasn't as dominating in the past two games as he had been for stretches throughout the season, but he acquitted himself against Baylor's 7-footer Isaiah Austin (although Austin did block one of Embiid's shots). Rebounding numbers were a little disappointing for Embiid, but expect them to be a bit sporadic. He plays on a deep, athletic team and there are three or four guys on the team not named Embiid capable of grabbing 10 boards in a game.
As teams key on the 7-footer from Cameroon, it will be crucial for him to respond well: be patient, either turn opposite and score off the double-team, or find the open man off the skip. He's shown a knack for doing it so far this season.
Julius Randle, F, Kentucky -- As questions mount about Randle's size and length, he's done something exceedingly smart: starting taking more jump shots. It may seem strange to say about a player who made his bones early in the year punishing weaker big men on the block, but Randle will have to show the ability to hit open jumpers to truly round out his offensive game.
Randle possesses solid mechanics on his jump shot and has now made a three in two of his last three games -- but he hasn't fallen in love with long jumpers. Randle still gets to the line more than eight times per game where he's making 73.4 percent of his attempts. Showing an inside-outside game helps mitigate concerns about his length at the next level.
Marcus Smart, G, Oklahoma State -- To some degree, Smart has become the forgotten prospect in this class, and could have been the No. 1 overall pick in 2013 had he declared. Perhaps the worst thing that could have happened to Smart is for his jumper to be falling early in the year. Now, as his touch eludes him, he's struggling to score.
He shot just 1-of-7 against West Virginia and wound up with just two free throw attempts, hardly Smart-like. His best skill is getting into the paint and bullying defenders to the rim. Smart stuffs the stat sheet as well as any player in the country, but he has to get back to doing the things that made him great last season.
Gary Harris, G, Michigan State -- The player Harris has been for the last 10 days or so looks like the player NBA teams fell in love with last season in East Lansing and then some: Three straight 20-point games against three tough Big Ten opponents, while shooting 55 percent or higher in all three games.
The key for Harris is getting his rhythm going from deep. He shot 10-of-16 from three-point range in three games, and that makes his first step and athleticism so much more effective as teams have to chase him off the three-point line. Lately, he looks like a legitimate NBA shooting guard with All-Star potential.
Noah Vonleh, F, Indiana -- One of the hottest names in NBA circles is the dynamic 6-foot-10 power forward playing for Tom Crean at Indiana. In fact, according to Chad Ford, some NBA teams are beginning to wonder if Vonleh might actually be the better prospect over Julius Randle.
He has grabbed 12 or more rebounds in three straight games, and was Indiana's best player against Michigan State, finishing with 13 points and 13 rebounds. If anything, he needs more touches in the halfcourt offense, because he's shown he can be an efficient and effective player from the elbow or the block. Better still? He's doesn't turn 19 until August.
Games To Watch
Monday Jan. 27, No. 8 Oklahoma State vs. No. 23 Oklahoma
Any game Smart plays against a good team should be must-see viewing, because Smart tends to play his best against top-level competition. Oklahoma State has a slew of talented players -- Markel Brown and LeBryan Nash are potential NBA players -- and they'll face a dynamic Oklahoma team, capable of scoring a ton of points. It's a rivalry game with serious conference implications, which means it's exactly the type of game you'd expect Smart to take over. But keep an eye on Markel Brown the rest of the season, especially after pulling off something like this:
Tuesday, Jan. 28, No. 3 Michigan State vs. No. 10 Iowa
Potential first-round pick Adreian Payne appears doubtful for Tuesday's showdown with the Hawkeyes, which means the burden again falls squarely on Harris to lead Sparty into a top-10 Big Ten showdown. Harris has been scorching the nets lately, but the Hawkeyes are the top scoring team in the conference and a top-40 defensive team in the nation. Harris will need to have a stellar two-way performance to lift Michigan State to a win. Keith Appling can also lift his NBA stock -- currently seen as second-round player -- with a stellar performance against Iowa.
Wednesday, Jan. 29, No. 16 Iowa State vs. No. 8 Kansas
This marks a rematch of an early-season Big 12 matchup featuring the best performance of Embiid's young career, and Wiggins' 17-and-19 double-double. The rematch, set for Lawrence, promises to be another entertaining matchup, but the question will be can Embiid and Wiggins repeat their stellar performances? Wiggins comes off his best scoring game of his college career, but he has a tendency to fade in and out of the game. Embiid was an absolute terror in the paint in the first matchup, but expect Iowa State to both defend and attack him differently. His true development will be shown if he can adjust and readjust to the way teams play him the rest of the season.
Saturday, Feb. 1, No. 18 Duke vs. No. 2 Syracuse
Primetime at the Carrier Dome in front of 40,000 people: this is when we expect Jabari Parker to step up, in what will be his biggest test of the season to date. C.J. Fair and Jerami Grant are extremely quick in the zone, and Cuse's 2-3 has been giving teams fits again this season. The one place it is vulnerable is on the offensive boards, which is where Parker -- fresh off his best rebounding performances of the year -- can find his place.
He can't fall in love with threes against a team begging you to take long jumpers. This is also a game where a player like Fair or Grant, who will see plenty of time being defended by Parker and potential lottery pick Rodney Hood, can elevate his own status. Freshman point guard Tyler Ennis will also be tested against Duke's ball pressure, and another solid game could raise even further his stock among NBA teams. There could be as many as four lottery picks in this game with Parker, Grant, Ennis and Hood.