Forbes: LeBron James No. 2 on Celebrity 100 List
Miami Heat forward LeBron James is No. 2 on Forbes Magazine's annual Celebrity 100 list, which measures the most powerful celebrities in the world.
In case you were wondering who is No. 1, this year that distinction belongs to Grammy-winning singer Beyonce Knowles.
Forbes estimates that James, who opted out of his contract and is an unrestricted free agent, made $19.3 million in NBA salary and another $53 million in endorsements last year.
James averaged 27.2 points, 6.9 rebounds, and 6.4 assists last season, leading the Heat to their fourth straight NBA Finals, where they lost to the San Antonio Spurs in five games.
There are 16 athletes on the list, which is complied by the magazine by measuring each athletes social media reach, tournament winnings and endorsements.
Other sports figures on the list include welterweight boxing champion Floyd Mayweather (No. 7), Los Angeles Lakers guard Kobe Bryant (No. 15), tennis players Roger Federer (No. 16) and Rafael Nadal (No. 24), and Portuguese soccer player Cristiano Ronaldo (No. 30).
NBA MVP Kevin Durant (No. 33), NFL MVP Peyton Manning (No. 39), tennis player Novak Djokovic (No. 43), golfer Phil Mickelson (No. 44), soccer player Lionel Messi (No. 45), and Miami Heat guard Dwyane Wade (No. 55) are next on the list.
Tennis stars Maria Sharapova (No. 63), Serena Williams (No. 69), and Li Na (No. 85) round out the list for sports figures.
PHOTOS: Rare photos of LeBron James
LeBron James Off the Court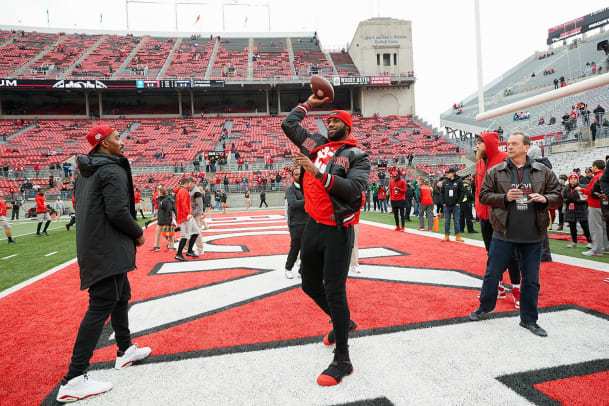 ~Scooby Axson