Roundtable: NBA's 2014-15 MVP race
LeBron James, James Harden, Stephen Curry or Russell Westbrook? The MVP race is tight.
The NBA's 2014-15 MVP race couldn't be closer, with superstars like Stephen Curry, James Harden, LeBron James, Russell Westbrook and Chris Paul all in the running. With a little more than a month remaining in the regular season, and no clear frontrunner for MVP, SI.com's NBA experts huddled together to examine the league's topic du jour. 
Who is the NBA's 2014-15 MVP?
Lee Jenkins: James Harden
The Rockets sit third in the Western Conference, and without James Harden, I don't think they'd even make the playoffs. I don't really know how they'd score. Harden is to the Rockets what Derrick Rose was to the 2010-11 Bulls, which is to say, everything. He's the one who brings the ball up the court, triggers the pick-and-roll, shoots the three, gets to the rim, and either draws contact or kicks out. He creates shots for others, but not just any shots. He creates the shots everybody in the modern NBA wants—corner threes, layups and free throws. No one this season has won as many games for his team, in as many ways, as Harden.  
• MORE NBA: James Harden: The NBA's unlikely MVP
Chris Mannix: James Harden
Here's the thing: With a quartet of contenders, you have to nitpick. So as great as Russell Westbrook has been—and he is, hands down, the MVP of the second half of the season—you have to consider that he missed almost all of November. And as LeBron-like as LeBron James has been since the first of the year, he was uneven the first two months of the season. That leaves Stephen Curry and James Harden, two players who have sustained excellence. And my vote—today, anyway—goes to Harden, who has strapped Houston on his back during Dwight Howard's absence and pushed the Rockets into the top three in a brutal Western Conference.
• MORE NBA: Teams surging, swooning heading into home stretch
Ben Golliver: Steph Curry
From top to bottom, I think Stephen Curry's candidacy remains the most bulletproof: The numbers are there, the demonstrable impact is there, the winning is there and the story is there. 
Curry is the central figure on the league's best team (+10.1 point differential) and the captain of the NBA's No. 2 offense. He is elite by every major advanced statistical measure: he ranks No. 1 in Real Plus Minus, No. 2 in Win Shares and No. 5 in Player Efficiency Rating. When he's on the court, Curry makes Golden State's offensive rating 13 points better and its defensive rating four points better. His raw numbers are quite impressive—23.6 points, 7.8 assists, 4.4 rebounds, league-leading 2.1 steals—and they would be even gaudier if Golden State didn't already have 34 (!) double-digit victories, allowing him plenty of extra garbage-time rest. It's also worth noting that Curry hasn't missed an extended stretch of time due to injury, setting him apart from the likes of Russell Westbrook, LeBron James and Anthony Davis.
Warriors: From one-dimensional and one-and-done to NBA title favorites
To me, any "He did more with less" arguments for James Harden or Westbrook are easily countered by the degree to which Curry makes him teammates better. Klay Thompson, Draymond Green and Harrison Barnes are all flourishing this year, in no small part due to the attention Curry draws on a possession-by-possession basis. He might not be a single player carrying a playoff team on his back by himself, but he is a singular leader getting the most out of everyone that plays alongside him. The Warriors' insane point differential and exceptional consistency have been the most impressive story of this season, and Curry should be first in line for the credit due to his Tim Duncan-like ability to create a whole that is greater than the sum of its parts.
Chris Ballard: Steph Curry
A boring pick but still the right one. Westbrook has been surreal but it's how he meshes with the returning Durant that will determine his chances. The Cavs need to continue their tear for LeBron to win. And Harden has an excellent case but the Rockets aren't as good as the Warriors and, more to the point, Curry elevates his teammates in ways that Harden doesn't. Steph is the best player on the best team and he has the greatest effect on the game. He creates easy shots for teammates while forcing opposing teams to account for him at all times, playing both on and off the ball. He's greatly improved on defense and I've yet to see him take a game off this season. Realistically, though, any of these four, or Chris Paul or Anthony Davis, could win it and it would be hard to complain. It's nice when the stats back up perception as well; that group is currently ranked Nos. 1-6 in the league in real plus-minus (the leader? Steph). 
SI's 100 Best Michael Jordan Photos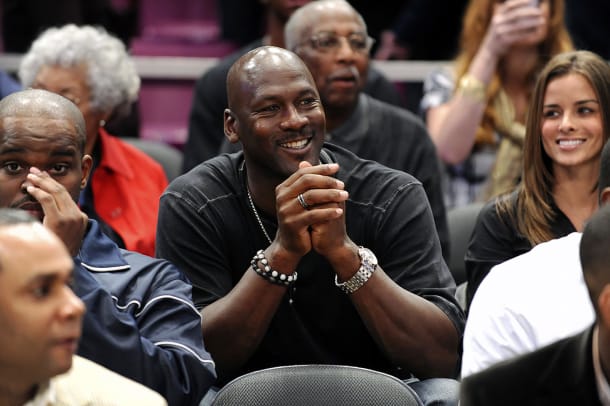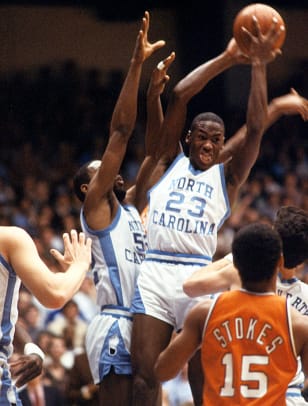 ​
Phil Taylor: Steph Curry
I can't lie. Part of the reason I'm picking Curry is because I love his game. His offensive skills are otherworldly, and he does something almost every night that you have to play back again and again. But he's also the best player on the best team, and that always makes for a worthy MVP candidate. James Harden has been spectacular, but I don't find the argument that he should win because he has less help than Curry to be compelling. Curry has been just as instrumental to the Warriors' success as Harden has been to Houston's, and the Warriors have the better record. LeBron James has made an impressive late charge, but he seemed strangely lethargic early in the season, and the other candidates have been on their games from day one. Russell Westbrook has been dynamic, but he's only managed to keep OKC's head above water. I wouldn't protest if any of the four of them won, but I have Curry just slightly ahead of the pack.
Rob Mahoney: James Harden
This is an excruciating choice. Award voters can only hope that the final stretch of the season brings some kind of meaningful separation between the candidates, as right now there is none. If forced to choose between the six—six!—viable candidates on the board today, I'd give the slimmest of preference to Harden. He's carried an impossible weight for the Rockets by playing what is essentially unguardable basketball. The threat of his foul-seeking drives is perfectly balanced by his ability to set up shooters at challenging angles or step back into a shot far more consistent than it has any right to be. After accounting for rebounding elite to his position and now-decent defense, Harden may have played the best season to date. Then again: Ask me to pick the MVP in a month, a week, or an hour and I could well choose differently.
• MORE NBA: Spurs, Thunder continue to climb in NBA Power Rankings
Matt Dollinger: Steph Curry
Here's maybe the greatest compliment you can pay Steph Curry: He'd still be a great NBA player if he couldn't shoot. It just so happens that he's the best shooter in the league (toeing the 50/40/90 splits at 48.5/42.2/90.3), but that statement is a testament to how far Curry's game has come. The one-dimensional gunner from Davidson has evolved into one of the most well-rounded players in the league. He rivals Chris Paul as the best ball-handler in the league. He's cooking on a nightly basis and dishing out ridiculous passes (here, here and here). He's improved defensively to keep his game free of holes and help the Warriors rank atop the league in defensive efficiency. And he's doing something right now only the best players in the league can do: Making his teammates better. The Warriors were the first team to 50 wins and have been frontrunners all season thanks to Curry. He's elevated his game to new heights and taken his team with him—that's the true definition of an MVP. 
Final tally: Curry (4 votes) edges Harden (3 votes)