Remembering Kobe Bryant: Sports Illustrated Covers Through the Years
Lakers legend Kobe Bryant died Sunday in a helicopter crash in Calabasas, Calif. He was 41.
Through the years, Bryant was featured on countless Sports Illustrated covers.
Kobe Bryant's SI covers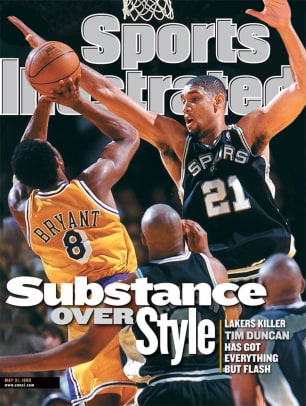 The 18–time All-Star and 11-time All-NBA first Team led the Lakers to five NBA championships and scored 33,643 points in his 20-year NBA career. He retired from the Lakers after the 2015-16 season after spending his entire career with the franchise. The Lakers retired his No. 8 and No. 24 jersey numbers in December 2017.
On Saturday night, LeBron James surpassed Bryant on the NBA's all-time scoring list. After the game, James expressed his appreciation of Bryant and said, "I'm happy just to be in any conversation with Kobe Bean Bryant, one of the all-time greatest basketball players to ever play, one of the all-time greatest Lakers. The man has two jerseys hanging up in Staples Center. It's just crazy."
More Coverage of Kobe Bryant's Death: