Family serves as foundation for Demetrius Jackson's NBA draft rise
Family and community are the most important factors of Demetrius Jackson's NBA draft rise. 
Notre Dame nursed a nine-point lead with 6:42 remaining in the second round of the 2015 NCAA Tournament. The 14-seeded Northeastern Huskies had clawed all night. That's when sophomore point guard Demetrius Jackson emerged from a rebound scrum at the top of the key, jetting into the open floor like a bullet from a loaded gun.
Jackson put Huskies sophomore T. J. Williams in a dizzying spin cycle at half court. He froze Northeastern forward Zach Stahl with a behind-the-back dribble a few strides later. Once Stahl's head turned, Jackson slipped a gorgeous, no-look bounce pass to the charging big man Zach Auguste, dutifully filling the weakside running lane, for a thunderous, two-handed flush.
The Irish escaped the CONSOL Energy Center in Pittsburgh with a 69–65 victory, the only 3-seed to survive their opening contest of that tournament. Already donning an ACC Tournament crown, the Irish marched all the way to the Elite Eight that spring. Jackson thrived as Jerian Grant's sidekick, relishing his role as Notre Dame's lightening-quick, change-of-pace ball handler and draining off-ball triples. Jackson continued his March magic as a junior in 2016, this time shouldering the burden and leading Notre Dame back to the Elite Eight as the Irish's lead playmaker.
• Draft needs for all 30 teams | Big Board 4.0: Top 60 prospects
The diminutive point guard's affinity for basketball's biggest stage sparked his surge up draft boards over a year ago. Now mere hours before the 2016 NBA Draft, Jackson could crack the vaunted lottery and will certainly hear his name called in the first round.
The road to Jackson's sophomore spurt was far from seamless, though. A harmonious coexistence with Grant once appeared implausible. As a freshman, head coach Mike Brey awarded Jackson nearly 25 minutes per game throughout the Irish's first 12 contests. Jackson struggled to adjust. Playing behind Grant and three-year starter Eric Atkins left fewer than five shots for the freshman each night.
"He wasn't playing as much as he wanted to. He wasn't playing in the role that he wanted to play," Brey says. Then, on Dec. 23, Notre Dame announced Grant's season was ending due to an undisclosed academic suspension, and the Irish's inaugural ACC run slogged to a 6–12 start. "We were hanging on for dear life," Brey says.
Brey used Grant's suspension to find more minutes to incorporate sharpshooting freshman Steve Vasturia. As Jackson continued to seethe through on-court claustrophobia, his grades suffered. Brey promptly slapped him with a one-week suspension in February, effectively benching the local product for two games. "I've got a pretty good political base here, we've won enough, they're not trying to run me out of town," Brey says. "When I suspended him, shoot, the local people were wondering about who's coaching this program."
2016 NBA Draft Big Board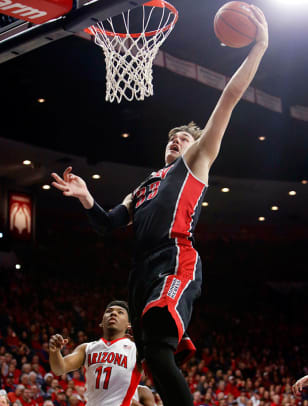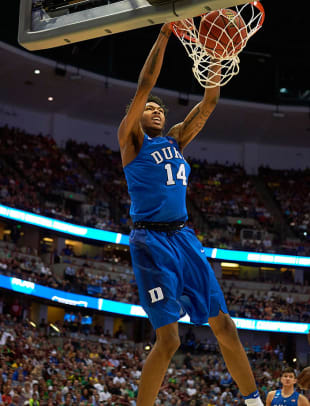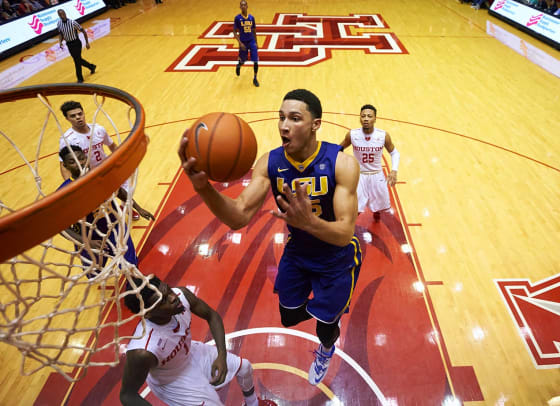 ​
The suspension forbid Jackson from participating in regular team activities. Instead, Brey met him privately each night in The Pit, Notre Dame's basement practice facility. "But the workouts didn't go very long," Brey says. "The talking did." Brey would rebound as Jackson hoisted jumpers for 15 minutes. Then the ball would cease bouncing and they'd discuss college life and leadership, maturity and manhood.
By week's end, Jackson realized playing off the ball was a blessing in disguise. "It really helped me with my versatility," he says. "Now I know how to be effective on the court in both ways, being able to come off a down screen, come off a fade screen, come off ready to shoot like a two-guard, but also be able to come around a ball screen and be able to do some things a point guard can do." In his first game back from suspension, Jackson tallied season-highs in points and assists. "I think it might be the best thing that ever happened to him," Brey says. "And as a sophomore, the light bulb was really on."
Jackson's second season in South Bend more closely resembled the superstar from Marian Catholic High School in nearby Mishawaka, Ind., where he was the all-time leading scorer in St. Joseph County with 1,934 career points. He reclaimed his high school No. 11 as a sophomore as well, switching from No. 23 after Garrick Sherman graduated. The digits on Jackson's chest truly set the stage for his rise at Notre Dame. "You've got your number and it's almost like a ritual, or a superstition," Jackson says. "I kinda got my little swagger back a bit." By wearing No. 11, Jackson honors 10 individuals. Technically speaking, he is one of 11 siblings—five biological and five foster.
​​
At 12 years old, Jackson was placed into foster care. He was a sixth grader with an incarcerated father and a mother left behind with too much on her plate. Jackson has not divulged the exact details that placed him into the foster system, but it led to stays in five different homes over two years. "Two of them he said, 'Coach, I thought I was a prisoner,'" Brey says. As a seventh grader, Jackson found an outlet with the local AAU program, MBA Select. "He was going through rough times figuring out what family he was wanting to live with and moving from foster home to foster home,"  says Austin Torres, Jackson's MBA and Notre Dame teammate and close friend. "Obviously, having that chip on his shoulder, wanting to become a better player."
Jackson struck a close friendship with MBA teammate Michael Whitfield as well. After Jackson missed countless practices and arrived too late to tournament games, Whitfield's father, David, offered to drive Jackson to the team's next function. Soon enough, Jackson was spending entire weekends at the Whitfield residence. And in between games of one-on-one in the backyard, Jackson and Whitfield daydreamed of playing high school basketball together. Whitfield planned to attend Marian. He even brought Jackson to the school's open house when they were in eighth grade. It would have been impossible for Jackson to attend the school while under foster care, though.
"So when I was sitting and thinking about it, I was just like, 'I don't want him to miss out on anything,'" Whitfield says. He approached David. The next time Jackson came over for the weekend, could he, perhaps... maybe, stay indefinitely? A conversation with his mother, Beth, later, the Whitfields, already a family full of five buzzing children, opened their doors to a child their son had only known for a matter of months. "We knew he needed some help," David says. "We definitely wanted to help out." Another bed was wedged into the Whitfield's room above the garage. They threw a neighborhood party for all the Whitfield's friends and family to meet their new son. "I still remember that to this day," Jackson says. "Good food, good people. You add those two things together, you've got a good time." Says Beth, "We consider him a part of our family, and always have. We're just glad he feels that way, too."
• Murray wants to join Wolves | Bender could be next Croatian sensation
​​Now brothers, Whitfield and Jackson pedalled bikes around the neighborhood and played catch on a regular basis. Jackson joined the family at their Michigan lake house. David always steered their pontoon boat into the deep waters for the children to jump off and swim into the lake. While his new siblings plunged into the water, Jackson stared helplessly into the abyss. "He was scared at first," David says. Slowly, Jackson slipped on a life jacket. His new family eventually swayed him to jump. It was the first time Jackson had ever swam.
Jackson's athletic career at Marian began swimmingly. He starred on the freshman football team and earned a starting role on the varsity basketball team, his extremely raw athleticism on full display during his darts to the rim. Jackson sliced through defenses and skied to finish over bigger opponents nearly twice his size. The freshman's flashes of potential impressed Notre Dame assistant coach Anthony Solomon. Brey then made the 15 minute drive to Mishawaka from South Bend on his way home from practice, and left the gym praying the local standout would remain a well-kept secret.
By his junior season, Jackson debuted an outside shooting stroke, and MBA Select stormed the AAU circuit. At a Michigan ACB Hoops tournament, Jackson tallied a 43-point, 10-assist, 10-rebound triple double as coaches from across the nation salivated from the stands. He gobbled a steal at the top of MBA's 1-3-1 zone and made reservations for one at the rim. 
• 10 questions with Kris Dunn | NBA draft rumors: Buzz, news
​"And just did a 360 like it was nothing," Torres says. "I remember what color jersey we were wearing, it was just that kind of play." Jackson seemed to get better with each passing day. "Next thing you look up, you see Mike Brey, Tom Izzo, Bill Self, all those guys are in our gym," Whitfield says. "And you take a step back and you're like, 'Wow, this kid really is one of the top players in the country.'"
Jackson opted to stay close to home so his now-extended family could all watch him play. And after overcoming his turbulent freshman season, he left a lasting imprint on the Notre Dame program. Jackson saved his best in an Irish jersey for last. His manic drive to the rim against Stephen F. Austin sparked the scrum that keyed Rex Pflueger's second-round, game-winning tip in. Trailing Wisconsin 56–55 with 16 seconds left in the Sweet 16, Jackson scored the game's final six points and swiped two, back-breaking steals, his last open-court theft icing the game. His masterful 26-point effort on 10–16 shooting against UNC in the Elite Eight closed a spectacular college career.
"As I got on the bus to the airport the next morning, and he was going to meet with me as soon as we got off, I said, 'It's time to go,'" Brey says. "He was very ready for the next move and it was time to strike as far as an NBA prospect."
His size remains a question mark, but Jackson's superb athletic testing—a 43.5-inch max vertical along with insane agility scores—at the combine eased many doubts from skeptics around the league. At 6'1" with 6'5.5" wingspan, Jackson's chiseled build is remarkably similar to that of Eric Bledsoe.
On July 9, 2013, Jackson's father, also named Demetrius, was released from confinement following a 262-month sentence. An Atlanta resident, he smiled from the stands watching his son play against Georgia Tech the last two years. Father and son have begun to build a relationship. "I've come to ease with my situation. I'm proud of who I am. I'm proud of where I've come so far," Jackson says. "It's a long journey ahead." His NBA journey begins Thursday. An introductory press conference will follow. All signs point to Jackson beaming for the cameras while hoisting a crisp No. 11 jersey.