The Warriors, the 2000–01 Lakers, and two dominant playoff runs
A look at two of the most dominant playoff runs ever.
As you're likely well aware, the Golden State Warriors are blazing through the playoffs. They haven't lost yet, and won't play again until June 1, when the Finals begin against a TBD team (albeit probably one that includes LeBron James). It's not rocket science to have posited long ago that adding Kevin Durant onto the winningest team ever would make them even better and less-guardable.
While no team has ever swept their way through the NBA's postseason, the 2000–01 Lakers got damn close, winning out all the way to the Finals and losing just once, to the inimitable Allen Iverson and an overmatched but plucky Sixers team. The Kobe Bryant/Shaquille O'Neal tandem helped L.A. bulldoze through the Trail Blazers, Kings and Spurs, three seminal teams that still barely stood a chance, and win the second of three straight titles. The conversation about most dominant playoff runs ever begins there — at least for now.
So it's worth diving in for some point of comparison between those Lakers and today's Warriors, who have so many good players that it's hard to neatly nickname them one way or another. Let's also acknowledge the 1982–83 Sixers (who also only lost one game, but had one less round of games to play). And as a disclaimer, this is purely a discussion of dominance over a single playoff run—yes, we know Michael Jordan's Bulls were extremely good.
And of course, the Warriors actually need to win this title before we can get too serious about debating. Let's just break the facts down.
NBA's Most Dominant Playoff Runs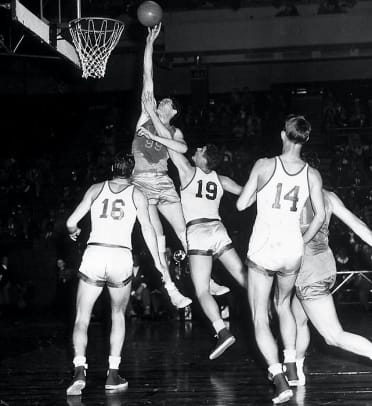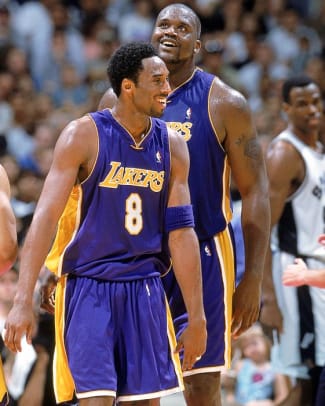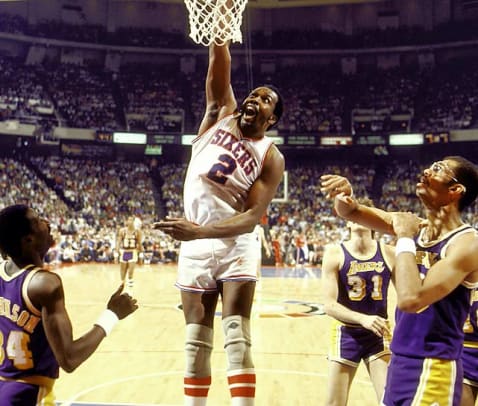 Let's start with the Warriors, who bulldozed the Trail Blazers and the Jazz, then benefited from a stroke of injury assistance when Kawhi Leonard was forced out of Game 1 of the Western Conference Finals after landing on Zaza Pachulia, who was in midst of a tight, legally dubious closeout. The Spurs couldn't keep up from there (no indictment on them), and here are the Warriors in the Finals. They went undefeated against 41, 51 and 61-win teams in succession. The fact that this paragraph is pretty quick is a testament to how neatly and unselfishly Golden State has cleaned up. Let's look closer at the Lakers.
Did Kobe and Shaq have it tougher? Hindsight's tricky, but maybe. They drew the 50-win Blazers (starring aging Scottie Pippen and prime Rasheed Wallace and Damon Stoudemire) in a best-of-five first round. These were not yet the Jail Blazers, but they were experienced and tough, and among the league's most efficient teams on both offense and defense. All of L.A.'s wins were by double digits. The opponents were different, but degree of difficulty is relative here.
The Kings won 57 games that season in the first iteration of arguably the two best teams in franchise history, this one featuring Jason Williams at the point (before he was traded for Mike Bibby a year later) running a team that would give the Lakers a serious scare one year later. That series remains one of the most debated in NBA history thanks to dubious officiating and a conspiracy that won't die. But anyway— the 2000–01 Kings were another quality opponent who played at the league's second-fastest pace (94.4, which is pedestrian in 2017) and were a difficult cover, with Chris Webber at his most dominant, Peja Stojakovic and Doug Christie shooting threes and Vlade Divac giving them another elite interior passer. The Kings were blown out just once, losing Games 1, 2 and 3 by two possessions or less. This year's Warriors have won all but two of their playoff games to date by double digits.
L.A. drew the top-seeded Spurs in the West finals, starring 24-year-old Tim Duncan, 35-year-old David Robinson and a cast of role players that were—I know, you've heard this before—far better than the sum of their parts. San Antonio won 63 games and had the league's top defense that year (98.0 defensive rating) while relying heavily on guys like Derek Anderson, Antonio Daniels and Avery Johnson. The Spurs had no answer for the Lakers and were blown out in Games 3 and 4, gradually crumbling while Kobe averaged 33 points, seven rebounds and seven assists, and Shaq 27 and 13 rebounds. It was too much.
So when we're trying to contrast these routes to the finals, it's pretty tricky at a glance across eras and styles of basketball. In a walk-it-up league, of course Kobe and Shaq were unstoppable—with those two guys, you were almost always able to get a good shot late in the clock, could stagger their minutes, and yeah, they're both Hall of Famers. Did they play teams with better resumés than the Warriors? Sure. Similarly, the Warriors are an engine built for the present, with boundless star power and a willingness to maximize the talents of the whole. It's the egalitarian system that enables Golden State to truly dominate in a league where everyone wants to play fast.
Kobe and Shaq ranked first and third in overall win shares during that playoff run, and Lakers guard Derek Fisher sixth. As of this writing, the Warriors also place three players in the Top 10—Steph Curry (third), Draymond Green (fourth) and Kevin Durant (sixth). If you want to argue that win shares are a stupid statistic, Klay Thompson is 87th overall in these playoffs, making him the 11th most valuable Warrior to date. Cold as he's been, we're obviously not eating that measurement up for lunch. Golden State's inarguably more talented top to bottom, but the three L.A. titles attest to a stronger team. In the end, the Warriors' longevity will likely make their case for them.
The real point is that no matter how deep you dive into the numbers—and this is admittedly a surface-level glance, to be sure—these type of debates are never going to be definitive. By nature, they're steeped in opinion. But it's hard to deny the fact that the Warriors have elbowed their way into the conversation when it comes to dominant playoff runs, and will have a chance to cement the case by running the table in the Finals, or at least winning it in five. But, if we've learned anything from the last couple of years, it's not usually that easy.