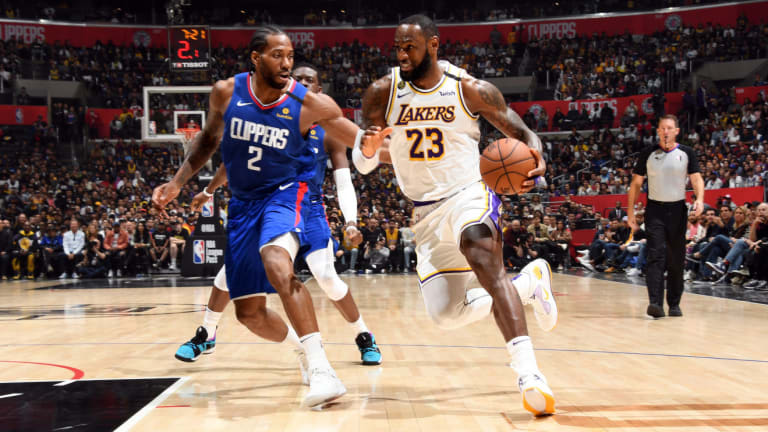 Clippers and Lakers Team Worth Revealed
Both the LA Clippers and Los Angeles Lakers rank atop the NBA's most valuable franchises
Forbes recently released their list of the NBA's most valuable franchises, and the gap between the Los Angeles Lakers and the LA Clippers is likely smaller than many would assume. Worth $5.8B, the New York Knicks ranked atop this list of the league's most valuable franchises. The Golden State Warriors came in right behind the Knicks with a worth of $5.6B, and the Lakers followed close behind Golden State with a worth of $5.5B.
These three franchises were the only teams in the NBA eclipsing a worth of $5 billion, with the next closest team being the Chicago Bulls with a worth of $3.7B. Rounding out the top-five, with a worth of $3.6B, is the Boston Celtics. While the Clippers did not crack the top-5 most valuable franchises in the NBA, they came in at 6th, with a worth of $3.3B.
There is some context that is relevant to this discussion, because when Steve Ballmer purchased the Clippers in 2014, the price tag was $2 billion. In just seven years, the value has grown by $1.3B, and is likely continuing to ascend with the team set to move into a brand new $1.2B arena in the 2024-25 NBA season.
The Clippers have long been considered one of the worst franchises in sports history, but that perception has quickly become outdated since Ballmer purchased the team. While they are still pursuing their first championship, the Clippers have grown exponentially since the departure of Donald Sterling, and this recent list is another example of that being true.
Related Articles
Isaiah Hartenstein Reacts to Making Clippers Roster
Sources: Kawhi Leonard Ahead of Rehab Schedule, Clippers Cautiously Optimistic About Return