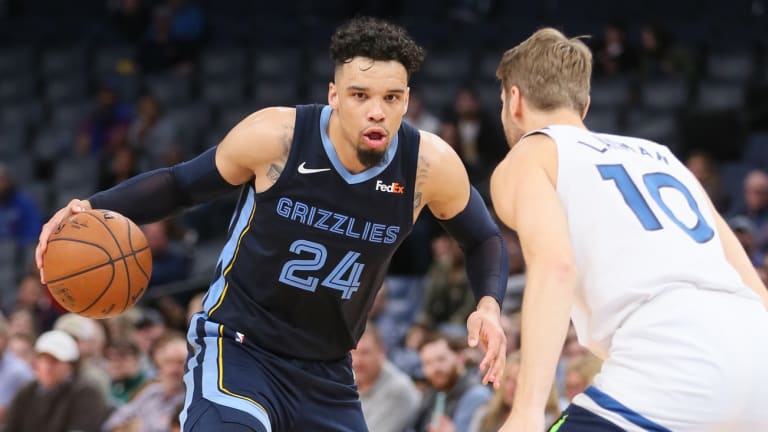 Brooks' Becomes "Dillon The Villain" as  Grizz Win Over Timberwolves
Dillon Brooks would play the roll of the Villain on Wednesday night, as the Memphis Grizzlies would defeat the Minnesota Timberwolves 137-121
Dillon Brooks would play the roll of the Villain on Wednesday night, as the Memphis Grizzlies would defeat the Minnesota Timberwolves 137-121
After a tough 0-7 from the field performance from behind the three-point line and a tough stretch defending Houston Rockets former league MVP James Harden, Dillon Brooks bounced back well with a 31 point, 5-7 from three performance against Minnesota. Brooks was a menace on defense playing disciplined while defending his numerous assignments.
Grizzlies Head Coach Taylor Jenkins would praise Brooks' "peskiness" on defense as well as credit him as being a tone-setter.
"His spirit has been great even in whatever couple struggles he may have had in a couple of games," said Jenkins. "Shots maybe not falling or foul trouble but his spirit has been consistent. You talked about his peskiness, that's been the thing I think the last week and a half, two weeks, he's been ultra-consistent in is just being a tone-setter for us defensively."
Brooks would also comment on his hard-nosed, physical villain-esque style of play defensively that gave the Timberwolves the blues all Wednesday night.
"I foul a lot, but I am just physical. I want to guard the best player," said Brooks.  "I want to try to shut them down and make their life a little harder even if they score 30 or whatever, it's a hard 30 to get. Then, I'm going back out there on the offensive end. I just want to set a tone each and every time I come out there that I'm a defensive stopper. My teammates feed off me when they see me start guarding.
Brooks was aggressive yet controlled on offense as well.  He was able to force the issue getting to the basketball as well as make his shots from the outside. He would talk about how he has to remain focused, regardless if his shot is falling or not.
"Even if I shoot 0-for-12 or 0-for-7, I'm going to come into the next game with the same confidence," said Brook.  "My teammates were able to find me."
Ja Morant had another huge performance Wednesday night as well as he continues to set the tone for his NBA Rookie of the Year campaign.  Morant would finish with 26 points 4 rebounds and 4 assists.  Brooks would credit he and Morant's still growing chemistry on their success.
"We're still getting to know each other on the floor and understanding what each other are capable of," said Brooks.  "We replicate those games – the Brooklyn game, this game and most of our first halves, combine them and make it a 48-minute effort. We can be really good. We can challenge a lot of teams in this league."
Brooks also realizes that his coach and his team is growing more and more confident in him and says that his hard work and focus on outside shooting has led to that.
"It's a change, a good change," said Brooks.  "I worked hard in the summer to get the respect. I have to keep playing and gaining the respect. This is only the beginning, and we're going to take what we learned from this game and bring it to Orlando and Dallas and so on and so forth."
Coach Jenkins would also add about how Dillon's spark on both ends of the court lift the team overall.
"That spirit I talk about just kind of builds your confidence up, your energy up and then obviously he had a heck of a night tonight," said Jenkins.  "I'm proud of his teammates finding him in the right spots and him being aggressive but also playing within the offense to get those shot attempts as a beneficiary of playing a pretty efficient game on both ends of the floor."