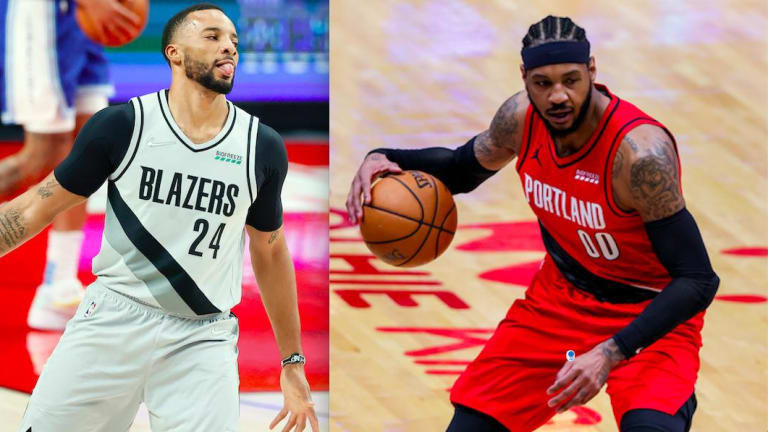 Forecasting Futures of the Blazers' Incumbent Free Agents
The Blazers don't have cap space, but free agency still looms extremely large to their short and long-term futures.
Assuming Derrick Jones Jr. picks up the $9.7 million player option on his contract, Portland will enter free agency on August 2 right at the $112.4 million salary cap for 2021-22—a total accounted for by only eight players.
The Trail Blazers are up against a major cash crunch this summer, their mandated quest to build a title-worthy roster around Damian Lillard hindered by both a lack of financial flexibility and tradable assets. But just because it's basically impossible for Portland to make a major splash on the open market this summer hardly means  Neil Olshey and the front office will be sitting out free agency altogether. 
It's exceptions allowing the Blazers to exceed the salary cap, in fact, that afford them even the slimmest chance of going from first-round losers to legitimate championship contenders in just a single offseason.
Let's forecast the futures of Portland's incumbent free agents.
Norman Powell
Team control: full Bird rights
We've covered the significance of Powell's free agency at length on multiple occasions, but a bunch of related cap minutiae essentially boils down to the following. Unless the Blazers clear a sizable chunk of salary via trade to operate as an under-the-cap team in free agency, the only way they can retain Powell's salary slot is by re-signing him, price point be damned.
That reality combined with the pressure Lillard is putting on the organization gives Powell an immense amount of leverage in contract negotiations with Portland. This year's extremely underwhelming class of free agents does, too. There's a case to be made Powell, coming off a career season and right in the thick of his prime, is basketball's best available off-guard.
The New York Knicks are flush with cap space and have already been rumored as a suitor for Powell in free agency. The San Antonio Spurs could come calling, and the Dallas Mavericks might be an attractive option for Powell if they decide to move on from Tim Hardaway Jr.
No matter how high the market drives Powell's contractual demands, though, it's incumbent on Portland to meet them. If he doesn't re-sign in Rip City—probably on a four-year deal totaling somewhere between $70-80 million—it'll be a five-alarm fire for Lillard's immediate future with the Blazers.
Carmelo Anthony
Team control: early Bird rights
The LA Clippers prided themselves on deploying multiple coverages and versatile lineups defensively during Chauncey Billups' first season on the sidelines, but still made space for offense-only players under certain parameters—even in the playoffs. Luke Kennard began the postseason riding the bench, then helped flip the Clippers' second-round victory over the Utah Jazz before reverting to a smaller role in the Western Conference Finals.
In a perfect world, that's the role Anthony would play under Billups for a revamped Portland team, one talented and cohesive enough to make him a situational rotation player under the postseason pressure cooker. 'Melo is just too big a target defensively to be guaranteed consistent minutes for a team with realistic title aspirations. 
You'd love to think Lillard's uncertain status would keep the Blazers from earmarking a permanent rotation role and high second-unit usage for Anthony, too. Continuing to steward his legacy doesn't have to mean playing Anthony against top-level competition and giving him a steady diet of isolation pull-ups and back-to-basket turnarounds.
The Los Angeles Lakers reportedly have some interest in Anthony. Playing in Southern California next to LeBron James, one of his closest friends, would probably mean more to 'Melo than the extra money Portland could offer him via early Bird rights if he's considering leaving Rip City.
But Anthony is beloved in the locker room, and Billups—his former teammate with the Denver Nuggets—seems like the type of coach for whom he'd love to play. Unless 'Melo has his heart set on the Lakers, a return to the Blazers seems very much in play, especially if he's able to accept a more situational role at 37 years old.
Enes Kanter
Team control: early Bird rights
Kanter is a personal favorite of the front office, but his prospective departure was hinted at by Olshey during the latter's inflammatory season-ending press conference. Solid as Kanter was at times in 2020-21 while filling in for an injured Jusuf Nurkic, Portland just doesn't have the defensive horses elsewhere to mitigate the sweeping deficiencies his presence provides.
Kanter won't get the $5 million salary he played on last season from the Blazers nor another team in free agency. Portland's smartest use of its limited resources includes finding a reserve center for the minimum, the type of contract Kanter deserves at this point in his career. The problem for Kanter? His skill set is exactly the opposite of what the Blazers need from a traditional backup 5.
Zach Collins
Team control: full Bird rights
Portland, understandably, has opted against extending Collins a one-year, $7 million qualifying offer in wake of another recent surgery on his troublesome left ankle.  He's an unrestricted free agent now, leaving the Blazers without the option to bring him back by matching any contract offer he receives on the open market.
But Collins' injury history and the chance he's unable to suit up in 2021-22 at all mean he's extremely unlikely to be offered much more than the minimum from competing teams. After missing the vast majority of two full seasons, there's no guaranteeing Collins receives even that passing level of interest.
Retaining Collins at the minimum is the ideal outcome for Portland. Bringing back Powell is sure to butt the Blazers up against the luxury tax, though, ensuring a hit to Jody Allen's pocketbook if they're forced to pay him even just a couple million dollars more than that per season.
Expect Collins to return. He wants to be in Portland, and as shrewd an idea it would be for a team with cap space to try and steal him on the cheap, Collins' injury status makes doing so a risk most decision-makers would be unwilling to take.
Rondae Hollis-Jefferson
Team control: non-Bird rights
Hollis-Jefferson's lack of vertical pop puts an inherent ceiling on his impact as a small-ball center, as evidenced routinely against the Denver Nuggets when Terry Stotts was forced to mothball Kanter. The Blazers may be able to do better than Hollis-Jefferson in free agency for a changeup big man, but players cut from a similar cloth would prefer a more ironclad role than Portland—by virtue of its lacking switchability as a result of playing multiple smalls—is likely willing to give them.
The Blazers can exceed the salary cap to re-sign Hollis-Jefferson for up to 120 percent of his salary last season. Unless Portland splits the taxpayer mid-level exception to give another undersized, versatile big like Jakarr Sampson more than the minimum, Hollis-Jefferson seems on track to return on the cheap.
Harry Giles III
Team control: non-Bird rights
Giles, unfortunately, didn't do much last season to make his case as a viable backup center for Portland going forward. 
His mobility and passing chops make Giles a snug theoretical fit for what Billups wants to do on both ends of the floor, but those attributes only matter so much with the 23-year-old's struggles to add strength and extend his shooting range. Giles wasn't exactly a scheme consistent defender during his debut campaign in Portland, either.
Giles' tools and prep pedigree basically assure him of a roster spot somewhere next season. If he likes it in Rip City, the Blazers could certainly do worse for a third-string center on a minimum contract.