Game of Week 16: 49ers-Seahawks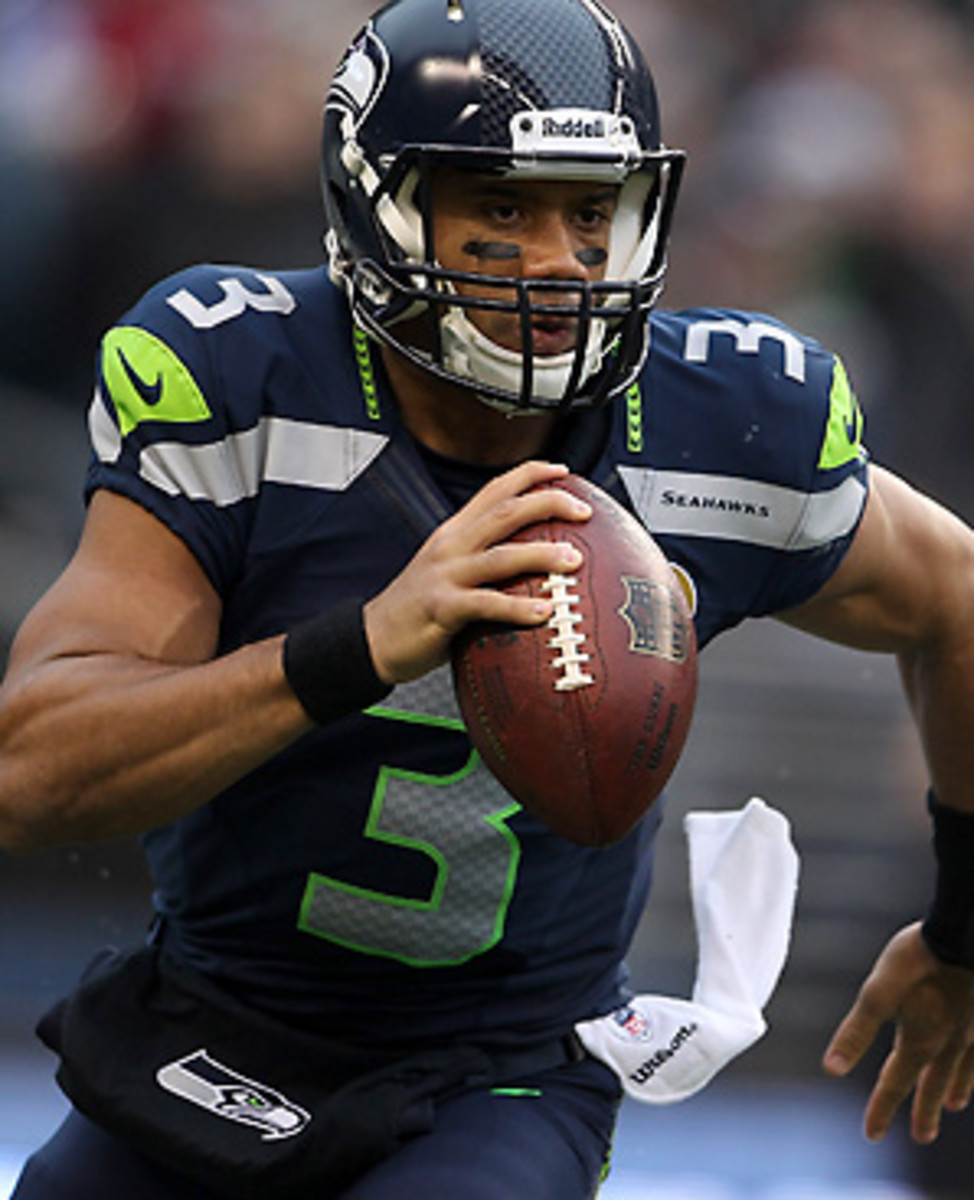 San Francisco 49ers">49ers (10-3-1) at Seattle Seahawks (9-5)
Three Things You Need to Know
1. Good quarterbacks come in all sizes
If they stood next to each other, the two starting quarterbacks would look like Mutt and Jeff. Seattle's Russell Wilson is 5-foot-11, 206 pounds. San Francisco's Colin Kaepernick stands 6-4 and weighs 230. Despite their different physical statures, they give defenses similar headaches.
A third-round rookie out of Wisconsin, Wilson beat out veteran free agent acquisition Matt Flynn in training camp and has started all 14 games for the Seahawks. Seattle coach Pete Carroll has been thrilled by the evolution of Wilson, who has a strong enough arm to make any throw and can use his legs to extend plays and make big runs.
Kaepernick, a second-round pick in 2011, played sparingly as a rookie but wrested the starting job away from Alex Smith midway through this season. When Smith suffered a concussion in a Nov. 11 game against St. Louis, Kaepernick came on in relief. He's been the No. 1 man ever since.
Like Wilson, Kaepernick is a dual threat playmaker. Nothing is too big for him, as he proved last Sunday when he went into Foxboro and in cold, rainy conditions threw four touchdown passes in leading the 49ers to a 41-34 win. That performance earned him NFC offensive player of the week honors.
"Their ability to affect the game is definitely similar," Seahawks coach Pete Carroll told San Francisco reporters during a conference call this week. "Both of them can make all the throws, and both of them have a real knack for getting out (of the pocket) -- and when they do, they're dangerous. Colin's had some huge plays scrambling, and Russell scored on one last week. And then both guys bring an element being able to read the option and do the things they want to do there. I think they're very similar and they cause similar problems."
2. Will "Cowboy" saddle up?
One of the reasons for the success of the 49ers defense this season has been the stability of its lineup. Ten players -- tackles Justin Smith and Ray McDonald; linebackers Aldon Smith, Patrick Willis, Ahmad Brooks and NaVorro Bowman; cornerbacks Carlos Rogers and Tarell Brown; and safeties Donte Whitner and Dashon Goldson -- have started every game.
That continuity now is in question. Justin Smith, aka "Cowboy," suffered an elbow injury in last Sunday night's win over the Patriots and missed most of the second half, when New England overcame a 28-point deficit. 49ers coach Jim Harbaugh suggested early in the week that Smith would be "roping and riding" against Seattle, but those words might have been borne more out of hope than conviction.
Smith did not participate in practice on Wednesday or Thursday, and his starting streak of 171 games (longest among current NFL defensive linemen) is in jeopardy. If Smith can't go, fourth-year lineman Ricky Jean-Francois will step in. There will be a huge drop in experience, however. Jean-Francois has started only four games in his career, including one this season at nose tackle.
The 49ers also have enjoyed coherence on the offensive side, as all five linemen -- tackles Joe Staley and Anthony Davis; guards Alex Boone and Mike Iupati; and center Jonathan Goodwin -- have made every start. San Francisco has been predominantly healthy (only four players are on injured reserve) -- which is not lost on Harbaugh.
"Our team's been a physically fit team," he told local reporters. "It's been able to be a resilient team and a relentless team."
3. Primary concerns in the secondary
When Buffalo's Stevie Johnson caught eight passes for 115 yards last Sunday, he became the third wide receiver in four games to gain at least 100 receiving yards against Seattle (the other two were Chicago's Brandon Marshall and Miami's Davone Bess).
Cornerback has been the strength of a Seahawks unit that has intercepted 16 passes and ranks third in the league in pass defense, but that position has taken some big hits lately. Starter Brandon Browner, who had 44 tackles, three interceptions and six passes defensed, was suspended for the final four games of the regular season for violating the league's policy on performance-enhancing substances (specifically Adderrall). He is eligible to return in the postseason if the Seahawks make the playoffs.
Richard Sherman, the other starting corner, also received a four-game sanction for using Adderrall. His appeal will be heard Friday. Even if he loses, it's likely Sherman will be able to play against the 49ers. Sherman leads Seattle with a career-high six interceptions and has broken up 19 passes.
Meanwhile, the Seahawks' depth at cornerback has been diminished. Marcus Trufant has been inactive for the last three games because of a hamstring injury. Walter Thurmond, who started in play of Browner in Week 14 against Arizona suffered a hamstring injury that kept him out of the Buffalo game.
If both Trufant and Thurmond are unavailable Sunday night, rookie Jeremy Lane likely will start opposite Sherman. Until he started last week against Buffalo, Lane hadn't played a single snap from scrimmage this season. That would leave Byron Maxwell, a second-year player, as the nickel corner.
Five minutes with ... Sidney Rice
The sixth-year wide receiver, now in his second season with the Seahawks, leads the team in receptions (49) and receiving yards (734), and is tied with Golden Tate for most touchdown receptions (seven). Originally a second-round draft pick by the Vikings in 2007, the 6-4 Rice is one of 14 players to catch three touchdown passes in a playoff game (he had three in a 34-3 NFC divisional game win over Dallas on Jan. 17, 2010). Here is an excerpt of his chat with SI.com.
How important is it for the Seahawks to beat the 49ers?
It's huge. This is what we need to be in the playoffs. We know what's at stake here, and we know exactly what we need to do -- and that's win.
Who's the one player on the 49ers defense that concerns you most?
I wouldn't say it's one player in particular. You just have to respect their whole defense. Those guys play really well together and complement each other, starting with the D-line. Those guys are absolute beasts. The end, (Aldon) Smith, the tackles, then you move to the linebacking corps of NaVorro Bowman, Ahmad Brooks and Patrick Willis. That's one of the best groups in the league. Then you have the hard-hitting safeties back there with the nice corners. It's definitely going to be a job for us on offense to be mentally and physically ready.
The Seahawks are the only team that hasn't lost a game at home. What makes playing at CenturyLink Field such an advantage for you guys?
It's one of those things you just have to experience. The 12th Man (tradition) is a great thing to be a part of. The fans bring an energy every single game and give us that boost we need to get over the edge. They've been doing it ever since I got here last year. The crowd noise, leading the league in (opponents) false starts, I think, in the last five or six years. It's definitely an advantage any time you can get the opponent to lose yards.
The team has scored 58 and 50 points in the last two games. What's gotten into you guys?
A combination of things. We've started to pick it up on the offensive end, obviously. And our special teams and defense have just been playing lights out. They bring an intensity, a fire to every game. They want to be out on the field as much as the offense does. Our special teams, every week, are huge. When I came here, I noticed right off the bat that the special teams are kind of like the engine of this team. It starts with the kickoff every single game. Those guys scream down there and take pride in every phase of the special teams. That's huge. And we've got the same type of players on the defense.
What's the one thing that has impressed you most about Russell Wilson?
The way he carries himself. He definitely doesn't carry himself like a rookie. He's always trying to figure out a way to get better and make the people around him better. He's one of those guys who stay late every single day to watch film and try to get a head start on everybody else, just to be prepared. He's definitely the kind of guy you want leading your offense.
How has he made your job as a receiver easier?
His ability to extend plays. Sometimes, (the receivers) might not be open right off the bat and he'll have to break out of the pocket and extend it and hit us on the "scramble drill." So his legs are huge.
The Seahawks don't always get the respect they deserve. Why is that?
It's always been like that out here. Everybody says it's because we're out here in the Northwest and nobody (nationally) really watches us on TV; it's not one of the games they want to televise all the time. That's fine with us. We've accepted it, we know what we're capable of doing, and as long as we continue to play lights out like we've been doing, we have no choice but to gain people's respect. So we'll just keep doing what we do.
Chart of the Week
Five rookie quarterbacks -- an unusually large number -- have started the majority of games for their teams this season. While much of the attention has been on the Redskins' Robert Griffin III and the Colts' Andrew Luck, we shouldn't overlook the performance of the Seahawks' Russell Wilson. Here is a statistical comparison of the five first-year QBs.
The Pick
The outcome of Sunday night's game in Seattle will help sharpen the NFC playoff picture. The 49ers have already clinched a postseason spot, and they can claim their second West division title in a row with a victory. The Seahawks could secure a playoff berth with a victory, although even if they beat San Francisco and St. Louis next week they likely won't end up higher than a No. 5 seed.
Both teams have strong defenses. The 49ers rank second overall, third against the rush and fifth against the pass. They are the league's stingiest scoring defense, having yielded only 218 points this season. The Seahawks are a close second, having given up 219.
CenturyLink Field is one of the most difficult venues in the NFL for a road team. It's a place where the fans are so raucous that they often help contribute to false start penalties by the opponent. The Seahawks, who close out the regular season with back-to-back home games, are the only team in the league who has not lost at home this season.
Seattle has improved substantially from the team it was back in Week 7, when it could muster only 251 yards and two field goals in a 13-6 loss to the 49ers in San Francisco. The Seahawks have won five of their last six games and put up 58 and 50 points in back-to-back victories over Arizona and Buffalo.
The home-field advantage and a larger urgency to win will be two big factors that favor the Seahawks.
Last week: Broncos 28, Ravens 20
Season record: 10-5