A year after injury, Peterson has history in reach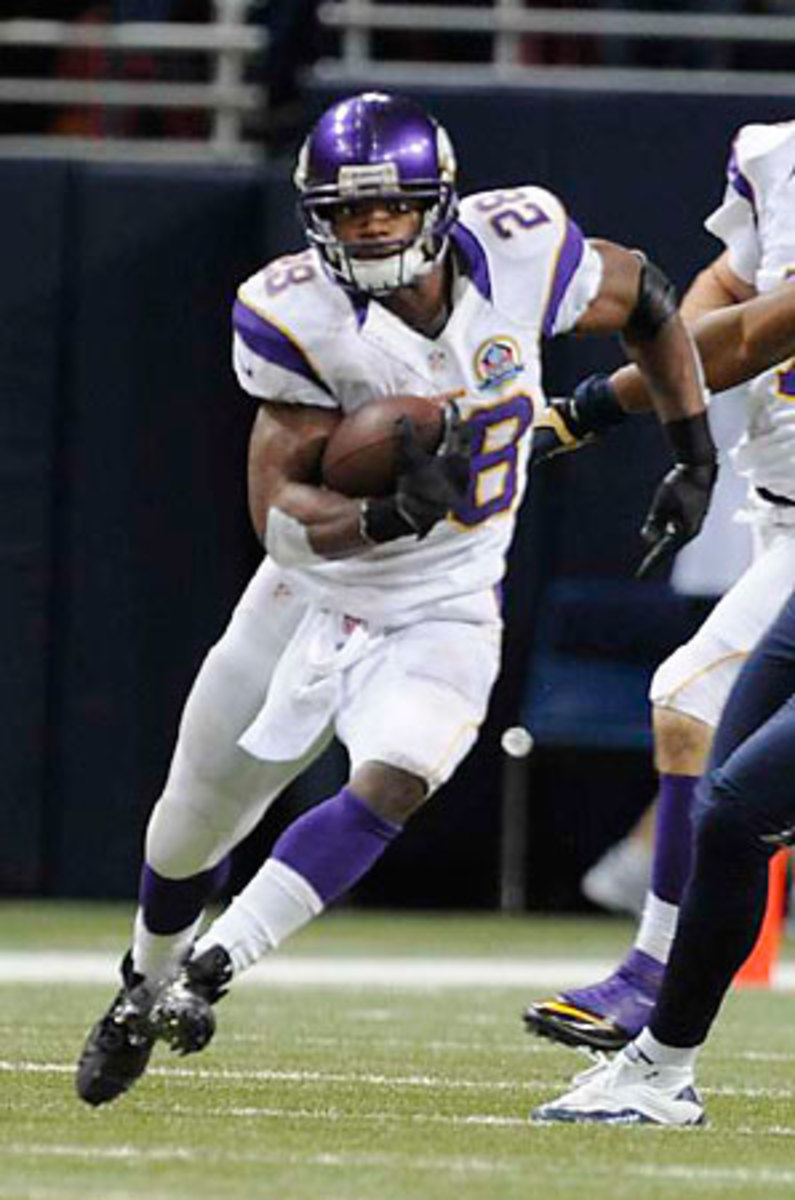 The next two games of Adrian Peterson's life will be historic, whether he breaks Eric Dickerson's all-time rushing record or not. Peterson needs 188 yards to become the seventh player ever to rush for 2,000 yards in a season ... and he'd be the first to do it coming off knee reconstruction, which he had last Dec. 30, six days after ripping up the knee at Washington. But, as has been well-documented, 2,000 won't be good enough.
As he told me 12 days ago, "Two thousand, that's easy.'' What he really wanted, he volunteered to me that day, was the Dickerson record of 2,105 yards in a season. He needed 506 for that. In three games. Last Sunday, against St. Louis, he put a 212-yard dent into the chase. So he enters Sunday's game in Houston -- which the Texan considers his adoptive home city; he has a condo at the tony Galleria shopping mall on the west side of town -- 294 yards shy of the record. A home game with Green Bay ends the Minnesota regular season.
Houston is fifth in the NFL against the run this year. Green Bay is 14th. It's going to be a challenge, a big one. But the man on the training table when we spoke for my SI.com podcast this week was there for a good reason. He was getting his groin, an ankle, the knee and his back worked on during his off day.
You can hear the podcast, along with an interview with Dallas tight end Jason Witten (I apologize in advance for the sound quality on the Peterson interview; he was in a busy trainers' room at the Vikings complex.) on SI.com, with the podcast on iTunes.
A few of my favorite takeaways from the interview:
Peter King: I wonder, when you woke up from surgery late last December, what do you remember thinking about your future, if anything? What were your thoughts coming out of anesthesia?
Adrian Peterson: I just remember that moment when I woke up, everything in the room was blurry, and seeing my mom and my dad, my stepdad in there and a couple of my mom's friends. I guess for me it was like, "Yes, It's finally over. I got the surgery done." ... After the reality sunk in, the surgery was done, I had a new cut on, I was like, "Hey, it's time to start this before I get doubtful." Dr. [James] Andrews came in and was talking to me. I asked him when would I be able to do exercises or lift the leg up or walk. He was like, "Typically, it takes two weeks to really start doing any exercise on it." He was telling me you'll be able to do the leg lift. Right before he could get the words "leg lift" out of his mouth, I started lifting my left leg. He just stood there and said, "Wow. I guess you're ahead of the curve on this one, too." I was motivated to start the process as soon as possible.
PK: What was the worst day you had? What was the day you were most depressed?
AP: Most depressed? I would say probably the first couple of weeks. The first couple of weeks, it was tough dealing with the pain and not being able to do normal things that I wanted to do. Walk up the stairs, walk in general, move my leg like I wanted to, go to the restroom. It was painful trying to bend the leg, trying to get my extension back as well. I struggled during that time. I had a good group of guys around me. You know [Vikings head athletic trainer] Eric Sugarman and stuff. He just kept pushing me. I was just grateful to have him here because during those times he kept me focused and he did the right thing and said I need to be here to get my confidence up. To know that this is just part of the phase, you're off the team to get stronger, your legs' muscle tone will come back, your flexibility, all those things.
PK: You told me you have felt scar tissue break up while you run. How does that feel? Is it painful?
AP: Mentally, it's painful. It's definitely painful. The result is you feel stronger. My knee felt looser and you have more tension and more drive and more leg lift with that occurring. In the long run, it helped me out. It was sore for a day or two after recovery process of icing and doing what I have been doing. I was able to feel a difference.
PK: What do you think your chances [to pass Dickerson] are?
AP: My chances are high. I've got a good group of guys surrounding me, offensively, defensively, special teams. The offensive line has been playing outstanding. The receivers are committed to blocking. My fullbacks are getting better each and every week. My determination is to help lead our team to the playoffs, and a Super Bowl isn't going anywhere. It's here, it's getting to the point that it's crunch time. I'm hungry. I'm hungry to help my team win, first and foremost, and also to chase and break this record.
PK: No defense wants to be known as the one that Adrian Peterson shredded to get the record.
AP: [Laughs] You know what's so funny about that? I'm sure Mr. Dickerson made a call down to St. Louis and told those guys, "Hey, you've got to stop this guy. He's in my rearview mirror." Unfortunately, they weren't able to stop me enough. You know, I live on faith, focus and working hard, man, and continue this chase. I can't complain for where we came from as a team to where we are now as a team. I'm just excited to be in this position to make the playoffs and break this record.
KING: WEEK 16 PREDICTIONS
Player You Need to Know This Weekend
Kelechi Osemele, RT, Baltimore (No. 72). The rookie second-rounder from Iowa State has played 14 games at right tackle and played well but not superbly, allowing seven sacks, according to ProFootballFocus.com. He is sure to face a revved-up Justin Tuck Sunday in Baltimore in a game the Giants have to have. Tuck, uncharacteristically, has had 12 sackless games this year, and though he's had some pressure-packed ones -- seven against the Niners, for instance, and their fine right tackle Anthony Davis -- Tuck knows the focus will be on him here.
Ten Things I'll Be Watching For This Weekend
Let's start with the three games of the week:
1. Russell Wilson in his biggest test. The Seahawks have put up 108 points in the last two weeks, and Wilson looks like Arthur Fiedler directing the Boston Pops. Perfect, in other words. It's a tough week for the Niners, coming off a 92-snap, 520-yards-allowed battle in Foxboro Sunday night. Now they've hade a cross-country trip, a week of practice mostly without Justin Smith (bum elbow), and face a road game in the CenturyLink hornet's nest Sunday evening. With a twist from Wilson, as defensive coordinator Vic Fangio explained Thursday.
"The biggest difference they're doing since we last played them is they've installed the gun-read game into their offense and they're doing it a lot,'' Fangio said. "They had shown it very sparingly prior to the last game. Now they're doing it a lot. I think they've done it over 10 times [a game] in the last three games, and that really has sparked their offense a little bit. And the quarterback's just gotten better and better. He's very elusive, he's fast, got good command of their offense, throws the deep stuff well.'' Fun game Sunday night.
2. Get it going, Giants. Sacks in 2012:J.J. Watt -- 19.5, Jason Pierre-Paul/Justin Tuck/Osi Umenyiora/Mathias Kiwanuka --18.5. Time to press the buttons, men. Playoff drive.
3. Andy Dalton's time. Dalton is 0-3 against Pittsburgh but 10-5 as a road quarterback in his young career. So which metric plays out Sunday at Heinz Field? The stat of this game, to me, is that Dalton's going to have plenty of help from his friends on the other side of the ball. Let the record show that the Bengals are a top-five defense in the last six weeks and the Steelers are not. Points allowed in the last six weeks: Bengals -- 75, Steelers -- 127.
4. Coachapalooza. Time to get serious with the coaching rumors, many centered around Chip Kelly, Andy Reid and Josh McDaniels headed to Philadelphia, everywhere, and Cleveland, respectively. Don't forget Steve Mariucci, who's getting the itch again. He'd be an interesting match with Philip Rivers.
5. Honeymoon in Houston. Of all the odd quasi-celebrity weddings in recent American history, Vikings quarterback Christian Ponder and ESPN reporter Samantha Steele tying the knot with no family present in the St. Croix County (Wis.) Courthouse Monday -- after Ponder watched film of the Texans at the Vikings facility Monday morning -- has to be near the top. But good for them, if the goal was to keep it private. I've been in Hudson, Wis., site of the courthouse, and it's pretty private, bordering on invisible. I can just imagine Ponder saying to Steele after the wedding, "Honey, I've got a great honeymoon planned. We're going to Houston! There's a swell Marriott there! Me, you and J.J. Watt! Fun times!''
6. Chuckstrong. Returnstrong.Colts at Chiefs Sunday, and if all goes well, Indianapolis will have a playoff spot to celebrate with leukemia-stricken coach Chuck Pagano when he returns to coach the team Monday morning. Christmas Eve. A present for all of Indiana.
7. The month of Romo. His stats this month are real, and they're spectacular. My favorite one: one interception in 113 throws. He's got the Saints Sunday -- the very strange Saints.
8. Speaking of the Saints, who travel to the new home of their once and (they hope) future coach ... Will the real men of Spags please stand up? The Saints allowed 52 points two weeks ago, zero last week. If they hold Dallas to half that, Drew Brees could pull the upset a few miles from the home of their coach, Dallas resident (for how long?) Sean Payton.
9. BobGriff getting loose in the bullpen. It's beginning to look a lot like Robert Griffin III will play at Philadelphia in a game Washington has to have. The 'Skins won 31-6 five weeks ago. Don't hold out much hope for Eagles here.
10. The end of an era. Just remember this when you bring your anger to the Linc Sunday, Eagles fans: Andy Reid has coached your team 14 years and won 140 games (including playoffs). My question for you: If you knew your next coach would average 10 wins a season and be as capable as Reid to handle the tidal wave of emotion that a Philadelphia coach must handle, would you take it?