Green Bay Packers 2013 Offseason Preview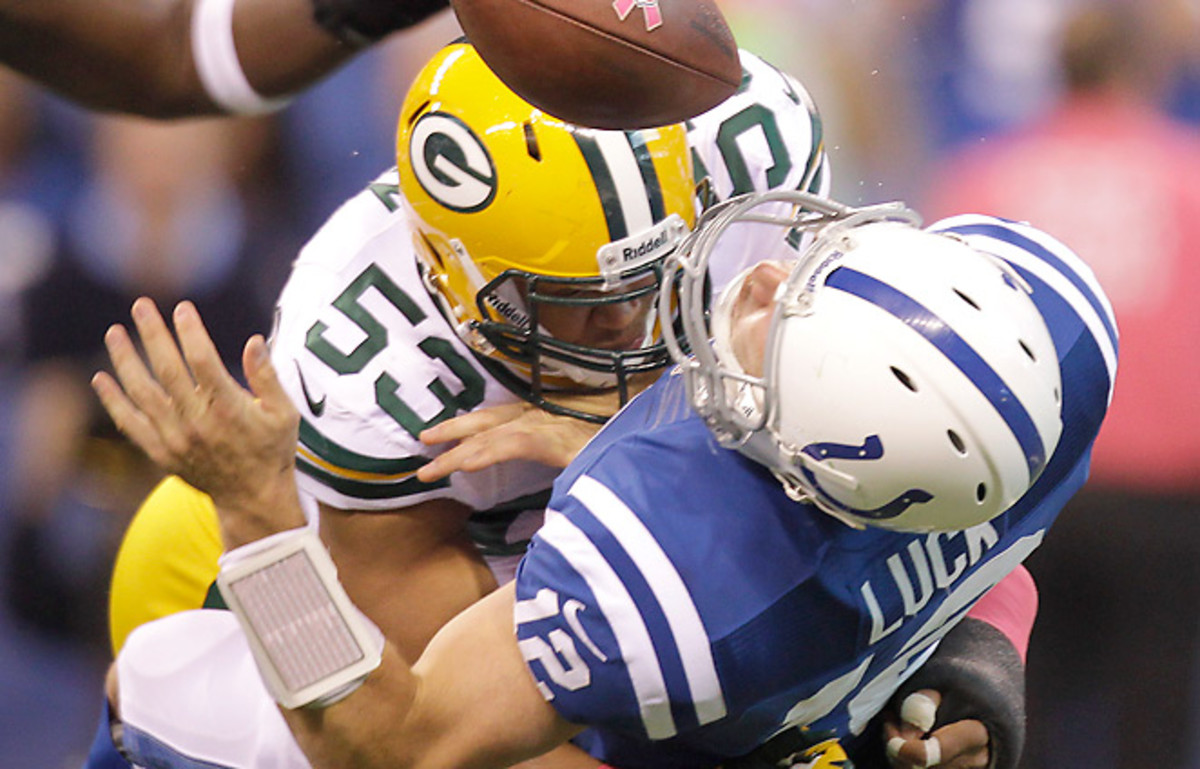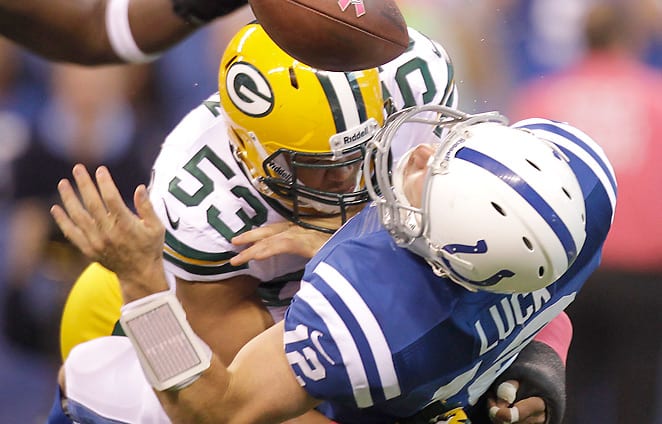 SI.com is laying out offseason road maps for all 32 teams as they start their journey for the Lombardi Trophy -- two teams per day, from the teams that need the most work to contend in 2013 to the ones that are in pretty good shape. See them all.
2012 Record: 11-5; lost to 49ers">49ers in divisional round Key Pending Free Agents: Cedric Benson, RB; Ryan Grant, RB; Greg Jennings, WR; Brad Jones, LB; Erik Walden, LB List of Draft Picks (pending compensatory picks): 1 (26), 2 (55), 3 (88), 4 (119), 5 (142), 6 (173), 7 (206) Available Cap Space: $20 million GM/Coaching Moves: Front-office executive John Dorsey left to take GM job in Kansas City.
2012 Season Recap
Maybe if things had gone slightly differently -- say, Green Bay had won in Minnesota in Week 17 to clinch a first-round playoff bye, then San Francisco had come to Lambeau in the divisional round -- the Packers' Super Bowl dreams might have lived on longer.
Given how Colin Kaepernick shredded Dom Capers' defense, it's not likely.
The Packers shook off a 2-3 start, which included the infamous Hail Mary loss in Seattle, to storm back and win the division with an 11-5 mark. Adrian Peterson then steamrolled them in Week 17 to help Minnesota into the playoffs, but the Packers dominated the Christian Ponder-less Vikings there, 24-10.
The next week started off well enough, too. Sam Shields opened Green Bay's divisional round showdown with San Francisco by picking off a Kaepernick pass and taking it to the house. After a back-and-forth game reached a 24-all tie in the third quarter, though, San Francisco took charge, finishing on a 21-7 run.
That defeat ended in disappointment a season that included another Pro Bowl berth for Aaron Rodgers (4,295 yards passing, 39 touchdowns) and the emergence of rookie cornerback Casey Hayward (six interceptions). Green Bay also overcame a lengthy list of injuries, including to Randall Cobb, Greg Jennings, Jordy Nelson, Charles Woodson and Clay Matthews.
Another division title may be nice, but it's still shy of meeting expectations in Titletown.
Stat To Feel Good About
2,342. The number of all-purpose yards posted by Randall Cobb, highest in the league. Cobb's total surpassed Adrian Peterson's 2,318, despite Cobb sitting out his team's Week 17 showdown with the Vikings.
If It Ain't Broke ...
Cobb's all-purpose yards probably will drop next season, with the Packers hoping to keep him from returning kicks and, thus, limiting his potential for injury. His receiving numbers, on the other hand, could surpass the 954 yards he put on the board in 2012.
The main reason for a potential jump: Cobb should take over Greg Jennings' spot as the starting slot receiver, assuming Jennings departs via free agency. It is Cobb's presence in the first place that kept the Packers from pursuing a new Jennings contract too desperately.
Cobb's impressive 2012 also speaks to both Aaron Rodgers' innate ability to get the best out of his surrounding skill players and the Packers' admirable creativity in finding Cobb in space. If Green Bay can keep the 22-year-old Cobb healthy, he might be one of the league's next huge stars.
Troubling Stat
40. The total combined sacks, hits and hurries from Dezman Moses and Erik Walden on 581 total pass rushes. Clay Matthews managed 49 on 357 attempts.
Must Fix It
Could the solution here be as simple as getting a healthy Nick Perry back in the lineup? Perry had a pair of sacks in six games, before landing on injured reserve with a wrist injury. His absence forced Walden onto the field more frequently, then an injury to Matthews set the Packers back even further.
Green Bay finished fourth in the league in sacks even with all those issues -- Matthews alone had 13 in 12 games. Put Perry and Matthews on the field together for a full season, and the Packers might lead the league in that category. And yet, there's little question that the Packers want to upgrade their pass rush and need to improve on the edges, as evidenced by Kaepernick's unprecedented playoff performance against them.
Moses and Walden were overmatched, no doubt (Walden rated as the worst Packers defender, by a huge margin, on Pro Football Focus). But the line found itself reeling, too, after Jerel Worthy's knee injury; is there a need to upgrade along the front of Green Bay's 3-4, as well?
An affirmative answer to that question could push the Packers to look that way in the draft -- there are a boatload of talented 3-4 ends available, and possibly even more dynamic rush-linebackers who would fit the scheme.
More On The To-Do List
1. Re-up Aaron Rodgers and Clay Matthews. This has to happen eventually, and probably the sooner the better. Matthews presents the more pressing case -- he's entering the final year of his rookie contract, at $3.73 million. The Packers could make their lives a lot easier by signing Matthews long-term and avoiding the franchise tag tap dance next offseason.
Rodgers, meanwhile, has two years left on his current deal. But he'll make less than $20 million total over that span, making him quite underpaid. Once the Ravens and Joe Flacco come to a contract agreement, Rodgers will have a new bar to aim for in his talks.
2. Find a No. 1 running back. Green Bay may have found its latest flavor of the month in DuJuan Harris, who averaged 50 yards in Green Bay's two playoff games. Of course, James Starks was one of the surprising heroes of the Packers' Super Bowl run during the 2010 season, only to fall out of favor as injuries slowed him down.
Green Bay, as things stand now, will return Starks, Harris and 2012 leading rusher Alex Green next season. Likely gone after a disappointing, injury-plagued season is Cedric Benson -- though the Packers could opt to bring him back for 2013.
Regardless, the Packers are likely to make at least one addition here, be it through the draft (Wisconsin's Montee Ball would be a popular pick, though not an exact fit) or free agency.
3. Make a decision on Jermichael Finley. The Packers are taking this down to the wire, as Finley is owed a $3.5 million roster bonus in March, on top of a $4.45 million salary for the 2013 season. Because of that financial commitment and Finley's inconsistency, Green Bay has wavered between keeping its No. 1 tight end and cutting him loose.
The latter obviously would free up some cash, but Finley had 53 more receptions in 2012 than the Packers' next most productive tight end, pending restricted free agent Tom Crabtree. Is Crabtree ready for the No. 1 role? Or do the Packers have another Plan B in mind?
What We'll Be Saying In July
That the Packers look like one of the NFC favorites again.
With three division championships plus a Super Bowl win over the past six seasons, Green Bay has set the standard for the NFC North, if nothing else. As Detroit again rebuilds, Minnesota tries to maintain its surprising rise and Chicago deals with a new coaching staff, the Packers should open next season as frontrunners.
We'll be watching closely, come training camp, to see if lingering questions at running back, wide receiver, tight end and in the defensive backfield have been answered. Right now, though, Green Bay certainly appears to be the team to beat in the NFC North.
SEE ALL OF SI.COM'S OFFSEASON PREVIEWS