For Penn St.'s Mauti, proving health just more adversity to overcome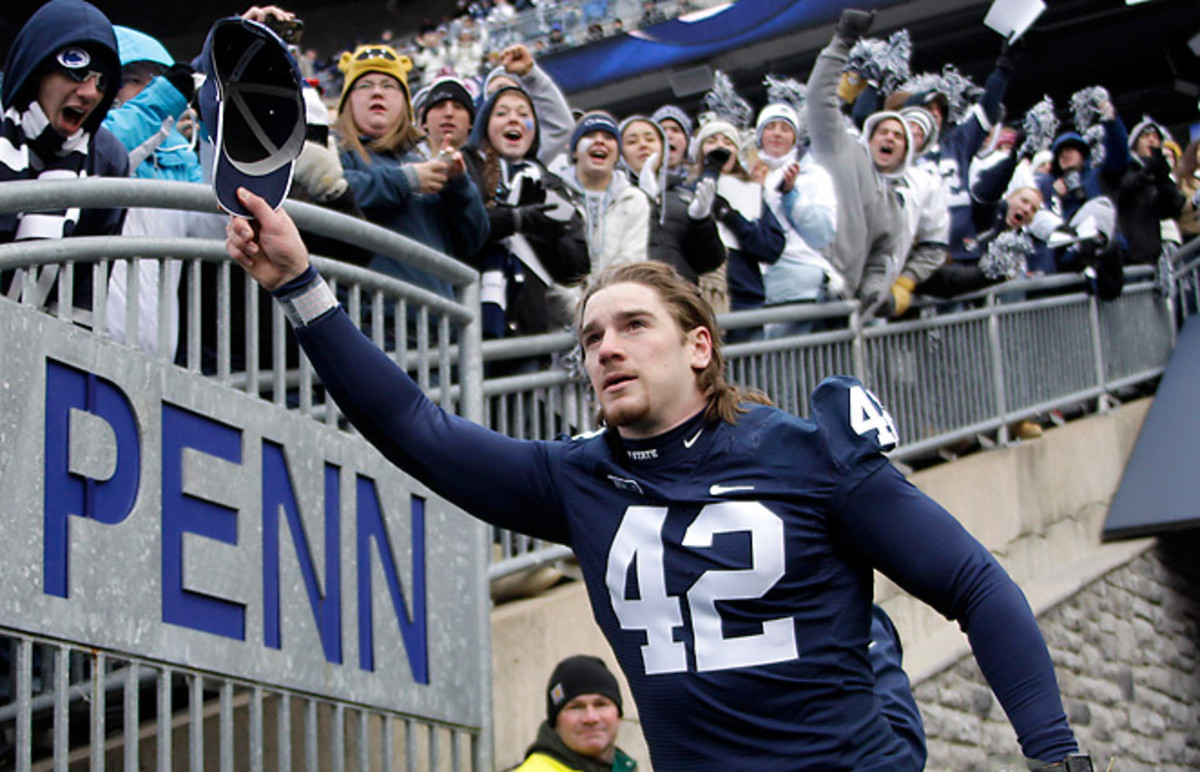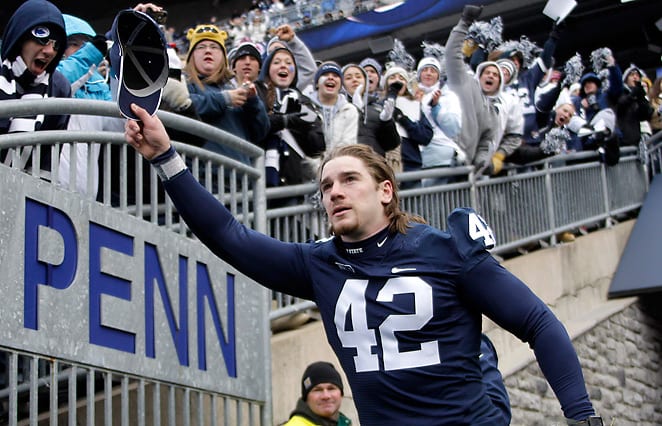 Never missing a chance to make big news out of even the mundane, the NFL this week released a whopping 23-name list of prospects who will attend the draft later this month in New York City, and that means we can all start bracing ourselves for the latest wave of entourages, crisply tailored suits and awkward man hugs with commissioner Roger Goodell.
To many, that is the NFL draft, the glitzy and star-studded spectacle that takes place on stage at Radio City Music Hall, as the saturation coverage of the first round unfolds. But those are just the headliners. There are others involved, of course. Every year, the vast multitude of prospects sit home and watch events unfold on TV, never getting their spotlight moment or their prime-time hug.
But some of them, the ones who are just hoping their phone rings, have stories that need telling, too. Like Penn State linebacker Michael Mauti, the former Nittany Lions team leader who helped his school and his teammates through their tumultuous 2012 season, only to have his All-America senior year cut short by a third ACL tear since 2009. Mauti, who probably saw his draft stock slip from the second round to a third-day projection with his latest knee injury, is working his way back yet again, and has as much on the line as any hopeful on draft weekend.
"This has been my goal since I was a kid, since I was playing backyard football, to follow my dad's footsteps into the NFL,'' said Mauti, the son of former Saints and Redskins receiver and special teams standout Rich Mauti, who played eight NFL seasons (1977-84), all but one of them in New Orleans. "There's not a doubt in my mind that I can make it happen.
"I came back from one ACL, then I came back from two, even when people said you can't do that. I did it, and had an All-American season coming off it. So this going to be no different. I've been through so much adversity at Penn State, and it's really shaped me and had a lot of effect on me as a man. I know I can handle this.''
Mauti will spend draft weekend at home in Mandeville, La, near New Orleans, "just boiling crawfish and hanging out with my family,'' he said. He went to the scouting combine in February, but couldn't do drill work due to his knee injury, and also had to sit out Penn State's mid-March pro day. Still, he has taken some unusual steps to make sure the NFL doesn't forget about him, sending all 32 NFL general managers a hand-written note to let them know that even a third ACL surgery has not ended his dream of a career in pro football. He knows plenty of NFL teams will be wary and understandably scared off by his injury history. But it only takes one believer.
"I just didn't want them to lose track of me,'' said Mauti by phone on Thursday afternoon, just hours after completing a pre-draft visit with his hometown Saints. "I tried to tell them how much the game meant to me, and let them know there was no doubt in my mind that I was going to play in the league. Really the proof is in the pudding with an injury like this. It's about how hard you rehab and how you respond to adversity, and I've proven I can do that. Look at the season I had last year after coming off my second ACL (in October 2011).''
BURKE: First-round trades you may see
In some trying and difficult circumstances, the 6-foot-2, 243-pound Mauti had his best season in 2012, finishing with 96 tackles, 2 1/2 sacks, three interceptions, three forced fumbles and 4 1/2 tackles for loss despite suffering his knee injury in Penn State's second-to-last game. In many ways, he became the face of the embattled but resilient Nittany Lions program, and when he walked into the locker room on crutches for the last game of the season, he saw that each of his fellow seniors had put his No. 42 on their white helmets in tribute, with senior linebacker Gerald Hodges wearing Mauti's jersey against Wisconsin that day.
In the aftermath of the late 2011 Jerry Sandusky sex abuse scandal, playing at Penn State last season was a singular experience, unshared by anyone except those who lived through it. There were no bowl games or Big Ten titles to earn. Just a season to play in a bizarrely novel setting, with new head coach Bill O'Brien's team dealt stiff sanctions by the NCAA, including the loss of scholarships and the ability of players to transfer elsewhere immediately without penalty. In essence, it was free agency for college football, and other schools besieged Penn State players, trying to induce them to jump what appeared to be a sinking ship.
Mauti's senior leadership was one of the key reasons the team stayed together, stayed focused and rebounded from a disastrous 0-2 start to win eight of its last 10 games, finishing an impressive 8-4.
"It's hard to grasp really how crazy it was for us, having 50 TV cameras outside your complex every day; every meeting, every lift, every practice, you had cameras in your face,'' Mauti said of the intense media coverage. "It was unbelievable. It was definitely a lesson learned in how to avoid the noise.
"And then, with all the sanctions in place, we had to deal with the free agency ruling by the NCAA, and the fact that we played a season where any one of our players could leave at any time during the year, which is absurd when you really think about it. To go 8-4 in that situation, and really we should have won 10 games, says a lot in and of itself. Because no team has ever in history had to deal with that.''
Mauti said he never once considered transferring from Penn State, but not because he didn't have ample opportunity. He estimates he was "dodging 40-50 calls a day from schools trying to recruit us, trying to get me on an airplane to go visit their schools.''
I suppose if you could focus on football in the middle of that carnival-like setting, there's probably not much the NFL could throw at you in the distraction department, the Jets locker room included.
"We had coaches from (University of) Illinois on our campus, outside of our apartments, even waiting outside classrooms for guys,'' Mauti said. "It was a meat market out there. But it was by design. The NCAA made that happen. I don't think much could throw me after going through that."
Last season's challenges aside, the toughest stretch for Mauti and his Lions teammates came in the days after the scandal broke in November 2011. Legendary head coach Joe Paterno was forced out, the school's reputation was greatly tarnished and the reverberations rocked the campus for weeks.
"Our foundation basically crumbled underneath us,'' said Mauti, who was hurt in the fifth game of the 2011 season and was inactive, rehabilitating his second knee injury when the Sandusky saga surfaced. "Joe gets fired and we've got to play Nebraska like three days later. Coaches are crying every day in our meeting rooms, and crying before the game. And we're like, as players, 'Hey, c'mon. We've got to get ready to play a game here.'
KING: In this draft, top talent may not be at the top
"We really learned moving forward that we had to deal with anything that came at us. That's what helped us when the sanctions came out last summer. We knew how to eliminate those kind of distractions and focus on what we needed to do. Because really all that mattered last season was our team and everyone in that building. The scandal, it had nothing to do with us, but it was the big white elephant in the room at all times.''
Penn State's players found a way to compete, survive and even prosper, making a commitment to each other and the football program, as it began picking up the pieces and rebuilding itself in the wake of the devastating tragedy of Sandusky's crimes. Mauti's leadership was front and center in that process, and it's that part of his makeup that he hopes some NFL team comes to value, not in place of on-field talent, of course, but in addition to it in terms of locker-room impact.
If he can get a team comfortable with the progress of his knee rehab -- and he's back running sprints and on schedule to be ready to play in the preseason -- his best bet to make an NFL roster this year likely is as a special teams cog/backup linebacker who may develop as a starter in the future. Somewhere in day three's fourth to seventh round is his likely landing spot.
So far, he has made visits to both the Steelers and Saints, and his trip to Indianapolis for the medical re-check as part of the combine scouting process went well, showing his knee's full range of motion has returned. It's a very small club of athletes who have returned to the field after suffering a third ACL tear -- Carolina linebacker Thomas Davis is believed to be the only NFL player to have done it -- but Mauti thinks he has a great chance to join it, pointing out that his knee's joint structure remains intact, with no degenerative damage or complicating cartilage/meniscus damage.
"It's rare, because usually a guy with knee injuries will have a lot of extra damage in there, but that's one thing I have going for me in that regard,'' Mauti said. "When it comes to the draft, realistically I know teams are going to get me for a bargain here because of my injury history. But whatever happens, I'll be thrilled -- fourth round, seventh round, or undrafted. All I'm looking for is an opportunity to win a spot on a roster this season and see where it goes from there.''
For Mauti, not making the big stage at the draft in two weeks in New York City doesn't mean much at this point. The invitation that matters most to him is the one he hopes to receive once Thursday's primetime extravaganza is over. If his phone rings, and a team is on the other end, that will be spotlight enough.