Jets owner closes door on Tebow era, but not QB competition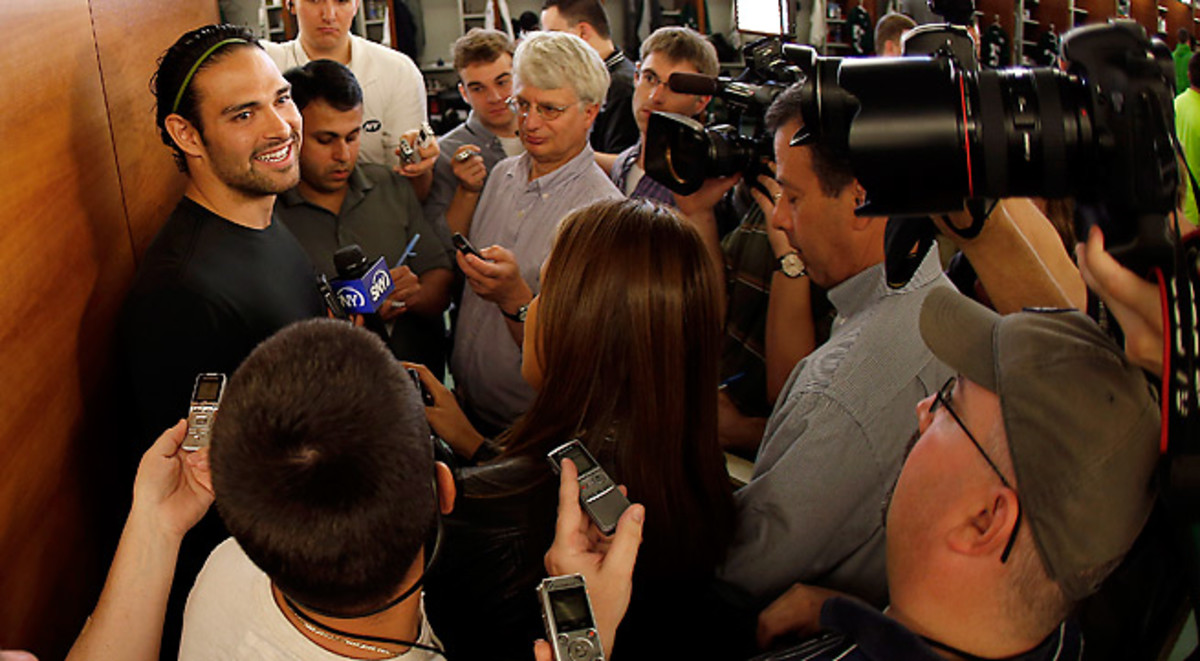 PHILADELPHIA -- Opting for dramatic understatement, New York Jets owner Woody Johnson summarized his team's failed Tim Tebow experiment as "something that didn't work for us,'' and acknowledged for the first time "the fit obviously wasn't perfect or he'd still be there.''
Speaking to a handful of media members at the NFL's Career Development Symposium at The Wharton School at the University of Pennsylvania, Johnson closed the book on Tebow's tenure with the Jets, but expressed anticipation for New York's latest quarterback competition: Rookie second-round pick Geno Smith versus incumbent starter Mark Sanchez, with veteran David Garrard added to the mix as well.
"You make a lot of decisions in football that are not helpful, and you have to move on from those decisions,'' said Johnson, in his first public comments since New York drafted Smith and released Tebow. "You make bad decisions, you make a decision that doesn't work, a decision that doesn't help the team, you move on. You learn how to do that.''
Moving on from Tebow was a fait accompli for the Jets since the close of the 2012 season, but in drafting Smith two weeks ago, New York has given Sanchez his most serious competition yet. Though there was widespread post-draft speculation that the Jets may cut Sanchez before he even gets a chance to go head-to-head with Smith in the preseason, Johnson dismissed that possibility.
"Why would I want to do that?'' said Johnson, when asked if the team might opt to short-circuit its quarterback competition before training camp opens. "Absolutely [they'll compete]. We've been pretty consistent about that. Competition at every position, particularly quarterback. Competition makes you better. I would expect [Sanchez] to compete. He's under contract.''
Johnson stopped short of predicting Smith would emerge as the team's new franchise quarterback, promising that the competition would be determined by the passers' performance once the preseason began.
"I'll let the competition go,'' he said. "We'll just see how it goes. I don't want to pre-judge it, because they've got to go in there and compete every game. We'll see when they step on the field. At the quarterback position, it looks like we're going to have some competition.''
BURKE: When will the rookie QBs get in the game?
Johnson said Smith was under consideration by the Jets in the first round, at least after the team took Alabama cornerback Dee Milliner at No. 9. New York also owned the No. 13 pick it obtained from Tampa Bay in the Darrelle Revis trade, which it used to select Missouri defensive tackle Sheldon Richardson. Pre-draft scouting reports that cast doubt on Smith's leadership and maturity level did not concern New York, Johnson said.
"He was the highest rated player on our board when we drafted him, at the top of the second [round],'' Johnson said. "I'm extremely happy to have him. He's been a three-year starter at West Virginia, with a great body of work. He was a gifted athlete from day one. I guess they identified him very, very early, when he was a little kid, as being something special. Welcome to the competition. It's going to be fun.
"We went by our evaluations and we evaluate all those traits and skills, communication, leadership, all that. He got a very high score from us. He was the next guy on our board, and we drafted him. If we had dropped down [in the first round], yeah, [we would have considered him]. He was a highly rated player by us.''
It has been another eventful offseason for the Jets, what with the hiring of new general manager John Idzik, the trade of Revis, the team's best player, and the drafting of a potential starting quarterback. But Johnson said he's optimistic about the direction of his team, even while preaching patience for the current rebuilding stage.
"Be patient, and trust we're doing the right things for your team,'' said Johnson, to Jets fans. "You have to have a little bit of faith that these decisions are going to pan out. The draft is going to work out. I'm very confident the draft we had was a good one, and well thought out. We stuck to what we believed in, the way we set things up with the board. Forty-thousand hours went into that, and we didn't deviate from that.''
What the Jets will deviate from, Johnson said, is their habit of springing media leaks from within the organization. Under Idzik's direction, the team is determined to put an end to that harmful habit.
"I think the buzz will be kind of a new feeling that John Idzik brings to the building,'' Johnson said. "He's very inclusive in the way he makes decisions. He's a cultural guy. When we go in to make a decision, we want to encourage dissent. We encourage people to throw themselves on the table. But when we leave the room, we're united. We're not going to share any of those discussions, because they're intimate to our family. Those we're going to keep, but we're going to be united when we leave. And that's something we didn't do as well perhaps.''
Giving up Revis in trade was the Jets' biggest move of the offseason, but it became unavoidable, Johnson said. "He was a great player for the Jets, but we just didn't feel that we were going to be able to make the deal work with him.
"But I think we've made some nice moves this year. It's going to all be apparent on the field, how we do. But I'm optimistic. I think we've got greater depth. We've beefed up areas that are going to help us. We've got excellent players in the draft and in free agency. I think we'll be better.''
If the Jets aren't better than last year's 6-10, more big changes likely are on the way, meaning curtains for the five-year Rex Ryan coaching era. Johnson would not entertain questions regarding Ryan's tenuous status, including the possibility of extending his contract before the end of this coming season.
"I think everybody's on the same page,'' Johnson said. "We've made some dramatic changes, so it's going to take a little bit of time for these changes to take hold. They will take hold. I'm not going to predict exactly when. But I think we're on a very good track for making the team better.''
Or as one reporter asked, in a leading fashion: "Patriots, look out?''
"Absolutely,'' Johnson said, with a laugh. "You're right.''