Are better days coming for minority hires? Many anxiously await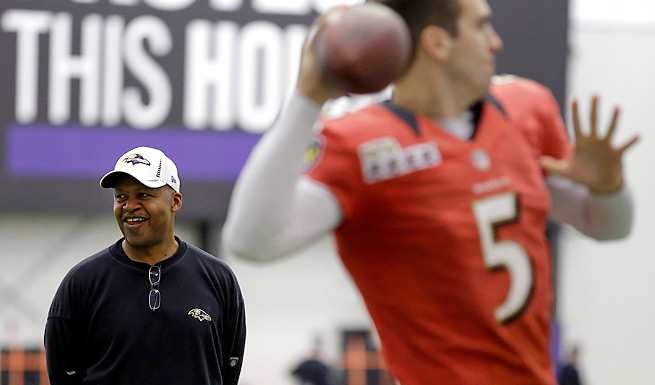 PHILADELPHIA -- The rising use of analytics in the NFL has prompted a new respect for the power and relevance of statistical data, but there's one set of recent numbers that can't be sliced or interpreted in any way but the obvious: In a league where minority hiring practices had made significant strides over the past decade, the 2013 hiring cycle represented a disappointment to many.
Of the 15 openings that were filled at the head coaching (eight) or general manager (seven) level -- the vacancies that fall under the guidelines of the NFL's 10-year-old "Rooney Rule'' mandating a minority candidate be interviewed -- all of those jobs went to white candidates.
In response to that perceived regression on the minority hiring front, the league this spring decided to revive the career development symposium for coaches and club officials that had been a part of its annual calendar for 11 years, until it was discontinued after the 2008 season. The three-day program wrapped up Wednesday at the Wharton School of Business at the University of Pennsylvania, and it attracted an impressive roster of speakers consisting of team owners, current general managers, head coaches and players, in addition to the coaching assistants and club executives who are attempting to stay in or get into the pipeline for the next round of coaching and front office hiring.
The symposium, which included panel discussions, networking sessions, workshops and keynote speeches, was an attempt to create a breeding ground for the relationships and connections that some day may lead to putting candidates and team owners and decision-makers together during hiring season. While the program is not exclusively minority-based -- with highly qualified white head coaching aspirants such as Cincinnati coordinators Mike Zimmer and Jay Gruden and others taking part -- the topic that led the way this week was the NFL's apparent step backwards in regards to minority hiring at the highest levels.
Asked if he felt this year's 0-for-15 track record of hiring represented an aberration, New York Giants co-owner John Mara said he could only hope that was the case. "I was very surprised that we didn't do a better job in terms of hiring minority candidates,'' Mara said between sessions of the symposium. "I think events like this will hopefully improve that situation in the future. With the Rooney Rule, last year was not a good example, but in previous years it was.''
Mara and others within the league cited the low number of minority head coaches at the collegiate level and a cyclical scarcity of minority offensive coordinators in the NFL as factors, among others, for the league's lack of sustaining momentum on the minority hiring front this year, and no doubt those issues did play a part.
But while the emphasis of the symposium is to advise and school the best fresh faces in both coaching and front office positions on how to best climb the career ladder, I couldn't help but notice a subset within the league's minority coaching ranks that might help address the issue of low minority representation in the near future.
Former NFL head coaches Jim Caldwell, Raheem Morris, Hue Jackson and Perry Fewell (Buffalo's interim head coach for seven games in 2009) were all invited to the symposium as current assistants who have experienced the head coaching interview process and know the landscape of holding down the top job. While Caldwell was not able to attend this week's sessions, clearly his success after being elevated from Baltimore Ravens quarterbacks coach to offensive coordinator in early December -- a move that helped spark the team's unexpected Super Bowl run -- has to position him squarely on the short list of prime candidates for next January's head coaching hiring cycle.
Like Morris, the youthful former Bucs head coach turned Washington defensive backs coach, and Jackson, the ex-Raiders head coach who rejoined Cincinnati in 2012 as an assistant, Caldwell, a one-time Super Bowl head coach with the Colts, left the head coaching ranks after the 2011 season and returned not to the coordinator ranks, but to a positional assistant slot. Caldwell had been promoted to a coordinator's role by Ravens head coach John Harbaugh by season's end, and his rapid career rehabilitation timeline serves as inspiration for Morris, who was fired by Tampa Bay after going 17-31 in three rollercoaster-like seasons (2009-2011).
"It never shocks me to see a guy like Jim Caldwell have success,'' said Morris, who did admirable work with an injury-depleted Redskins secondary last season, helping Washington win its first NFC East title since 1999. "Guys like him and Hue Jackson, they're ultimate professionals, and those type of guys will always bounce back and find a way to force their will on their opponents, so to speak. They're a great inspiration and a blueprint to follow. The reality is, everyone has ups and downs in this profession, and you've got to deal with them and be ready when your opportunity comes again. That's what Jim Caldwell has done.''
Some within the NFL rightly took issue with Caldwell not having a head coaching interview or two waiting for him after the Ravens' Super Bowl victory. After all, he had a major coaching role in two of the past four Super Bowls (as Colts head coach, his club lost to the Saints in February 2010), and his only losing season in Indianapolis was the Peyton Manning-less debacle of 2011. But the reality is all eight of the league's coaching vacancies were filled by the time the Super Bowl ended, even though Caldwell's candidacy would have helped offset Mara's point about the lack of qualified and experienced minority offensive coordinators.
"If your guy [coaching candidate] is on that Super Bowl team, that's a long wait, and no question that's a disadvantage,'' Mara said. "But hell, if he wins the Super Bowl, it's worth the wait, and he certainly becomes the leading candidate the next year.''
Cincinnati's Marvin Lewis is the dean of the NFL's current four-man minority head coaching contingent, having been hired by the Bengals in 2003. Only New England's Bill Belichick has been on the job longer. From Lewis' vantage point, Caldwell being passed over due to his team's Super Bowl trip rings hollow.
"Obviously Jim Caldwell's accomplishments are huge, and really speak for themselves,'' said Lewis, who spoke at one of the symposium sessions. "Obviously clubs can use the excuse that Jim was in the Super Bowl and they couldn't wait. That's just an excuse. We all know guys have been hired before who have been Super Bowl coordinators, and they waited because that's the guy they wanted, and that's the guy who was selected.
"I hope all those guys get second opportunities, Raheem, Hue and [Fewell], and make good on them. It is a good thing they're all back in the pool of candidates and working their way back up, as long as they get that next opportunity. Then we won't have to have this conversation much longer.''
Morris jumped at the chance to work on Mike Shanahan's staff in Washington last year, even though he also received, and declined, an offer to interview in Minnesota for the Vikings defensive coordinator job under head coach Leslie Frazier. His thinking was that any opportunity to learn from Shanahan on the offensive side of the ball makes him a more well-rounded and attractive head coaching candidate when and if his next opportunity arises.
"It's just the nature of the beast with what we do,'' said Morris of his career arc, and its sudden rise and fall. "You've got to embrace that, and I fully committed to embracing it a long time ago. Taking on the challenge of being a young head coach (he was 32 and the league's youngest head coach when elevated by Tampa Bay in 2009), it certainly was a challenge. And we almost cracked the safe. It didn't work out quite the way you'd like it to end. But when you get that next opportunity, you remember those times and use them as a way of getting back. Bill Belichick's second opportunity as a head coach was a great experience, and I'm sure Bill Parcells was better every time he came back.''
Morris did not look at this year's hiring season and see a lack of consideration for minority coaching candidates. Instead, he saw quality first-time head coaching hires rewarded for their patience and longstanding body of good work.
"I didn't see a step back,'' he said. "There were a lot of great candidates who got an opportunity, like Gus Bradley in Jacksonville and Rob Chudzinski in Cleveland. I know Gus Bradley is a great coach. Chudzinski, I competed against him [when he was in Carolina]. Those guys are really good, capable people to go out and get the job done, and those guys deserved an opportunity as well. We're not talking about a bunch of old guys being recycled who didn't deserve another opportunity. We're talking about younger coaches getting an opportunity for a reason.
"They've had success, they've done a great job, and they've worked their way up. I respect the process, and I respect everything that goes along with it. Do we want more minority candidates? Sure. But you get yourself ready to go when it's your turn and make the most of it when you get that opportunity.''
But making sure those opportunities eventually come is a large part of why the NFL refocused on the practice and mechanics of hiring, and reinstituted this week's career development symposium. Because the league is well aware that another year like 2013 won't be easy to overlook or accept.
"I'm not in position to make those [hiring] decisions and I can't answer for them,'' Steelers head coach Mike Tomlin said Tuesday afternoon. "But I can say it is alarming from my standpoint because I know the number of credible candidates who happen to be minorities in our industry. Many of them I know on a personal level.''
Seeing some coaches on the ascent and others on the descent is part of the NFL life cycle. It's a reality of the business that will never change. But an 0-for-15 hiring season on the minority candidate front, in a league were roughly 70 percent of the players are African American, is a set of metrics the league doesn't believe needs repeating.