Smacktalk poet Richard Sherman delights in getting on others' nerves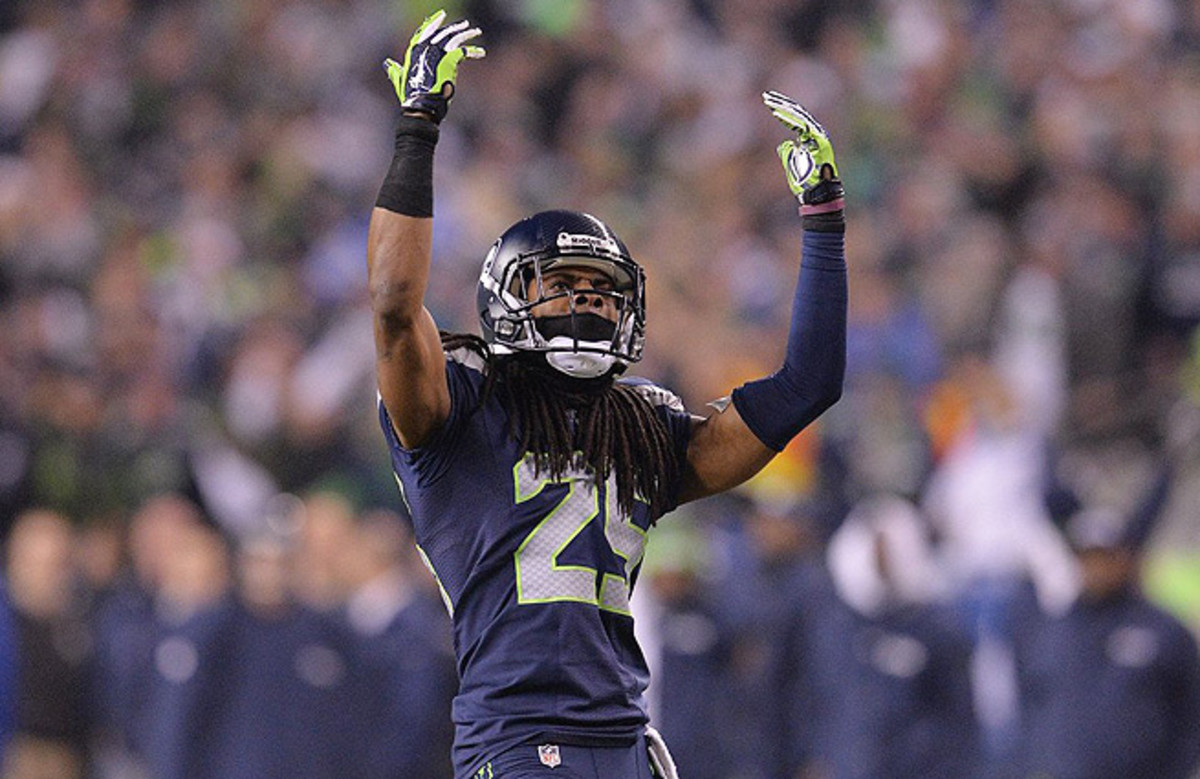 Sherman redshirted 2008 because of a left-knee injury, fell down the depth chart and called home, wondering if he should transfer. "You're going to leave Stanford for some rinky-dink school just because you want to play football and don't get along with some coach?" Beverly asked, incredulous. "No. You go make it happen."
Harbaugh was in charge of the offense but delegated defensive duties, so Sherman texted the coach and asked to switch to cornerback, the position Carroll thought he should have been playing all along. "That call saved him," Kevin says, "because Richard didn't have to deal with Harbaugh anymore. They were out of each other's hair." In the winter of 2009, reporters asked Harbaugh about Sherman's new position. His response: "Don't know if he'll be able to beat anybody out over there or not."
Harbaugh and Carroll were just beginning their West Coast feud—that November, after Harbaugh tried a two-point conversion late in a 55--21 trouncing of the Trojans, Carroll unforgettably asked, "What's your deal?"—and Stanford defensive coordinator Ron Lynn sat smack in the middle of it. Having previously served under Carroll in the NFL with the Patriots, he was now working for Harbaugh, installing the same bump-and-run system that he'd employed with Carroll. He gave Sherman training tape of other rangy cornerbacks, many of whom Carroll had tutored, such as New England's Steve Israel. "On offense Richard was becoming problematic—he wasn't doing what he wanted to do or needed to," says Lynn. "He had come to the end of his rope, the end of the line, and he was about at the abyss. He knew this was his last shot. I told him, 'You may never play football again, but your chances will be greatly enhanced if you keep your mouth closed until you know what's going on.' "
Lynn saw in Sherman what Donerson had: a player fueled by the sound of his own voice, but occasionally distracted by it. You can't silence him ("That's like taking the spear from a hunter," Sherman says), but you also can't let him turn the field into the Improv. "Leave enough oxygen for everybody else," Lynn advised.
Sherman started at corner his final two years in Palo Alto, applying the knowledge that he'd gained as a receiver. "He's able to look at formations and tell you what's going to happen," says Doug Baldwin, who was a teammate of Sherman's at Stanford before Seattle. "If a receiver has an inside edge split or an outside edge split, he can determine what type of route it will be. He reads everything and does it fast."
Sherman blended in at Stanford after all, earning a degree in communications in June 2010. Meanwhile, six of his high school teammates graduated from major colleges around the same time. "He was helping those guys all the way through," says Donerson. "He was calling them, texting them—reminding them what they needed to do." Sherman mourns one former teammate who didn't make it. "He was about to enroll at Cal State--Dominguez Hills," he says. "We had the paperwork in. We had the financial aid set. He was right there." In May '07, Marcus (Scooby) Peters was shot and killed outside an apartment complex in Long Beach—so says the newspaper article hanging outside Sherman's bedroom at his parents' new home.
Beverly and Kevin now live in a well-landscaped community in Compton, but she still works for Children's Services and he still drives his truck every morning at 4 a.m., a Seahawks sticker plastered across his helmet. Their home is wallpapered with pictures of their children: Richard, Branton and 22-year-old Kristyna, who runs a hair salon out of the Shermans' garage. (Seahawks receiver Sidney Rice is a client.) The first photo you see, upon opening the front door, is of Richard's commencement ceremony at Stanford.
Across the street lives an English teacher from Dominguez named Michelle Woods who charters a bus every spring break for Dominguez students to visit colleges throughout California. "Most of them think Cal State is their only option," she says. When Sherman was at Stanford, he made sure the bus swung by Palo Alto, and he led the tours himself. "I'm here; you can be too," he told the group every year as he advised them on classes and grants.
Sherman believed he was ready to move on to the NFL in 2011, but scouts weren't as sure. He watched 153 players get chosen before him while he stewed in a suite at the Rio in Las Vegas for what was supposed to be his draft party. Two years later Sherman swears he can recite the names of every defensive back picked ahead of him. He is forever bitter over where he was drafted but eternally grateful for where he landed. Carroll, 16 months into his tenure as the Seahawks' head coach, called him up in that Rio suite, then asked for Auntie. "We have history," he told her.
Today, Seattle's roster is crowded with players Carroll failed to sign (or failed to beat) when he was at USC. Sherman fits both categories. A year after the Seahawks picked him, he persuaded the club to add Baldwin as an undrafted free agent. By then, Harbaugh was in San Francisco, but the Stanford pipeline remained flowing to Seattle.
"How do they feel about [Harbaugh]?" Kevin asks. "It's a passionate hate."
*****
One night last summer, Sherman was relaxing at a club called Munchbar when Seattle's patron saint of smack approached him. "I see what you're doing out there," said former Sonics point guard Gary Payton. "I like it."
When Sherman arrived in Seattle back in 2011, friends warned him he was headed to "South Alaska" and predicted that nobody would ever talk about the Seahawks. "We're not getting ignored," Sherman replied. "There's going to be noise made." Since then, he has labeled Harbaugh "a bully," called Falcons Pro Bowl receiver Roddy White "an easy matchup" and urged Revis on Twitter to "Get ya picks up!" After a win over the Patriots last October, while waiting for a table at P.F. Chang's in Seattle, Sherman retweeted a picture of himself yapping at Brady, along with the caption, U MAD, BRO? Sherman didn't write the soon-to-be-meme, but his endorsement spawned a cottage industry of T-shirts, some of which outfit his family today.
More alarming, Sherman tested positive last November for performance-enhancing drugs—allegedly the amphetamine Adderall. The NFL overturned a subsequent four-game suspension when the cornerback successfully argued that his urine sample was contaminated upon collection. "All they did was throw a gasoline station on my fire," says Sherman, still insisting he did not take the drug.
With Brandon Browner, who is 6'4", 221 pounds—and who has also failed a drug test, making that five Seahawks who have done so in the past two years—Sherman makes up the biggest cornerback tandem in the NFL. Browner is the more physical of the pair, but what separates Sherman, according to Seattle safety Earl Thomas, is his "genius." Sherman has a near-photographic memory—he can rattle off the entire wireless code in his house, a nonsensical jumble of 18 letters and numbers. The little he can't remember, he stores for safekeeping: He takes detailed notes on his iPad about every opposing receiver. When he's about to face one, he watches the team's previous 12 games, asking himself a series of questions. Is the quarterback lobbing it up or darting it in? Is the ball going over the front shoulder or the back? Is the receiver leaning inside or out? Is he rising up or slowing down and beating a drum with his hands? Sherman cracks codes.
"If I'm studying tape and I see a play with two receivers, and one runs a dig while the other runs a hitch inside, and the quarterback throws to the dig, I'll remember how that looks," he says. "If I see that formation on third-and-10, with the same splits, I know what's coming. That's why I ask quarterbacks to throw me the ball. I know the routes. I'm almost cheating. Take Matt Ryan from Atlanta: He's a great quarterback with two great receivers. But he puts the ball in certain places. I won't tell you where—but I go to those places."
Last August in training camp, the Seahawks ran a play in which Sherman found himself matched up against an offensive tackle, eligible as a third tight end. "If you ever see this look," defensive coordinator Gus Bradley told him, "it's an automatic blitz." Three months passed before the Seahawks met the Jets on Nov. 11; in the fourth quarter of that game, trailing 21--7, New York summoned tackle Jason Smith to line up as a third tight end. Sherman hadn't blitzed all season, but he flashed back to camp and promptly bulldozed quarterback Mark Sanchez for a sack and a fumble, which teammate Jason Jones recovered, and which Sidney Rice turned into a game-sealing touchdown six plays later. "I've been around people who are really cocky, and they usually think they have all the answers," says Bradley, now the Jaguars' coach. "Richard Sherman isn't like that at all. He wants to learn."
*****
On Sherman's first day as a Seahawk, Bradley had told his new charge, "A commitment must be made, a plan must be laid, a price must be paid." Sherman appreciated the poetry—made, laid, paid—and still mutters the words to himself, like a mantra. "Things I do probably look like madness, like I'm totally out of control, but there's always a plan," he says. "It's part of a greater scheme to get some eyes, to grow the market, to grow Seattle. Now people are paying attention, and they'll probably be disappointed this year because I will be a lot more reserved." Time will tell if such restraint is possible.
Sherman claims to yap only 10 or so plays per game, which sounds like a dramatic understatement until the best receiver in the NFC West confirms it. "He really doesn't talk to me," says the Cardinals' seven-time Pro Bowler Larry Fitzgerald. "But I don't talk to him, either."
Perhaps there lies the secret to shutting up Sherman. "If you don't say anything, he doesn't say anything," explains Baldwin. "If you do, all hell breaks loose." Sherman's admiration for Fitzgerald runs so deep that on his mantel he keeps a framed picture of himself defending the Arizona dynamo. In it, Chancellor is rushing over for an interception. "Look at that," Sherman gripes. "All the work I did, and Kam steals my freakin' pick."
Thievery aside, the Seattle secondary, which trademarked the nickname Legion of Boom, remains tight. They've taken five vacations together, and the Boom Brothers—Sherman, Browner, Chancellor and Thomas—lay customized rugs in front of their lockers emblazoned with their four jersey numbers. "We all come from the same background, hearing we couldn't make it," says Chancellor, who was supposedly too big (6'3", 232) to play safety. Thomas was too small (5'10", 202). Browner spent four years in the Canadian Football League.
Then there's Sherman, the fifth-rounder from Compton, the kind of player you adore if he's on your team—and despise if he's not. His charity softball game, held in early July at Tacoma's Cheney Stadium, drew 7,000 fans. Sherman's handpicked umpire was Lance Easley, the former replacement referee who made the dubious touchdown call last season that gave Sherman's Seahawks a victory over the Packers. At a party the night before the game the pair chatted like old pals about why Green Bay cornerback Tim Jennings went for the interception on that fateful play. "I'd have just batted the thing down," Sherman declared to Easley's delight.
Even Fitzgerald showed up, chatting with Sherman's family. "When you get to know him," Fitzgerald says, "you see his fiber."
Sherman's intellect is among the most powerful forces in the NFL. He can use it to clog airwaves (and deepen the stereotypes he was so eager to quash), or to open minds. Football players at Dominguez High reminisce about the time last spring that Sherman returned and gathered the team in the weight room. "Who wants to make the NFL?" he asked. Fifty-odd hands shot up. "Now, tell me how long the average NFL career lasts?" he said. One boy guessed 10 years, another seven, another five. "Three-and-a-half years," Sherman interrupted. "So what are you going to prepare for: Three-and-a-half years? Or the rest of your life?"
He is the salutatorian and the swashbuckler, a rare duality, addressing schools and agitating receivers. Sherman is loosening the vocal chords for another camp, another season, more speaking engagements. He has, of course, memorized the itinerary: Harbaugh in Weeks 2 and 14, Fitz in Weeks 7 and 16, Roddy in Week 10. Oxygen is on the way.