Pete Carroll, once ahead of his time, now vindicated by success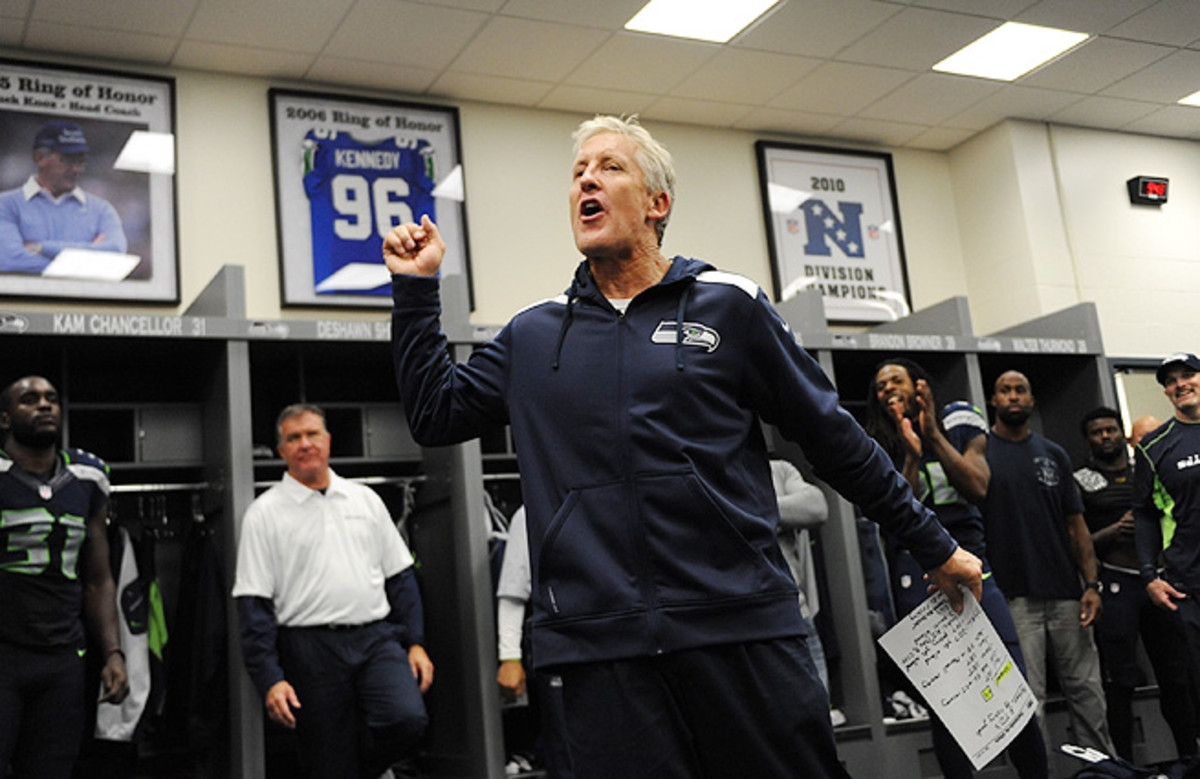 There's a method to his madness, then. Take the basketball. Carroll has hoops all over the Seahawks practice facility. He drains three-pointers during walk-throughs, during practice. At a rookie minicamp last May, he gathered the kickers around a basketball hoop and informed them that there would be a shootout. Winners stay, losers get cut, he told them. He was joking.
Kraft canned him after three seasons. Carroll's subsequent epiphany has been well-chronicled. Reading a book by John Wooden during his unsolicited sabbatical, he was struck by the fact that the legendary UCLA hoops coach had failed to win an NCAA title in his first 16 seasons, after which he won 10 in his last 12. "When he nailed it, he really nailed it!" Carroll said. Pete spent months honing his "Always Compete" philosophy, then put it to work at USC, where he turned a floundering program into the most dynastic college team of the decade.
The day the Seahawks hired Carroll, in January 2010, Roth asked him: "What do you change now?"
"I'm not gonna change a thing," Carroll replied.
Things on the surface changed. Competition Tuesday -- during which second teamers and understudies were encouraged to take the jobs of the starters, who, in turn, ramped up their intensity -- became Competition Wednesday. Turnover Wednesday became Turnover Thursday. The undergirding philosophy remained in place.
That's not to say Carroll, or his staff, tolerate inertia. Carroll's zeal to glean every possible competitive edge, coupled with his genuine disregard over what anyone outside the building thinks of it, has led him in fascinating directions. A few years ago he teamed up with Dr. Michael Gervais, a leader in the field of "high performance psychology" who maintains that our quest be our personal best "starts with awareness."
To achieve that awareness, the Seahawks practice yoga and meditation (with widely varying degrees of commitment and success). That helps them hone the mental skills, "allowing them to have confidence in any circumstance, a sense of poise in any environment."
Make that almost any environment, as Erin Andrews might attest.
Technology is embraced. Tracking devices allow player movement to be monitored on the practice field, to better measure their workloads. At the beginning of the season, plans were in place, according to an August story on ESPN.com, "to have players and coaches wear wristbands to track sleep habits and, when necessary, adjust practice schedules to maximize rest."
"That's why I call this place the Google of football," said Michael Bennett, the defensive end. "The way they approach everything -- it's a special atmosphere. I think you have to be here to understand how they take care of you."
Carroll's willingness to take risks -- indeed, his insistence on taking them -- carries over to personnel decisions (see: Wilson, Russell) and X's and O's. One of the hot topics during this frigid week has been Seattle's intriguing new twist on Cover Three, aka "Three deep zone coverage." The skillsets of big, physical cornerbacks Richard Sherman and Byron Maxwell allow them to jam receivers at the line of scrimmage, then run down the field with them, even when the rest of the defense is aligned in what is ostensibly a zone defense. That wrinkle, ex-Ravens head coach Brian Billick said on Tuesday, "is revolutionizing the game a little bit, along the lines of the West Coast offense and Tampa Two [defense]. It's got the attention of the league."
Peyton Manning may yet fillet the Legion of Boom. If the Seahawks fall short, it's not likely to be on account of a loss of composure. Not if Carroll and Dr. Mike have done their jobs -- which is, according to Gervais, "creating ways of thinking" for the players "that are grounded in old-school values." Those habits, in turn, ensure that "the moment doesn't define our ability to execute the habit." Quite the opposite, the athlete is in control "of finding his optimal state."
The Seahawks won't choke, in other words.
Regardless of the outcome, Carroll is already vindicated. Daddy Pete was right all along. He was just ahead of his time.