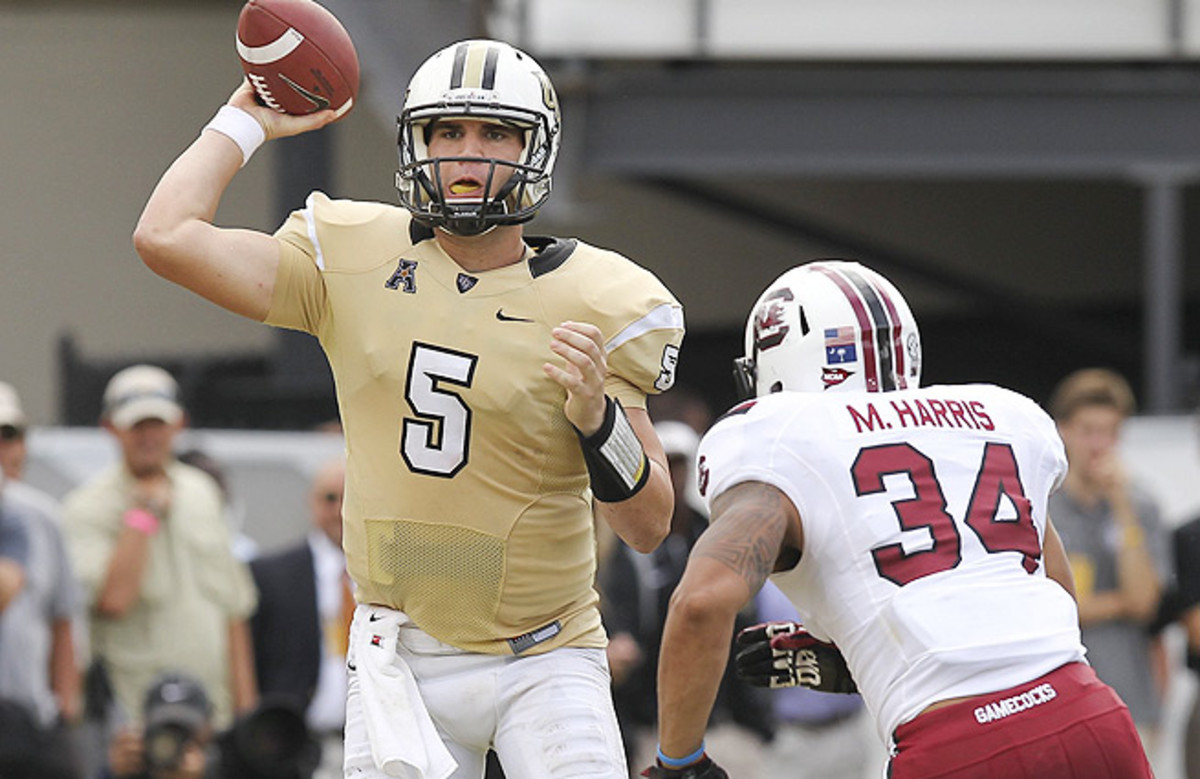 Even with all the attention Jacksonville has paid to its defensive line in free agency -- signing Red Bryant, Chris Clemons, Ziggy Hood and re-signing Jason Babin -- there's always room for a prospect who could grow into the game's most feared pass rusher. The Chad Henne re-signing makes it clear the Jaguars won't pass on a special player to draft a Day 1 starter at quarterback. Gus Bradley is building a defense in Jacksonville, and Clowney will play the cornerstone role.
11. Tennessee -- Anthony Barr, OLB, UCLA
With cornerback Alterraun Verner having departed for Tampa Bay in free agency, Michigan State cover man Darqueze Dennard or a safety (Louisville's Calvin Pryor or Alabama's Ha Ha Clinton-Dix) would seem like strong possibilities. But the Titans lack pass rushers, and need to find someone who can turn the corner and reach the quarterback in new defensive coordinator Ray Horton's 3-4 scheme. Barr is far from a finished product, but he's big, fast and can rush the passer, and in the NFL, that combination means you'll always be popular.
12. NY Giants -- Eric Ebron, TE, North Carolina
Some mocks have Ebron ticketed for a spot in the top 10, but he'd look pretty good in Giants' blue, catching passes from Eli Manning in new coordinator Ben McAdoo's tight end-friendly offense. New York has other needs at defensive line and linebacker, but if Tom Coughlin and Jerry Reese are serious about bringing the Giants offense fully into the 21st century, Ebron is an instant upgrade for the passing game.
13. St. Louis -- Mike Evans, WR, Texas A&M
If the Rams don't deal and instead wind up exiting the first round with the draft's top offensive tackle and second-best receiving prospect at Nos. 2 and 13, respectively, quarterback Sam Bradford will have a greatly improved chance to make some noise in Brian Schottenheimer's offense. Evans may not last this long, and if he doesn't, a cornerback like Dennard or a safety like Pryor or Clinton-Dix would in the Rams' wheelhouse.
14. Chicago -- Aaron Donald, DT, Pittsburgh
The Bears said goodbye to Julius Peppers and acquired Lamarr Houston and Willie Young, but the interior of their defensive line still needs a hammer who can make the ballcarrier pay for toting the rock. Donald has been one of this year's risers, and his stellar work at the Senior Bowl and the combine have buttressed what the tape shows. If the Bears don't take him at No. 14, the Cowboys and ex-Bears defensive coordinator Rod Marinelli will at No. 16.
15. Pittsburgh -- Darqueze Dennard, CB, Michigan State
The Mike Mitchell signing in free agency seems to eliminate safety as a first-round option, but the Steelers would still be wise to get younger in the secondary, where there's a little too much experience on hand. Dennard is a pro-ready prospect and Pittsburgh could use more defensive backs who give Dick LeBeau's defense a fighting chance against the likes of AFC North receivers A.J. Green, Marvin Jones, Torrey Smith, Steve Smith and Josh Gordon.
16. Dallas -- Timmy Jernigan, DT, Florida State
Though the Cowboys always seem to work in mysterious ways, there's little intrigue remaining when it comes to Dallas' first-round pick. With DeMarcus Ware gone to Denver, Jason Hatcher now in Washington and Anthony Spencer still making visits in free agency, Dallas is about 99.6 percent certain to select the best available defensive lineman on its board. With Pitt's Aaron Donald having gone to No. 14 Chicago in this scenario, the Cowboys' fallback plan is Jernigan, who displayed an impressive blend of size, athleticism and physicality for the reigning national champion Seminoles.
17. Baltimore -- Calvin Pryor, S, Louisville
With Steve Smith signed and Jacoby Jones and Dennis Pitta re-signed, Baltimore's passing game needs have been addressed to a large extent. That allows the Ravens the luxury of taking their pick among the draft's two best safety prospects, Pryor or Alabama's Ha Ha Clinton-Dix. Pryor plays the more physical game and also has that Ed Reed-like quality of always being able to find the football. Even with the selection of safety Matt Elam in the first round last year, Pryor gives Baltimore a potential impact player in the defensive backfield, and helps offset the expected subtraction of free-agent safety James Ihedigbo.
18. NY Jets -- Odell Beckham Jr., WR, LSU
Seems only logical for New York to add another receiving threat to pair with the freshly minted Eric Decker, or a top-flight cornerback to help offset the loss of Antonio Cromartie and Darrelle Revis over the span of fewer than 12 months. Beckham may have nosed ahead of pass-catchers like Marqise Lee and Brandin Cooks for the distinction of being the draft's No. 3-rated receiver. But if the Jets want to go with a first-round cornerback for the second draft in a row, after Dee Milliner was taken last year, their choice probably boils down to either Ohio State's Bradley Roby or Virginia Tech's Kyle Fuller.
19. Miami -- Zack Martin, OT, Notre Dame
About nine out of every 10 mocks have locked in on Martin to the Dolphins at No. 19 for months now, and there's little reason to not go along with the crowd in this case. After targeting ex-Chiefs left tackle Branden Albert as its top priority in free agency, Miami still needs pieces for its rebuilt offensive line. Martin is versatile enough to play both right tackle or guard in the NFL, and that makes him an especially good fit for what the Dolphins face this season. Besides, this pick saves Miami a little money, with it already having offensive linemen-sized jerseys with the name Martin on the back of them.
20. Arizona -- Dee Ford, DE, Auburn
The Cardinals went for a left offensive tackle in free agency, signing Oakland's Jared Veldheer, and that sets them up nicely to upgrade their defensive line in the draft's opening round. I see them in the market for more pass rush -- the ancient John Abraham can't play forever, can he? -- and choosing between Ford and Missouri defensive end Kony Ealy. But Minnesota defensive tackle Ra'Shede Hageman is a name to keep on the radar screen.
21. Green Bay -- Ha Ha Clinton-Dix, S, Alabama
The Packers won't waste a lot of mental energy or time if Clinton-Dix is still on the board when their No. 21 pick arrives. They have the need at free safety and either Clinton-Dix or Louisville's Calvin Pryor would be an example of the draft delivering the necessary upgrade with great value for Green Bay's slot. If the re-born Julius Peppers can supply a little pass rush, and the Packers' last line of defense gets a first-round boost, defensive coordinator Dom Capers' job gets a little bit easier.
22. Philadelphia -- Bradley Roby, CB, Ohio State
The Eagles have a bunch of good choices at No. 22, but they're all geared toward upgrading the product on defense. Roby or Virginia Tech's Kyle Fuller would add a quality cornerback prospect, and that's where I'm leaning after Philly stocked up at safety in free agency, adding Malcolm Jenkins and Chris Maragos and re-signing Nate Allen. But a defensive end like Missouri's Kony Ealy or defensive tackles Ra'Shede Hageman and Louis Nix make plenty of sense as well.
23. Kansas City -- Marqise Lee, WR, USC
Kansas City doesn't have to overthink this one. The offense needs more passing game weapons for Alex Smith to feed besides receiver Dwayne Bowe. Lee is sitting there with the pedigree and track record of a potential top-10 pick. If Lee is not the Chiefs' favorite flavor, there's Oregon State's little dynamo Brandin Cooks or Florida State's Kelvin Benjamin from which to choose.
24. Cincinnati -- Kony Ealy, DE, Missouri
Another potential no-brainer. The Bengals lost perhaps their best pure pass rusher in free agency when defensive end Michael Johnson jumped to Tampa Bay's ship, but Ealy is a versatile talent who has the size and instincts to consistently get to the quarterback. If Cincy prioritizes its need at cornerback over more pass rush, TCU's Jason Verrett and Virginia Tech's Kyle Fuller both should be available.
25. San Diego -- Kyle Fuller, CB, Virginia Tech
The Chargers' pass defense has to contend with Denver's Peyton Manning twice a year and has to do better than last season's No. 29 ranking. Fuller and TCU's Jason Verrett are seen as consensus late first-round cornerbacks in this draft, and either one would give San Diego more to work with in the coverage department. Fuller has more prototypical NFL size, but Verrett plays larger than his 5-foot-9, 185-pound measurables.
26. Cleveland -- Brandin Cooks, WR, Oregon State
If the Browns don't go quarterback at No. 4, this would be the slot to spend a pick on an arm like Fresno's Derek Carr or Eastern Illinois's Jimmy Garoppolo (or is that too reminiscent of the Brandon Weeden mistake in 2012 for Cleveland fans?). Alas, we've got the Brownies taking Manziel, so they'll get him another receiving option to go along with Josh Gordon and Jordan Cameron at No. 26. Cooks made himself a viable first-round option with that mind-boggling 4.33 in the 40 at the combine.
27. New Orleans -- C.J. Mosley, LB, Alabama
The Saints surprisingly spent for Jarius Byrd in free agency and re-signed Zach Strief, taking safety and offensive tackle off their first-round need list. Some help for the pass rush or another cornerback are logical targets, but this board doesn't line up quite right for them. Instead we have New Orleans taking the best available defensive prospect in the productive and proven Mosley, who could go much higher than this if an inside linebacker-needy team values his well-rounded skillset.
28. Carolina -- Cyrus Kouandjio, OT, Alabama
The Panthers depth charts at receiver and offensive line have gotten wiped out this offseason, but there's more receiving talent to be had than offensive tackle talent in rounds 2-7. Unless Carolina decides it has to have Florida State receiver Kelvin Benjamin, Kouandjio is the pick as a replacement option for retired left tackle Jordan Gross. Kouandjio's stock took a hit at the combine with health issues regarding a knee injury, but if it checks out OK, his value is too high to pass on this late in the round.
29. New England -- Ra'Shede Hageman, DT, Minnesota
The secondary got its attention with the Darrelle Revis and Brandon Browner signings, but the defensive front seven still needs help. No matter how the Vince Wilfork contract standoff plays out in New England, it's probably time to start looking for some youth at defensive tackle. Hageman isn't a polished and finished product, but he has size, speed and an intriguing upside. If linebacker is the Pats' first-round focus in the wake of Brandon Spikes' departure, Ohio State's Ryan Shazier is a potential selection.
30. San Francisco -- Jason Verrett, CB, TCU
With Carlos Rogers cut and Tarell Brown signing across the bay in Oakland, cornerback should rank highest on San Francisco's need list (Vikings free-agent cornerback Chris Cook was added). Verrett is viewed as a likely slot corner in the NFL. He's undersized at 5-9, 185, but he's extremely competitive and athletic, and provides tight coverage. If the 49ers have to have another receiver, even with Anquan Boldin re-signed, FSU's Kelvin Benjamin is the best of the remaining first-round-rated pass-catchers.
31. Denver -- Xavier Su'a-Filo, G, UCLA
With the defense getting waves of reinforcements in free agency -- see T.J. Ward, DeMarcus Ware and Aqib Talib -- and the Eric Decker vacancy filled by receiver Emmanuel Sanders, the most glaring deficiency that remains in Denver is along the offensive line, which didn't have its finest hour during the Super Bowl disaster in the Meadowlands. Stanford's David Yankey and UCLA's Su'a-Filo are the top-rated guards in the draft, but based on upside and athleticism, we're going with the fast-rising former Bruin.
32. Seattle -- Stephon Tuitt, DE/DT, Notre Dame
Seattle doesn't have to reach for anything in particular in the first round's most coveted slot, but the defensive line did suffer the multiple defections of Red Bryant, Chris Clemons and Clinton McDonald this month. There's still plenty of talent up front, but the Seahawks could use a versatile player like Tuitt, who can handle duty at tackle or end. If Seattle's offense requires another playmaker, it's probably Texas Tech tight end Jace Amaro or Florida State receiver Kelvin Benjamin who get the call.